Tropical blue waters, vibrant coral reefs and a colourful mosaic of marine life: The Great Barrier Reef is an iconic ecosystem, recognised globally for its incredible beauty and complexity. Extending across 14 degrees of latitude, the Great Barrier Reef Marine Park encompasses shallow estuarine areas through to deep oceanic waters, and it is home to the world's largest coral reef ecosystem.
Shipping superhighway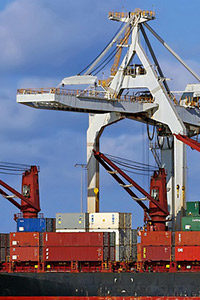 The region is also home to tourism, agriculture, fishing and resources industries, serviced by 12 busy ports. As these industries continue to grow, so too will the shipping traffic that supports them. Estimates suggest that the number of ship calls across ports within or adjacent to the Great Barrier Reef Marine Park will increase from the current figure of around 10,000 per year to 35,000 per year by 2032.
With increased shipping comes an increased risk of maritime incidents. Over the past seven years the Great Barrier Reef has been affected by three major oil spills: in March 2009 the MV Pacific Adventurer spilt oil and cargo in a storm off the coast of south-east Queensland; in April 2010 the coal carrier MV Shen Neng 1 ran aground east of Rockhampton; and in July 2015 an oil spill was detected off Cape Upstart, south of Townsville. Oil spills from such incidents can have devastating impacts on the environment: the 2010 incident spilt four tonnes of heavy fuel oil and left a three-kilometre long grounding scar across the reef. This area is expected to take decades to recover. Smaller, unreported spills also pose an environmental threat.
Speedy detection is the key to managing these oil spills and minimising their impact on the Reef. The sooner the relevant authorities are able to respond to reports, the more opportunity they have to effectively manage the situation. However, spotting oil spills in an area that extends for 344,400 km2 is a difficult and expensive task. At present, in Australia, information about oil spills is mainly obtained from aircraft and reports from recreational, merchant and fishing vessels, and irregularly from satellite radar imagery.
Spotting spills from space
David Blondeau-Patissier may just have the answer. He's working on a project to harness the latest satellite technology to quickly, efficiently – and eventually, automatically – detect oil spills on the Reef.
The CSIRO researcher has just been awarded a $180,000 Early Career Advance Queensland Research Fellowship to develop the system, which will detect, map and monitor oil spills using data from a combination of thermal, optical and radar sensors onboard the European Space Agency's Sentinel satellites. All Sentinel imagery is made available at no cost to the research community and within days of being captured by the satellites.
"Historically the go-to technology for this type of detection has been radar imagery," explains Thomas Schroeder, a senior research scientist with CSIRO Oceans and Atmosphere, and co-investigator on this project.
"However, we believe we can enhance this information by merging the optical and thermal datasets from Sentinel-3, with the SAR imagery provided by Sentinel-1."
SAR (synthetic aperture radar) technology is the main source of information for satellite oil pollution monitoring and ship detection. It works by emitting radio waves and recording how strongly the signal is reflected back to the satellite sensor.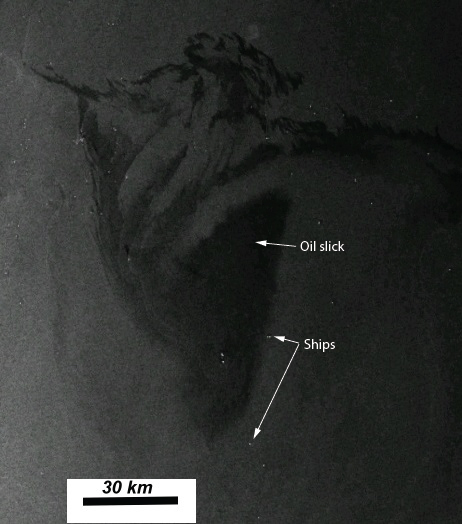 While SAR technology can record observations in all weather, day and night, it cannot differentiate between biogenic slicks (for example, algal blooms) and anthropogenic pollution. By bringing in optical and thermal data from Sentinel-3, David and Thomas hope to be able to keep a better eye on oils spills detected by radar data from Sentinel-1.
Another advantage of this new approach is the frequency with which the data can be collected.
"Due to the orbiting schedule of the Sentinel satellites, we may not always have radar imagery – perhaps only one scene every week or so," David explains.
"Thermal and optical information will be available daily and will complement the radar imagery."
Using the combined technologies will also help filter out 'false alarms'. Wind slicks, sun glints and biogenic material, such as naturally occurring algal blooms, form patches on the ocean's surface that can be mistaken for oil slicks. However, because oil absorbs solar radiation and re-emits a portion of this energy as thermal energy, thermal imaging will be able to detect thick patches of oil.
Broader applications
The initial focus of this project is on the Great Barrier Reef/Torres Strait region, but the researchers intend to apply this approach around Australia, for example, in the North West Shelf/Gulf of Carpentaria where oil and gas offshore activities have a strong presence.
The approach may also be used for supporting water quality monitoring in the Great Barrier Reef.
"With the use of the three satellite technologies, more or less in concert, we may be able to monitor sediment delivery entering the marine park from the surrounding catchments," explains David.
The river floods that deliver significant amounts of sediment to the Great Barrier Reef lagoon occur predominantly during the wet season, when cloud cover limits the use of optical satellite images for monitoring.
"The sediment particles will reflect the radar signal, so we hope to be able to fill in the gaps in the optical imagery."