He's rapidly becoming the name associated with north-western Australia's expanding marine biodiversity.
It started off with a bang (or a smack, if you know your collective nouns), with a box jelly.
Then arrived the sea cucumber.
Now a spider crab.
All of them named after Dr John Keesing, Senior Principal Research Scientist in CSIRO's Oceans and Atmosphere Research, getting the Latin treatment in binomial nomenclature.
The first was a new species of Irukandji jelly - Keesingia gigas - from the Shark Bay and Ningaloo Reef regions, identified in 2014. Nothing like a potentially fatal jelly to get the media's attention.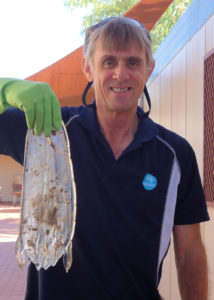 "At the time I collected the jellyfish, only three or four had ever been seen and none collected, I was flattered that Lisa Gershwin named it after me when it was described," Dr Keesing said.
It was believed to be an open-ocean jelly. Until March this year, when his name preceded him as he made his way to Exmouth where the local shire had issued public warnings and posted signs around town alerting beachgoers to Keesingia gigas after they started washing up at the town beach.
The next species to receive the Keesing name was the more retiring Massinium keesingi – a sea cucumber.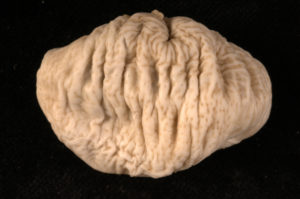 Named after Dr Keesing "with appreciation of John's gracious and helpful collaboration in our work with the sea cucumber collection", said Museum Victoria's Dr Mark O'Loughlin in the paper he co-authored describing the species.
The newest arrival is Paranaxia keesingi – a brooding spider crab, one of only two species in the genus, known for its ingenious camouflage and a unique way of protecting its young in unusual cavities under its carapace. It even made Cosmos magazine's "Our favourite species discoveries this year, so far".
MARINE SURVEYS UNEARTHING NEW SPECIES
These newly-identified species are some of the many identified as a result of large-scale survey work where Dr Keesing has played an integral part along Western Australian's north west coast; mapping the biodiversity of the ocean, using acoustic recordings, underwater towed video and detailed sampling of the sea bed.
One of the first such projects in Australia's northwestern coastal area was a survey along the Dampier Peninsula in 2008 which was jointly led by Dr Keesing. This was followed up in 2013 by the CSIRO-led marine survey of the King George River which was funded by the Total Corporate Foundation (France).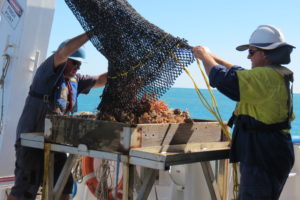 These projects laid the groundwork for what has become one of the largest surveys of its type as part of the Western Australian Marine Science Institution's Kimberley Marine Research Program.
This one project conducted by CSIRO in collaboration with the Australian Institute of Marine Science, the Western Australian Museum and Curtin University has gathered around 3,500 specimens and is ongoing.
It's part of WA's Department of Parks and Wildlife plans to establish the Great Kimberley Marine Park, described by the government as "one of the most significant environmental initiatives in Western Australia's history" and part of the Kimberley Science and Conservation Strategy.
Dr Keesing is also working on CSIRO research with the University of Western Australia on a region-wide assessment of marine biodiversity in the Pilbara region, to promote the conservation of biodiversity alongside the management of commercial projects in the region.
The project is divided into three parts: Looking at reef health; fish and shark populations; and environmental pressures, a five-year study continuing to 2017.
"We now have a fair amount of the coast covered from the WA border with NT to Exmouth," he said.
"It was a nice surprise that they had found a new species of crab from one of the many trawls we have done. When we do those trawls, we discover everything from sponges to echinoderms, crustaceans, molluscs. My particular role has been studying echinoderms, they include sea lillies, brittle stars, sea cucumbers, sea urchins, sea stars.
"On the same trip this spider crab was collected, there were four new species of sea cucumber discovered and they were described by Mark O'Loughlin at Museum Victoria."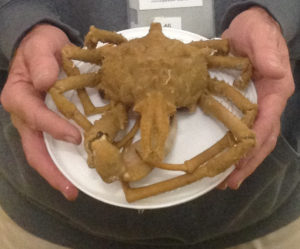 Mr Andrew Hosie, curator of crustacea at the Museum of Western Australia and his colleague Ana Hara described the Paranaxia keesingi, a new member of the superfamily Majoidea.
"Not your average-looking crab," he said in his blog about the crab, "many of them possess long, thin legs and weird body shapes. Majoids are also known as decorator crabs because they camouflage themselves by attaching other organisms, such as seaweeds and sponges, to the spines and hairs on their legs and carapace."
Before now the genus had only one recognised species, Paranaxia serpulifera. During the King George River survey Mr Hosie said he and Ms Hara had identified a small juvenile Paranaxia that they thought was a new species with longer and thinner legs, but needed adult specimens in good condition that could complete the description and serve as a holotype. There were in fact many specimens of the new species housed in the WA Museum's collection to compare morphology and confirmed with genetic sequencing.
Mr Hosie said they named it after Dr Keesing "in recognition of his contribution and commitment to the knowledge of Western Australian biodiversity".
"He's done a lot of projects looking at broad biodiversity questions and ecosystem functioning," Mr Hosie said.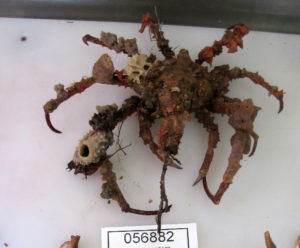 "He's pushed for these big projects and got them off the ground. He has always been a big supporter of the Museum's role in biodiversity research and making sure the Museum is involved in these projects from the start and making sure the specimens are retained by the Museum.
"Big institutions are contributing to the environmental management of the state. Species identification helps and making sure the biodiversity doesn't get lost."
The north west of Western Australia was a "peak centre of biodiversity", he said, with many described species shared with South East Asia but also many new species to discover, under-researched in the past. According to the new description, Paranaxia keesingi can be found as far south as the Houtman Abrolhos Islands and north into Indonesian waters off New Guinea as well as northern Queensland.
Dr Keesing has a soft spot for Massinium keesingi. His specialisation is echinoderms – including sea stars, sea cucumbers and sea urchins. (Collective noun for sea urchins? A herd.)
---
Read Mr Andrew Hosie's blog on identifying Paranaxia keesingi; and more about the Kimberley Marine Research Program and Pilbara Marine Conservation Project.