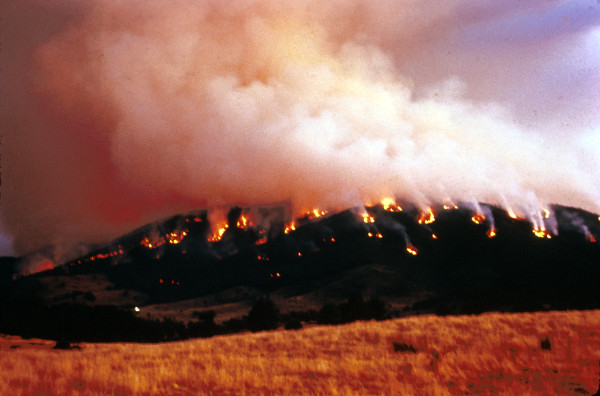 It's the stuff of spectacular and terrifying TV footage, fierce fireballs and flames leaping from burning tree canopies.
Potentially more dangerous than these crown fires and one thing TV cameras can't catch, however, are firebrands.
They are the strips of bark, ignited in the firefront and lofted up to immense heights in the convection column above the fire, transported long distances and that start new fires downwind of the originating fire.
In the Black Saturday fires in February 2009 at Kilmore East, Victoria, spotfires were reported 30-40 kilometres downwind from the main fire front.
Until now, it has been the subject of speculation how fires could be ignited at such a distance. Are these spotfires or new fires breaking out? If they are spotfires, how could viable firebrands travel so far?
Scientists have now investigated various shapes of the most likely type of bark under wildfire conditions to demonstrate how they can travel so far and remain viable firebrands.
Their findings indicate that managing firebrands, and the forests prone to produce them, is critical in the suppression of high intensity wildfires that may be prone to long-distance and mass fire spotting.
The lessons of Kilmore East
There is no way to safely study fires burning under catastrophic fire conditions. Hence, ongoing study of fire behaviour on that dreadful day on 7 February 2009 continues to provide crucial insights.
As explained in the final report of the Royal Commission, the conditions on that day gave rise to particularly destructive bushfires.
Very dry fuels and strong surface winds resulted in erratic fire behaviour and the development of strong convective activity capable of lifting firebrands such as burning bark high in the convection column. Strong upper air winds transported burning bark downwind for many kilometres, resulting in long-distance fire spotting.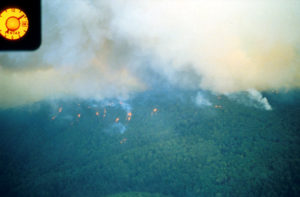 Dr Andrew Sullivan leads CSIRO's Bushfire Behaviour and Risks team and says the Kilmore East fire on that day began creating a large zone of mass fire spotting only three hours after it started. The medium- to long-distance spotting enabled the fire to sustain very high rates of spread in excess of 5 km/h for many hours and extended the effective length of active fire zone from 14 km to 54 km in one hour alone and by 4pm there were multiple new, fully-developed fires actively spreading.
"People said they were 'surrounded by fire'. In a sense it was true," he says. "New fires were being ignited by the fire throwing so many firebrands it appeared that fire was everywhere and there was no way they could see to escape.
"Because the fire was no longer spreading as a single fire front—it had formed multiple 'pseudo' fire fronts--emergency agencies were relying on Triple O calls to tell them where the fire had spread. Under such conditions fire fighters often fall back to protecting houses and assets because there is very little they can do to suppress the fire itself. However, mass spotting is one of the key dangers of a high intensity wildfire and is one of the primary causes of fire fighters losing situational awareness and potentially being trapped by the fire."
Firebrands, the unknown quantity in Australian wildfires
There are three sequential mechanisms for initiation of a spotfire firebrand generation, transport and ignition of recipient fuel. Bark characteristics (including ease of ignition and ease of detachment) are now considered to be a key component of the fuel complex and in understanding likely fire behaviour.
But was it feasible that ribbons of bark were to blame for spotfires as far away as 40 kilometres as reported on Black Saturday?
Sullivan and his team, including researchers from the ANU, have studied how firebrand behaviour contributed to fire spotting on that day, with particular attention to the unkempt ribbon bark eucalypts such as Eucalyptus viminalis (manna gum) and E. rubida (candlebark).
Ribbon barks typically shed their bark in hot weather, producing strips several metres long that have a tendency to curl longitudinally.
Sullivan's team used the CSIRO Vertical Wind Tunnel to investigate just how strips of burning bark from these trees combust under the conditions of terminal velocity (the maximum speed at which an object travels through the air). From this they could deduce how far they could travel as viable firebrands.
They tested flat, simple cylinders and curled cylinders of bark, oven-dried to mimic wildfire conditions.
The tests showed that the average burnt out time for short tightly curled cylinders was more than 7 minutes. This suggests that a similar firebrand 2.7 m long would be capable of remaining alight for more than 30 minutes. Under conditions typical of a high intensity forest fire, the firebrand would be capable of travelling and causing a spotfire 37 km away.
The research concluded that it is both the length and, importantly, also the way the strips curl in on themselves which make them so successful as long distance firebrands.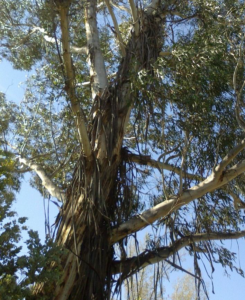 "To travel for 40 km and remain viable, the firebrand has to burn for more than half an hour. Most flat types of bark won't sustain combustion for more than 15 minutes," says Sullivan.
"The curling of the bark enables the fire to continue burning regardless of the atmospheric conditions around it, meaning it can be lifted up to higher altitudes where it's cold. And it's the length that enables it to burn for so long."
Of course, spotfires are not just the result of the firebrand itself. The combustibility of the fuel in which the firebrand lands provides the potential for the firebrand to start a spotfire.
Short to medium distance spotting may extend the fire front and exacerbate the behaviour of the fire. Long distance spotting creates whole new fires that can complicate fire suppression activities.
Fighting the firebrands
The tragedy of Black Saturday has brought new and more sophisticated understanding of fire behaviour as a function of forest type.
This can now be used, suggests Sullivan, to improve fire-fighting strategies.
Mike Wouters, Senior Fire Ecologist with the South Australian Department of Environment, Water and Natural Resources who also has lengthy experience in Victoria, says these new findings on firebrands prompt multiple responses.
"There is still work to be done on more detailed mapping to identify the hazards, particularly where bark firebrands might be an issue, he says, and how forest management including burn offs can be used to better effect," says Wouters.
"Technology used during fires could be more sophisticated. Identifying firebrands during bushfires is complex with aircraft or fire trucks being deployed for the current fire front. Satellite technology is improving, he says, particularly with the Himawari-8 weather satellite producing images every 10 minutes, although data delivery is slightly delayed. Spotfires may be able to be detected much sooner, but it is unlikely that this technology can identify firebrand material in the air."
An issue to consider, he says, is fire spotting in peri-urban areas and the need for better public understanding.
"In the peri-urban area, there are some people who have been there for 10-20 years who understand their environment. But data from the Adelaide Hills showed that the average resident had only lived there for 7 years, with many as little as 3-4 years," he says. "The question is how we arm those people with the tools and knowledge beyond basic information about clearing gutters and mowing lawns."
Laurence McCoy, senior fire behaviour analyst with the NSW Rural Fire Service, says the appetite among firefighting agencies for science that will help predict fire behaviour is growing.
Ultimately, it's a resourcing issue both in the lead up to the bushfire season with hazard reduction burning and during a fire planning where and how many resources might be needed to combat the fire.
"Spotting is a very complex phenomenon," he says. "We try to predict where fires might spread - how far, how fast, how intense and what they might impact. Any science that improves our ability to predict that spreading will help us plan strategies and tactic to fight fires."
---
The image of the manna gum is reproduced from Hall et al (2015), with permission from CSIRO Publishing. J Hall et al. (2015). "Long-distance spotting potential of bark strips of a ribbon gum (Eucalyptus viminalis)."  International Journal of Wildland Fire.  24, 1109-1117
For the latest on research into fire behaviour: https://research.csiro.au/pyropage/, and an ECOS article from December 2015 which continues frequently to be read on Preparing Yourself and Your Property.