We're often the secret ingredient behind the things that have improved your life. Below are 24 more things you might not have known about us.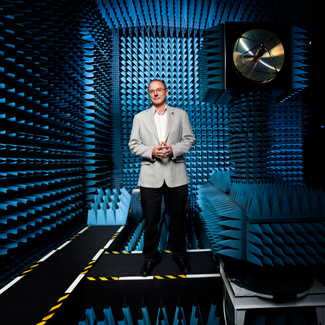 1. We were the first Australian organisation to start using the internet, which is why we were able to register the second-level domain csiro.au for our website (as opposed to csiro.org.au or csiro.com.au)
2. Five CSIRO scientists invented wireless LAN technology, these days known as WiFi, which is now used in more than five billion devices around the world
3. The word 'petrichor', which describes the distinct smell of rain, was invented by our own researchers Isabel Joy Bear and Richard Grenfell Thomas
4.  We created a membrane that separates pure hydrogen from ammonia, allowing easier storage and transport and a viable carbon-free fuel industry in Australia.
5. We run NASA's spacecraft tracking facilities in Australia
6. The world's first effective influenza treatment, called Relenza, was invented by CSIRO in 1987
7. We created the first bone, cartilage and tissue implant; a 3D printed titanium and polymer sternum that was a perfect match for the patient.
8. We invented Aerogard and used it on the Queen when she visited in 1963
9. We grant around 80 new commercial licenses every year like BARLEYmax, a low GI 'supergrain' with four times the resistant starch of regular grains
10. CSIRO stands for the Commonwealth Scientific and Industrial Research Organisation
11. We used our patented form of the strongest material in the world, graphene, to create an extraordinarily effective water filter.
12. We invented a permanent pleat for fabrics (yep, we've saved you all that ironing).
13. We developed broccoli powder to help reduce food loss, create a new revenue stream for farmers and help people increase their veggie intake.
14. We've earned more than $430 million in royalties for our WLAN invention
15. In 2005, our scientists developed near-perfect rubber from resilin, the elastic protein which gives fleas their jumping ability and helps insects fly
16. We invented extended-wear soft contact lenses as part of the Cooperative Research Centres (CRC) program
17. CSIRO was founded in 1926
18. We invented plastic bank notes – polymer currency that is now used in more than 30 denominations around the world – to help prevent counterfeiting and to last longer
19. When producers of hit Australian film, The Dish, met with staff at our Radio Telescope in Parkes, the scientists initially thought the movie was just another a documentary
20. We've developed 100 varieties of cotton to help Australian farmers save water, reduce costs and cut insecticide use by 85%
21. Worldwide, we are involved in more than 700 international research activities, like developing the first biomass powered refrigeration system to keep fruit and veggies fresh in rural India
22. Softly wool wash was invented by CSIRO
23. We saved lives by developing the world's first vaccine to prevent the spread of Hendra virus from horses to humans
24. We've developed computer models that deliver a 10x improvement in weather forecasting
Like winning and love CSIRO? You'll love this...
We're giving away some CSIRO merch to three lucky people who subscribe to our blog this week. If you win, you get a CSIRO Tshirt and mug. If you don't win, you get interesting science news delivered to your inbox. So, really, you win either way.
We've extended the entry date to 6 December, so subscribe now!
Terms and conditions found here