IT'S not uncommon nowadays to receive a takeaway coffee in a biodegradable plastic cup or to get a burger from a food-truck in a compostable plastic container. Many shelf products now use biodegradable plastic packaging as well. The global demand for biodegradable plastics in 2018 was 360,000 metric tons according to analysis by IHS Markit, but it is expected to increase to nearly 550,000 metric tons by 2023.
CSIRO environmental chemist Dr Mike Williams says the change is happening through bottom-up processes.
"The shift is largely due to consumer awareness of plastic waste driving a preference for greener alternatives," says Williams.
Governments and regulating bodies are also creating this shift. This year, the European Union moved to ban a range of single-use plastics such as straws and food containers. In Australia, cities and local governments are following suit, and the two biggest supermarkets have banned single-use plastic bags. Environmental ministers in Australia have also endorsed a target of 100 per cent of Australian packaging being recyclable, compostable or reusable by 2025.
Not always bio, not always degradable
Biodegradable plastics encompass a broad range of plastics made from different materials but are defined by their ability to break down completely into natural substances, according to the Australasian Bioplastics Association. They state that biodegradable plastics are either biobased, made from plants such as corn or sugarcane, or made from petrochemicals. Confusingly, the term "bioplastics" can be sometimes used to mean biodegradable or biobased plastics, or both.
Products labelled as biodegradable plastics are sometimes actually made from oxo-degradable plastics. Williams says this is misleading and bodies such as the Australian Competition and Consumer Commission are working to combat this as it is an environmental concern.
"This type of plastic has a metal added to it so when it's exposed to light or heat it breaks down. Which seems good, but it doesn't really break down, it just breaks down into smaller pieces which we call microplastics," he says.
"Microplastics are a serious environmental issue as they are more challenging to clean up, and move more easily through the environment to affect organisms."
The cycle of carbon
The majority of biodegradable plastics on the market are compostable plastics. Most of these will only break down in industrial composting facilities, with some also breaking down in home compost.
"Compostable plastics are a very specific definition of plastics," says Williams.
"According to Australian standards, a compostable plastic must degrade within a certain time period in a composting facility. If the context of disposal is not right, then it won't break down very well. Plastic compostable forks are made of a thicker plastic, so if you put them in landfill they'd probably be there in 50 or a hundred years' time just like a normal plastic."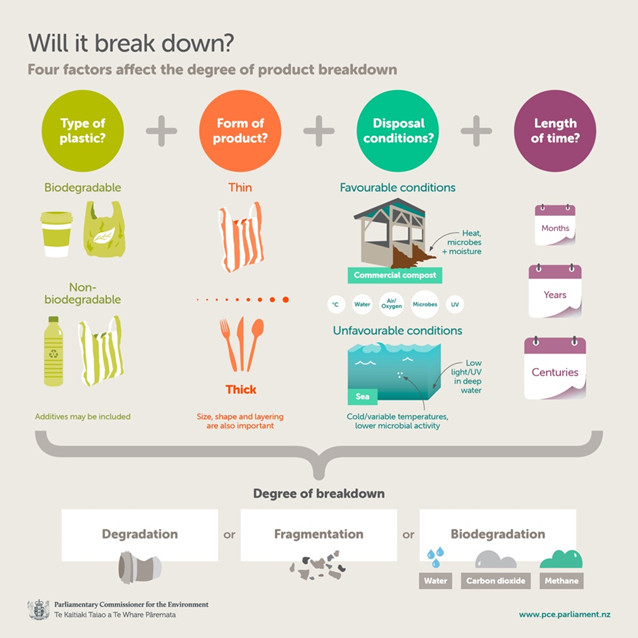 Williams says compostable plastics break down into natural substances.
"Basically, the carbon is converted into carbon dioxide and carbon that microorganisms can use for their metabolism. This is the basic premise for biodegradation and, in theory, everything containing carbon can be biodegraded. However, the carbon in conventional, and oxo-degradable, plastic takes considerably longer to biodegrade. This is because microorganisms have trouble accessing this pool of carbon due to its structure in the plastic.
"So, the compostable plastics are essentially converted into compost and CO2, which could be used to improve soils for more efficient and sustainable production of crops, such as corn. It can be even used to make more compostable plastic, although this may not be the best use of food crops."
Waste not, want not
There is a risk that consumers might misunderstand how to dispose of compostable plastics. Williams says this is a problem if they are disposed of in the wrong circumstances.
"If they break down in a landfill where you have low to no oxygen, then you get production of methane, which is a powerful greenhouse gas," he explains.
Williams and his team are working with the New South Wales Environmental Protection Agency to investigate the use of compostable plastics on a larger scale, to anticipate a likely increased use and, therefore, disposal in composting facilities.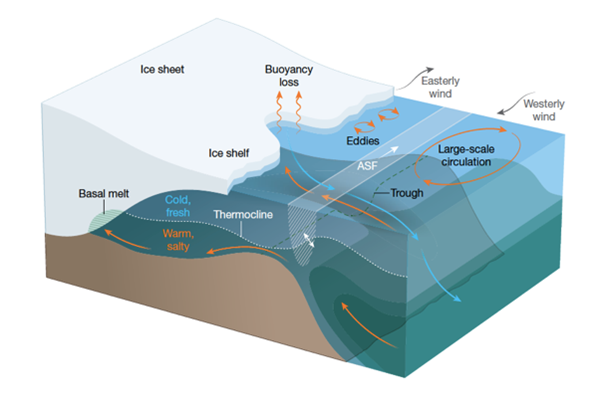 He says that composting facilities are very efficient at breaking compostable plastics down.
"Compared with home composting, an industrial composting facility operates at around 60 °C or above – when you have those high temperatures along with moisture and oxygen, compostable plastics disappear quite quickly. We hope to show a large increase of compostable products entering industrial facilities will not impact on the operation of the facility or the finished compost product."