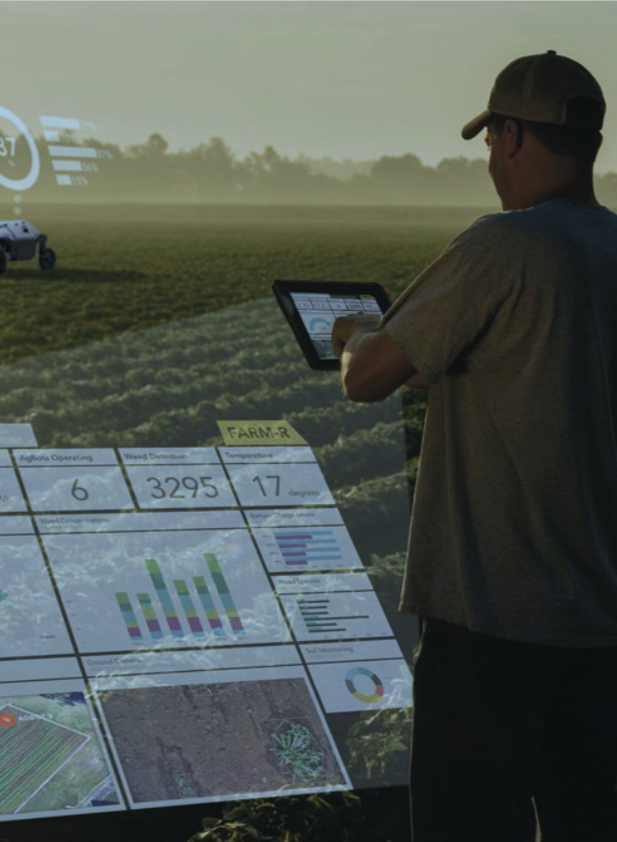 Reshaping virtually every industry, profession and life, artificial intelligence (AI) has had a profound impact every facet of our lives and will continue to impact them far into the future.
From emergency management of natural hazards and supporting an ageing population, to monitoring the health of infrastructure and preventing traffic congestion, AI has provided Australia with the opportunity to solve the nation's greatest challenges. With the ability to automate repetitive, dangerous, and labour-intensive tasks, development and integration of artificial intelligence is already well underway across companies, governments and community organisations. To celebrate the launch of the Australian Government's  Artificial Intelligence Technology Roadmap, developed by CSIRO's Data61, we've compiled some of the very real ways current AI technologies and those arriving in the next decade are expected to help Australians. 
What is AI (artificial intelligence)? 
Artificial Intelligence (AI) is a broad term used to describe a collection of technologies able to solve problems and perform tasks without explicit human guidance. Some of these include machine learning, computer vision, natural language processing, robotics and deep learning.
A general-purpose technology, AI uses data-driven algorithms to autonomously solve problems and perform tasks. The algorithms that underpin artificial intelligence have existed for quite some time, however, exponentially growing volumes of data and the widespread availability of affordable computation mean that Australia, and the world, can operate this revolutionary technology at a scale and speed never seen before.
Areas AI specialises 
AI will revolutionise industry just like past waves of innovation reshaped the information and media sectors, with Australia possessing the capability to build upon and advance our existing economic strengths by combining traditional methodologies and industries with new technology. There are multiple domains the country is well-positioned to develop and apply AI to, such as supply chain integrity, legal informatics, and cyber-physical security. However, the Artificial Intelligence Technology Roadmap  has identified three of the most well-adjusted fields: healthcare, infrastructure, and natural resource management.
How AI will impact the lives of Australians
Health, aged care and disability services
AI is being widely applied and developed within the healthcare sector in Australia and worldwide. In surgical applications, robotics are being used to improve the precision and efficacy of operations, while machine learning, data science and predictive analytics are employed to provide earlier and more accurate diagnosis of cancer, infectious disease and other forms of illness.
The combination of sensory systems and computer vision is assisting older Australians to live independently for longer, while companion robots are being used to help children on the autism spectrum develop academic, communication and social interaction skills. 
Mental health can also be improved by AI, with a team of CSIRO Data61 researchers adapting a gamification framework to a program that employs AI technology to diagnose mental disorders. 
The computer game presents patients with a series of choices and tracks their behaviour, diagnosing the user's potential mental health disorder based on how they respond. 
In a study of 101 participants - 34 with depression, 33 with bipolar disorder, and a control group of 34 subjects - artificial intelligence techniques deployed through the computer game were able to identify behavioural patterns in subjects with depression and bipolar disorder, down to subtle individual differences in each group.
With our world-class medical research and excellent biotech capabilities, AI in healthcare has provided Australia with the opportunity to not only become a world-leader in health innovation, but to present our own precision medicine market on a global scale, with the potential to generate $30-$50 billion in market revenue over the next decade.
CSIRO's E-Health Centre is also trialling four different social robots as tools to support therapy and education for children with autism, who can face significant challenges with social interaction and communication.
 Social robots are novel, animated and appear to be autonomous, and can provide complex behaviour patterns while appearing much less intimidating than humans – even creating an environment where it is fun to learn. They can also deliver predictable behaviours and repetitive feedback, and they don't get angry, tired or stressed.
Towns, cities and infrastructure
AI can be used to help us plan, build, operate and maintain our infrastructure more productively and at a lower cost, while also improving the safety and functionality of transportation, electricity and water services.
For instance, of the 1137 road deaths in Australia in 2018, many were caused by human error, a figure that could be reduced through the use of AI-powered technology such as collision avoidance sensing, autonomous braking, forward collision warning, and lane departure correction. Autonomous emergency braking combined with forward warning collision systems decreased front-to-rear injury accidents on United States highways by 56% in 2016.The combination of historical tools and cutting-edge AI could improve the efficiency, disaster management, and over investment of Australia's infrastructure, such as the nation's extensive energy supply network. CSIRO's Energy Business Unit is using AI and machine learning to model the system via a digital simulation, known as a Digital Twin, to extract insights and results from various methods that could be used to update the network. If a fault occurred in a certain part of the grid, AI and ML could help the system repair or reroute power to prevent blackouts, explained CSIRO's Energy Business Unit Director Dr Tim Finnigan at D61+ LIVE 2019. "We can actually have a smart enough and well-trained grid that could figure out other pathways for power to flow."
Better natural resource management
This specialisation involves the use of AI technologies to improve the economic efficiency and decrease the ecological footprint of agriculture, mining and environmental management. For agriculture, this could involve on-farm robotics for harvesting, seeding, soil tillage, crop monitoring, weed removal, pest removal and chemical treatment (fertilisers, herbicides and pesticides).
AI enabled information tools and robotics could be used for more precise agricultural operations to enhance the productivity, resilience and environmental performance of farms, such as the state-of-the-art wearable and hands-free sensors Data61 developed for prawn harvesters.
This technology gives farmers the information they need to better manage animal health and feed inputs, and even share visualisations in real time with external experts for faster decision making and input.
Computer vision and automated systems could also be used for monitoring and improving the safety of mine site operations, while enhanced mineral discovery could be possible by employing machine learning and computer vision techniques to process remote sensing imagery and geological data. 
Within the environmental management sphere, improved weather and climate forecasting systems using machine learning and data science could more accurately predict temporal and spatial weather patterns, while AI could also enhance performance of systems monitoring the condition of biodiversity and ecological resources.
Foundations for the future
For Australia to take full advantage of the potential benefits of AI technologies, it is critical to build the right environment for effective adoption, adaptation and development. Actions in the government, industry, and community are required to remove barriers and capture opportunities for growth. The Artificial Intelligence Roadmap has identified several broad strategic approaches to seize this technological advantage:- Developing an AI specialist workforce: train and educate an AI specialist workforce to meet the current and future operational needs of industry.
- Career transitions and skill upgrades: Overall digitisation and automation of tasks will require workers to transition their careers from lower-demand areas to higher-demand areas. Professionals, governments and companies can take actions, such as retraining, upskilling and reskilling, to make earlier (and easier) transitions. 
- Better access to high-quality and labelled datasets: Access to training datasets is one of the most critical and complex stages of AI development, with availability to large, refined, and categorised data collections needed to create robust and accurate outcomes.
- Building trust in AI: For AI to be applied successfully, people and organisations need to have: (a) trust in the technology and (b) trust in the company providing the technology. 
- Science, research and technology development: Australia will need research and development (R&D) to unlock the value of this highly complex, novel, and powerful technological capability. 
- Digital infrastructure and cybersecurity: Digital infrastructure is needed for the acquisition, transmission, storage, protection and analysis of data critical for AI functionality. 
- Ethical and performance standards: The rise of AI will require new standards relating to system performance, safety, levels of transparency and explainability, autonomy, privacy, interoperability, data security, data acquisition, data ownership, data quality, data formats and data storage. An AI Ethics discussion paper that provides a set of principles and tools for ethical AI supported by numerous case studies can be found here.
Artificial Intelligence Roadmap
Without a coordinated effort to drive AI development and adoption in Australia, valuable economic opportunities will be missed to build and capitalise on our capabilities in AI and related domains.  CSIRO is uniquely placed to drive Australia's national AI program, positioned at the intersection of government, industry and the research community, and with deep connectivity into the nation's digital and domain capability.   Artificial Intelligence: Solving problems, growing the economy and improving our quality of life outlines the importance of action for Australia to capture the benefits of artificial intelligence (AI), estimated to be worth AU$22.17 trillion to the global economy by 2030.
To learn more about the adoption and development of AI technology in Australia, download the AI Roadmap here.