Commercialising research is an essential element for innovation, economic growth, and job creation, but despite the sizeable opportunities it presents, the process is hampered by multiple challenges and obstacles.
While Australia offers world class research expertise and is home to a skilled workforce, our nation is currently lagging its OECD peers in extracting and capturing economic value from it.
This is not a new problem in Australia, however, as we enter the next phase of the Industrial Revolution, we must drive digital innovation to seize upon the $315 billion economic opportunity we have been presented with.
Here, we've unpacked the challenges surrounding research commercialisation from both a research and industry perspective, drawing on the knowledge and skills of experts in the D61+ Network who have experienced the process from each perspective.
Phil Morle is a Partner in the CSIRO's venture capital Fund, Main Sequence Ventures, which specialises in backing deep tech, science-driven founders.
Dr Kate Brooks is MTPConnect's Director of Stakeholder Engagement for Western Australia and was previously a research scientist with CSIRO's Astronomy and Space Science department.
Dr Silvia Pfeiffer is the founder of Coviu Global, a telehealth turnkey solution for private practice and spinout from CSIRO's Data61
---
I've identified a gap in the market, and have what I think is a relevant piece of research to address it – where do I start if I want to commercialise?
Phil Morle: Get out of the lab. Take the research into the world and test if your assumptions around value are correct. Speak to people. Make things. Try to sell something to a customer. Tell investors about it and ask what they like and don't like. Be open minded. Stop planning and start doing. Make it real. It is amazing what happens when you take an idea to the world. The world helps you bring it to life.Kate Brooks: If a gap in the market exists then first establish whether your research is the best starting point – perhaps there are alternatives. Your research first has to be translated into a product (product development) and then taken to market (commercialisation).  It is also important at the start of product development  to understand what the market size is (in terms of potential customers and revenue), what the barriers to entry may be (industry-specific regulations, supply chain logistics) and how long will it take you to capture target scales. If these don't stack up then reconsider starting at all.
Silvia Pfeiffer: Don't jump straight to the commercialisation bit. First find out if your assumption of the market is accurate. You should reach out to people who you regard as your potential customers. Ask them what their biggest problem is - don't jump right at your solution or you will not get an unbiased answer. Then explain the problem you have observed and see how they react to that. Then ask them about what they would do to solve this problem - again, don't prompt them with your idea, find out what they are saying first. This is a little research project by itself, so treat it as such. Collect data and ring up at least 10-20 potential customers. (They say you should talk to 100, but that is often difficult.) Your final question should explain what your proposed solution is and ask them if they would pay for it right now if it was available. If they do, you have a winner.
How do I go about getting funding for my project and why do you recommend this method?
Phil Morle: Speak to investors as early as you can with your hypothesis of value. Investors love that so don't be afraid of being too early. No investor is the same so take negative feedback as an insight and understand that it is more likely just not a fit. Ask everyone you speak to who you should speak to next.Kate Brooks: With all the time in the world for trial and error, anyone can figure out how to take a product to market. But today's market is global and fast and you don't have time to figure out this commercialisation stuff from scratch. Getting funding to commercialise your idea means you can hire people and buy technology to accelerate your journey. Researchers should have a look at the various funding grants and accelerator/ignition programs available through governments and their universities to get going. You may need to invest in your new venture yourself, before anyone else does.Silvia Pfeiffer: Funding for projects is available in many different ways in an organisation. If you are lucky, your project meets some of the key research goals the organisation is aligned to and you can get funded in that way. Often, you're not looking at a target problem, so getting funding will require other avenues. A great avenue is to find a paying external customer who is willing to fund some of the development work. Even if they just sponsor half, that may be enough for your to get matching funding from within your organisation. Speak with the commercialisation and BD people in your division to see how they may be able to help. Speak with your supervisor to see what they can recommend. You could also get a government grant or find Angel investors to support your idea.
Who should I engage on my research commercialisation journey and why? 
Phil Morle: Investors want to hear from you, not a business advisor. If you are the founder, you should pitch it.Kate Brooks: Engage from the get go with your potential customer. Understand exactly what their unmet need is and what solution you are delivering them and do they want it? Then look at your whole value chain and understand who else may benefit commercially from your solution (e.g. insurance agencies, technology providers, government services). Talk to them to map out exactly your return on investment, your potential partners and your potential blockers (who are you disrupting?).
Silvia Pfeiffer: It's important that you build great relationships within your enterprise and outside during the course of your commercialisation journey. You will also need to think about your team. Who do you need on board for the journey? Is there an engineer that will help you make it work? Is there a BD person who can help you with sales? Try and build a team that you can trust to execute, because it's all in the execution.
What are some of the most common challenges that I will face as I try to commercialise this piece of research?
Phil Morle: The biggest challenge all teams face is building a team around themselves. This is another reason to get out there into the world to tell everyone about your idea. This is how to attract the people that might join you. Kate Brooks: As a researcher, you are used to being judged on the merits of your science. As an entrepreneur, you will be judged on the market opportunity and the team who will take you research and turn it into a product and then take it to market. In terms of comparative effort, research is 1, product development is 10 and commercialisation (product to market) is 100. Are you up for this allocation of your time and energy?
Silvia Pfeiffer: Finding funding is one of the biggest challenges. You will need to learn to pitch...and pitch again...and pitch again. You need to become patient with the world for repeating yourself over and over - you need to do this because investors, employees, partners, and your organisation - everyone needs to understand your vision and buy into it.
What could be done to make this process easier? 
Phil Morle: People make universities more agile. You don't need a policy. Just decide and do it. I'd also like to see less opportunities being decided by committee. By the time everyone has had an opinion the idea has often died at birth. Kate Brooks: Taking a product to market is hard and this process can be facilitated by going to market with a corporate partner who have the sales teams, the customer base and the facilities for trials. Think about a corporate partner who you could work with early on. Remember,  a productive B2B engagement helps both parties. How might you help their sales too? Silvia Pfeiffer: If your organisation is interested in supporting the creation of startups, then there is a lot they can do: incubators, funding, partnerships with research organisations - all of this helps. Also, the right encouragement and support for the founders is important - they give founders everything they need to gain external investment and don't expect to own a large chunk in the startup. The value is not at the beginning - it is with the few startups from the lot that become successful.
Is there any advice or tips that you haven't mentioned that you would give to someone who wants to commercialise their research?
Phil Morle: You will be amazed about what you are capable of. Just start and see what happens. As you start to see what customers love about your invention, allow your mind to open up to other products that your company might sell to further deliver that value. Too many research-led companies stay single minded on a single product. Kate Brooks: Some people are driven by solving the problem, whereas others enjoy building and then selling the product/solution.  If your passion is solving those wicked problems then you may not be the right person for a management team that needs to generate a return for your investor. Consider what your passion is. If it's research then consider handing over the commercialisation journey to a team that loves this stuff and is a good at it so you can go back to your passion. The last thing we want is to have IP locked up in a researcher's lab.
Silvia Pfeiffer: Be prepared for a long, rocky road. Expect the unexpected. Be flexible.
---
Hear Dr Silvia Pfeiffer, Dr Kate Brooks, Phil Morle, and Prof Michael J. Biercuk discuss the factors behind Australia's high research output yet low commercial success, and the solutions and change that needs to be enacted to move forward in D61+ LIVE  2019's 'Is research commercialisation broken?' panel.
In April 2019, CSIRO's Data61's network model was recognised by the OECD as a global blueprint for digital and open innovation.
Our world-class research expertise includes the technologies transforming every aspect of society and the economy, including artificial intelligence and machine learning, cybersecurity, privacy, blockchain, cyber-physical systems and advanced data analytics. 
Through the D61+ Network, we act as a bridge between research and commercialisation, bringing together the innovation ecosystems of R&D partners in government, corporations both large and small, and universities. We work collaboratively to apply blue sky research to market context, accelerating the application of R&D to real-world solutions.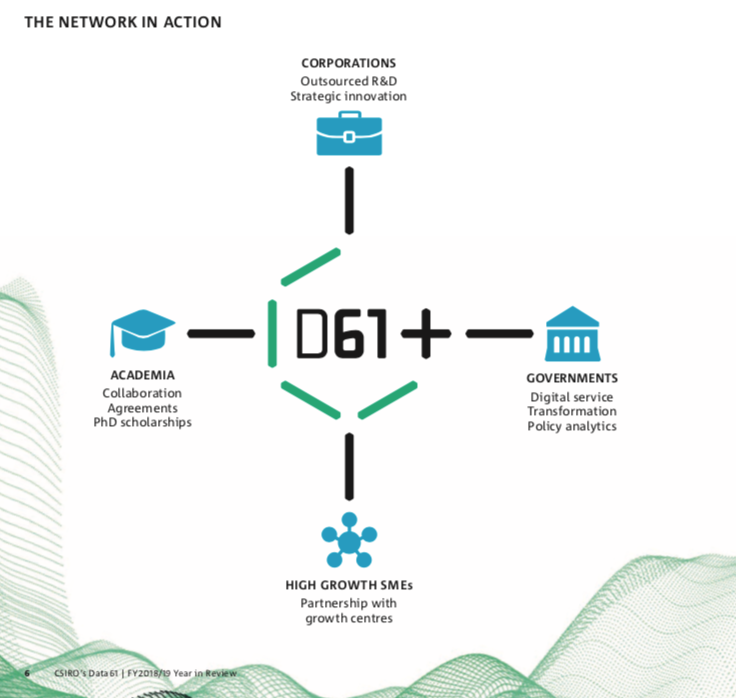 Find out more about our network here, Data61's research capabilities here and how to partner with us here.