Marine turtles are much loved but at risk. Discovering how long they naturally live in the wild is vital for conserving populations and predicting their risk of extinction.
Discovering the lifespan of animals has relied on observing captive animals in zoos and studying species in the wild. But observing the lifespans of wild animals is almost impossible for migratory marine species because they are difficult to monitor. And long-lived species like marine turtles may outlive generations of researchers.
Last year a team led by Dr Ben Mayne, a postdoctoral fellow with CSIRO's Environomics Future Science Platform, discovered a way to use DNA to calculate a species' lifespan.
From genome sequence to lifespan
Dr Mayne's team can calculate the natural lifespan of any vertebrate animal. They need only a species' genome sequence as the starting point.
"We found the maximum lifespan of the Bowhead whale is 268 years. This is 57 years longer than people previously thought," Dr Mayne said.
The team validated their method by comparing the results with known lifespans of animal species. And they also calculated the lifespans of some extinct animals.
"We discovered that woolly mammoths lived for 60 years and the Pinta Island giant tortoise from the Galapagos lived for 120 years," Dr Mayne said.
The team looked at the human genome and as a result they discovered our maximum natural lifespan is 38 years. This matches anthropologists' estimates of lifespan in early modern humans. But human lifespan has likely been extended over time due to changes in lifestyle and medical advances.
Dr Mayne's team has now taken things a step further by calculating the lifespans of species that haven't yet had their genomes sequenced.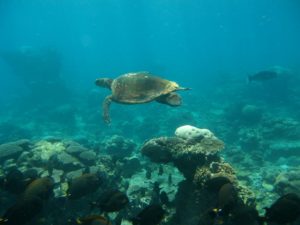 How long do marine turtles live?
The team's method for estimating lifespan uses the density of DNA methylation at 42 different genes. DNA methylation is a special type of DNA change. It helps control when genes are switched on and off.
"In this study we decided to take a closer look at the marine turtle species swimming in Australian waters. Knowing their natural lifespans is essential for wildlife management because it is used for population modelling," Dr Mayne says.
"Before our study, out of the world's seven marine turtle species, only Green sea turtles had a reliable lifespan estimate. Turtle lifespans have been so difficult to determine because turtles have long lives and migrate vast distances throughout the world's oceans," he says.
Green sea turtles were also the only species with a publicly available genome sequence. So the researchers used it to home in on the areas of turtle genomes that are important for calculating lifespan. They sequenced these areas using DNA samples from five different marine turtle species. As a result, they could then predict the lifespans of these species. They are:
Leatherback sea turtle (Dermochelys coriacea) 90.4 years
Loggerhead sea turtle (Caretta caretta) 62.8 years
Olive Ridley sea turtle (Lepidochelys olivacea) 54.3 years
Hawksbill sea turtle (Eretmochelys imbricata) 53.2 years
Flatback sea turtle (Natator depressus) 50.4 years.
During the study, the team also found that the size of a marine turtle species can predict its lifespan. Species that weigh more and have longer shells live longer.
"We found leatherback sea turtles have a natural lifespan of 90 years," Dr Mayne says. "People knew they lived at least 30 years in the wild. Some evidence suggested maybe 70 or 80 years. Our work puts a much more reliable number on this."
Groundbreaking science for environmental managers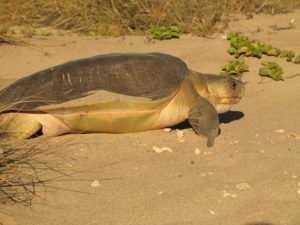 Environmental managers can use these lifespan predictions to understand turtle life cycles, manage wild populations and investigate mortality. And because we know more about lifespans, it will be easier to assess whether populations of marine turtles may be at risk of extinction.
This study involved scientists from CSIRO, the University of Western Australia and the Government of Western Australia's Department of Biodiversity Conservation and Attractions. The paper Lifespan estimation in marine turtles using genomic promoter CpG density was published in PLOS ONE in August 2020.
The paper A genomic predictor of lifespan in vertebrates was published in Scientific Reports in December 2019.
The authors thank everyone involved in sequencing the reference genomes used in their studies and making them publicly available.
Read more about our work on the lifespans of extinct and living animals.