In 2016, and again early this year, the Mekong Delta – the 'rice bowl' of Vietnam – suffered two record droughts in quick succession, leaving rice paddies bare.
The problem was not so much a lack of water, but too much saltwater intruding from the coast, unchecked by the usually strong freshwater river flow.
For CSIRO climate adaptation researcher, Dr Minh Nguyen, the two closely spaced droughts were a clear signal the region's climate was changing. Some experts predict, under a business-as-usual scenario, up to half of the Mekong Delta would be inundated by seawater by 2100.
"Yet from now until 2100, there'll be another two to three generations living on that land," says Dr Nguyen.
"We can't just say the situation's hopeless. At the moment, the delta is highly productive country, with many people living there.
"We have to help them find a way to adapt to the changes in their environment, rather than suffer from them."
Values-rules-knowledge framework
In 2017, Dr Nguyen and researchers from Can Tho University's Research Institute for Climate Change initiated a climate adaptation project to help local farm communities adapt to the 'new normal' of more frequent drought.
They began by talking with the farmers, government agencies and agri-businesses to get a good understanding of local community values, local laws and regulations, and traditional farm practices.
This diagnostic approach is known as the values-rules-knowledge (vrk) framework. It's been described as a process of aligning the values that guide people, the knowledge they need to pursue those values, and the rules that shape what they can and cannot do to get to there – in this case, a sustainable livelihood in a fast-changing environment.
"Farmers are often given a lot of information by experts that they don't understand," says Dr Nguyen.
"But if you give them information that makes sense, information they want, they will want to learn, build up their knowledge, understand the rules they need to operate within, and change their behaviour.
"Then they can start to do things differently."
Finding a middle way
The CSIRO and Can Tho University researchers used the vrk framework in a pilot study located close to the mouth of the Mekong.
The study involved a local farmer, Mr Tran, who had abandoned his rice crop after the 2016 drought to focus on raising shrimp – a more profitable 'crop' – in dry-season brackish water.
At the time, the local agriculture authority was concerned about farmers like Mr Tran abandoning rice for brackish-water aquaculture. The practice was reducing regional rice output and food diversity, polluting soils and water, and heightening the disease risk for shrimp stocks.
After consulting farmers and the local authority, the researchers introduced and demonstrated a new and profitable farming model – farming both rice and freshwater shrimp during the wet season – to encourage farmers to maintain their rice crops.
The team also co-developed with stakeholders a set of communication and decision-making support tools – including a mobile phone app – to help farmers, local regulators and businesses get access to timely information and explore evidence-based options for adaptation.
Negotiating responses to coastal erosion
While the changing climate has forced farmers in the Mekong Delta to adapt to increased saltwater intrusion, in Australia one of the most visible coastal impacts in recent times has been storm-surge erosion.
Dr Rachel Williams is another CSIRO climate-adaptation researcher who sees vrk as a game-changer in helping communities negotiate the shocks that will become a way of life as climate change impacts like sea-level rise take them into new territory.
With responsibility for different aspects of coastal management split between local, state and federal governments, the policy and legislative landscape is complex and, at the moment, decisions are often made without input from the communities involved.
"But climate adaptation requires collective involvement and decision-making, across multiple levels of government and the community, and between the community and technical specialists," says Dr Williams.
"It's not just about technical or engineering options or drawing static lines on maps and saying, 'this is where the coast will be in 2050'."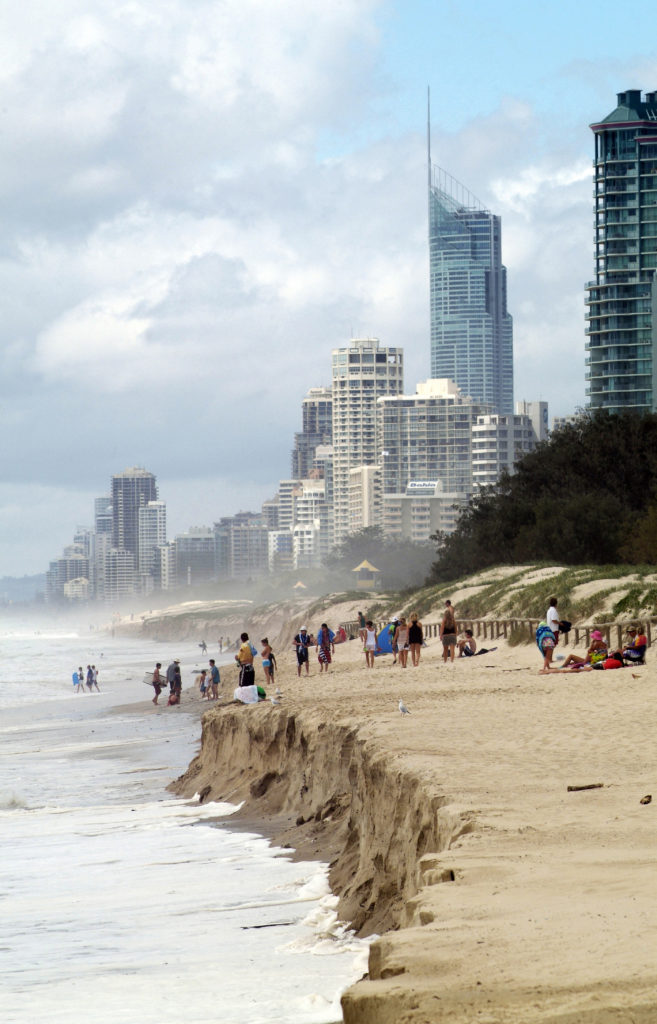 The decision landscape is made more complex by issues like equity. For example, recent storms that battered the NSW coast prompted calls for more sea walls to protect affected properties. But 'hardening the coastline' in one area can lead to erosion elsewhere as well as result in damage to beaches, dunes and estuaries.
"There's no single, right way forward. It has to be discovered through consultation and negotiation," says Dr Williams.
"Planning laws regulating where people can build, and how they can build, need to change, and communities may need to agree on environmental 'triggers' for action, such as moving houses landward.
"And it's not necessarily us, the researchers, who determine what information is needed. It must be done with the people involved as co-researchers.
Dr Nguyen agrees. "Capacity building is two-way," he says. "You have to listen to people first, because they have the local knowledge you need to make the research succeed."