Dr Heather McGinness has been investigating the amazing travels of our unique nomadic waterbirds between Australia's inland wetlands.
Did you know that many of our majestic waterbird species are nomadic? And that many only breed during floods?
That's tough for the waterbird populations of the Murray-Darling Basin, as natural flooding in basin has been drastically reduced. It's left many waterbird species in decline.
This is a serious problem because waterbirds are essential to healthy aquatic ecosystems – and Australia has both international and national legal obligations to protect them.
One of the ways Australia is protecting our waterbirds is by using 'environmental water' to support breeding and feeding sites. Policy makers and water managers making decisions about where, when, and for how long to provide environmental water need to know what waterbirds require and how they move. This helps to predict and understand the effects of their decisions.
Meet Heather and Elf
Since 2016, Heather has been using GPS satellite transmitters to track the movements of waterbirds in and around the Murray-Darling Basin. This work helps inform environmental water management and policy to support waterbird populations and their habitats.
Her research tracking waterbirds, seen through the eyes of 'Elf', a Straw-necked Ibis, recently featured on ABC Radio National's lifestyle and design show, Blueprint with Jonathan Green. Listen to Sense of Place: Heather McGinness, Australia's inland floodplains and wetlands (10-12 mins).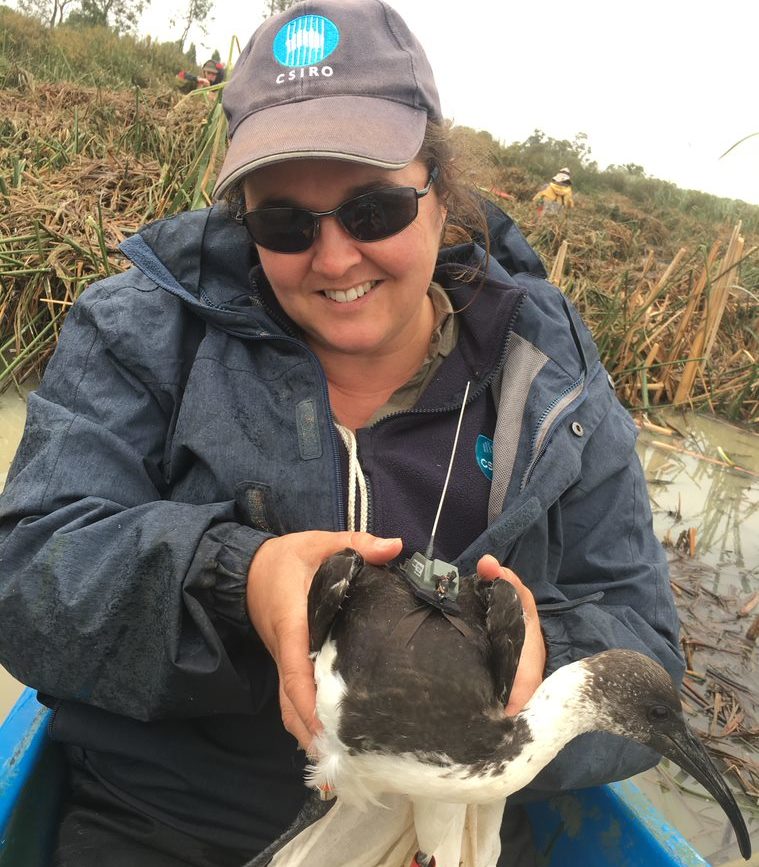 Exploring Australia's inland wetlands and their importance for our waterbirds
Heather is a Senior Research Scientist specialising in freshwater ecology, particularly wetland, floodplain, and river ecology.
Her fascination with plants, birds, and other animals that depend on wetlands has led to her two decades of research in Australia's beautiful inland floodplains and wetlands.
"My project teams and I are using the latest technology including satellite transmitters, drones, remote monitoring cameras, and satellite imagery to track and improve understanding of waterbird breeding, survival and movements across Australia - and the things that affect them," she said.
"It's amazing to me how little we really know about the movements, survival and life cycles even of common and obvious species.
"My work is trying to remedy that so that we can improve and better target our management of water and wetlands to support waterbirds," Heather said.
What drew her to this science?
Heather's always been passionate about wise use of water, wetlands, and rivers.
"I love their complexity, their beauty, and their changeable nature and living movements across the landscape and over time. Water is life," she said.
"I became particularly interested in birds about 12 years ago. I was keen to learn their calls, identify them, and study their behaviours. It opened up a whole new world to me that I can't believe I was missing.
"The world is alive with birds, if we just take the time to listen and look up. Birds are also highly responsive to environmental change, including changes in water resources and their flow-on effects, so they can be excellent indicators of how well we are doing in managing our environment," she said.
According to Heather, our Australian waterbird populations depend on suitable feeding and nesting habitats, coupled with rain and flood events.
"Wetlands within the Murray-Darling Basin provide critical waterbird habitats. Our water and vegetation management decisions influence the quality and availability of these sites," Heather said.
"To maximise waterbird recruitment, maintain populations, and conserve biodiversity, protecting and maintaining suitable feeding and nesting habitats, both between and during flood events, is essential.
"This requires careful management of both vegetation and water regimes," she said
How can tracking waterbirds help save key habitats?
There are challenges that Heather sees worldwide. They are the over-allocation of water resources and the related impacts on our freshwater-dependent ecosystems. Our changing climate is also impacting upon these issues.
In the Murray-Darling Basin, Heather has seen a growing awareness. Many now recognise not just the need to ensure our waterbird populations can breed, but also to manage feeding areas for both adult and juvenile waterbirds.
"Appropriately managing environmental water placement and timing is critical to facilitating the recruitment of juveniles into our waterbird populations and ultimately species survival," she said.
"That's where the trackers come in. More knowledge is needed to better understand the range of influences on waterbird survival.
"This means understanding the interactions between water flow, food availability, and waterbird movements. We're keen to know where they go during and between breeding events, and why."
Filling these knowledge gaps is key to ensuring water managers can apply water to the right places at the right times –ensuring the success of future breeding events and waterbird survival within the Basin.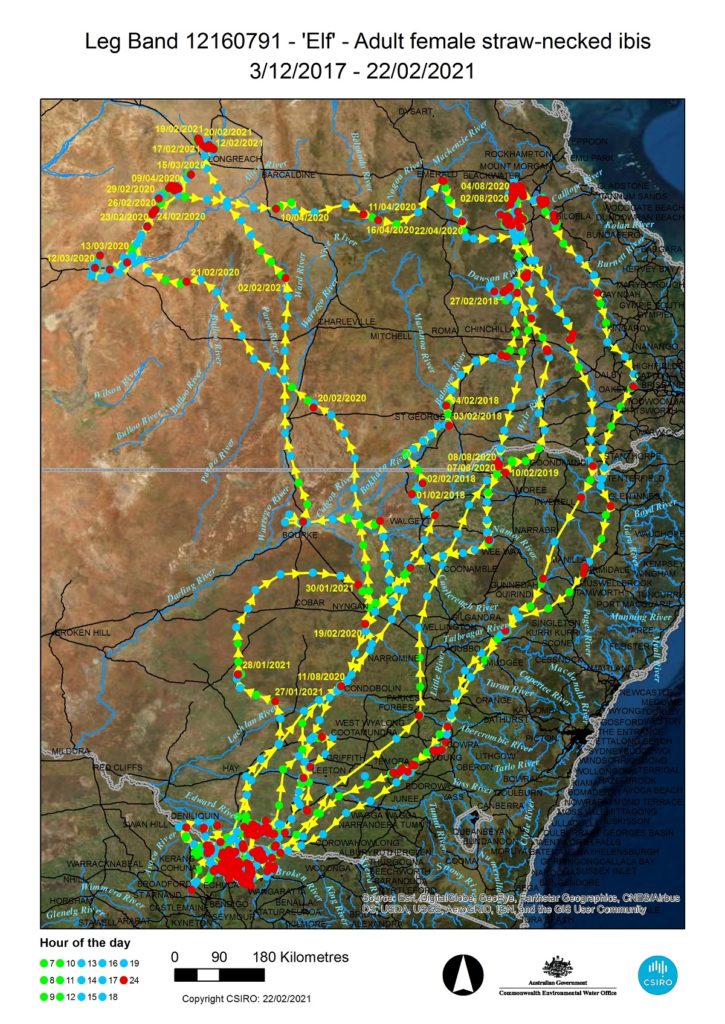 Inspiration from the field
The best part of Heather's job is her contact with the 'real world' of ecology through her fieldwork, collecting new and priceless data, often in wild, relatively inaccessible, or remote places.
She's focussed on delivering new information for a better understanding of what is going on in our ecosystems in response to water management, to inform improvements and decision-making.
"Ecology is about interactions, complex interactions. Nothing is simple about it," she said.
"Certain kinds of inspiration, ideas and genuine comprehension can only come from the field. Spending significant amounts of time in the places and with the things that you're researching is helpful. Collecting new, fit-for-purpose, targeted and real quantitative data is essential.
"We still lack much critical data for most of our waterbird species and wetlands. The on-ground reality is often very different from what people think it is," Heather said.
Explore more