We talk to two of our early career scientists, Dr Adrian Murdock and Dr Bita Bayatsarmadi, about their current research: water purification and hydrogen production.
They explain how their formal education set them up to become researchers who are making a practical impact on everyday problems.
Cleaning our waters with nanoscale technology
Dr Adrian Murdock is a materials scientist working on graphene technology. Graphene is a single atomic layer of carbon atoms arranged in a hexagonal lattice. It can be used to solve many environmental and energy problems.
"About three to five years ago we realised we needed to start focusing on what we could do with these unique materials. We quickly shortlisted water purification because it fits well with graphene's properties and has great application. Clean water is pretty important for our future," Adrian said.
"But we're not just focused on making clean water. We also look at purifying really dirty waters, we can also concentrate other liquids. And we can also extract valuable dissolved bi-products. So, there are wide-ranging applications for our graphene membranes."
Adrian and the team have had some great results with this research. Even taking it to a wider audience by appearing on Sunrise and ABC News Breakfast.
"The team and I all believe we are one or two experiments away from this huge break through where we'll be able to take the technology much further and have a bigger impact," he said.
Beyond his PhD
Adrian has a research background in nanotechnology with expertise in the production and characterisation of graphene films and membranes. His research in this area is on the development and technology scale-up of graphene membranes and water purification systems.
But Adrian didn't know he'd end up working on nanoscale technology when he was studying.
"I was always passionate about science in high school so it was a natural progression to do my undergraduate degree in science. I enjoyed my Honours research project and with support from my supervisor at the time, I landed a scholarships to do a PhD in the UK," Adrian said.
"But I knew I didn't want to step into industry straight away, so doing a PhD gave me the opportunity to continue research and discover new things.
"Now that I'm at CSIRO, I still get the enjoyment of scientific discovery, but I'm doing more tinkering with engineering and the technology side of things, as well as investigating business development and commercialisation opportunities of the graphene membranes. This is all possible through the support from Science and Industry Endowment Fund (SIEF), to scale up and develop the technology.
"This diverse type of work allows me to see the real world potential application from materials science," he said.
Working on a hot sustainable topic: hydrogen
Dr Bita Bayatsarmadi works as an electrochemical scientist. She focuses on the development of flow electrochemical cell for electrochemical processing.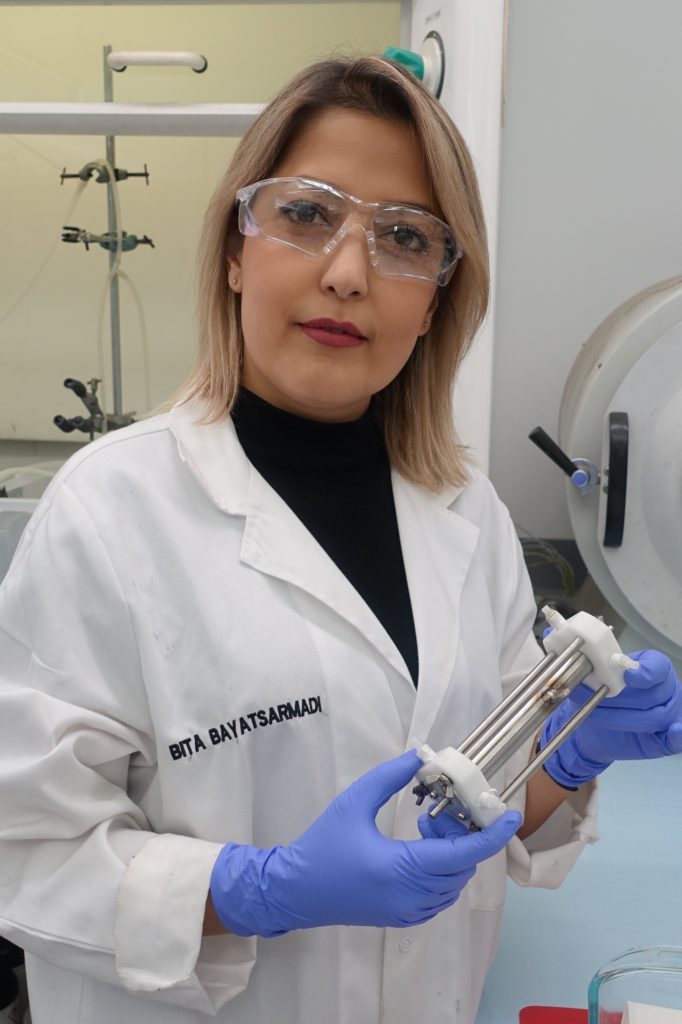 "The work I do on electrochemical reactors is applicable in lots of different scenarios. It can be used in water purification, removing heavy metals from wastewater around mining sites and disinfecting water," Bita said.
"Recently I started working on using our flow cell in energy conversion and storage. This is new research for us. We are trying to produce hydrogen using our flow cell technology.
"Hydrogen production is a very hot topic. It's a future energy resource. Many research institutes around the world are working on technologies to produce and store hydrogen. I know this work is very impactful. We're still in the early stages but I'm very excited to see where it goes," she said.
Not always part of the plan
And while Bita is working on amazing science, electrochemical science wasn't always part of her plan.
"As my childhood dream job, I wanted to be a medical doctor. My brothers, who are older than me, wanted to be engineers and my parents were involved in engineering and mathematics. In first year of high school back home (in Iran), we had general courses to choose our pathway towards future studies. These were either engineering, medicine and law," Bita said.
"At the end of first year, I realised I wasn't very good at microbiology, genetics or these sorts of fields. But I was good at mathematics, physics and chemistry. So, I changed my mind and ended up doing courses that led me into engineering."
At university, Bita completed a bachelor's degree in chemical engineering. After that she started working as a process engineer in the oil and gas industry. She then studied her Master's in chemical engineering and migrated to Australia to do her PhD in chemical engineering.
Australia ended up being the perfect environment for her to blend her engineering experience and desire to work in sustainability science.
"Having worked in oil and gas industry, I knew it was finite resource. So, I wanted to pick a research topic for my PhD that looked at renewable energy and solved real world problems," Bita said.
"Electrochemical processing is a green technology, so I get to work on environmentally sustainable projects at CSIRO using all my valuable information and skills."