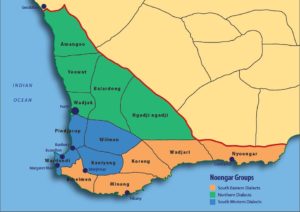 The ALA's Indigenous Ecological Knowledge (IEK) program (ALA-IEK) has collaboration at its core. Staff work on a range of projects around Australia to help preserve Aboriginal and Torres Strait Islander languages. They also promote Indigenous knowledge in education and in land and cultural management.
The ALA Noongar-Wudjari project in Western Australia is one of the exciting initiatives underway. The project began in 2020 and is co-led by the Noongar Boodjar Language Centre and supported through the Australian Government's Indigenous Languages and Arts program.
According to Denise Smith-Ali, Senior Linguist and Founder of the Noongar Boodjar Language Centre, the main aim of the project is to record, collect, protect and promote the Noongar-Wudjari language and ancestral ecological knowledge.
"We want to document as much as we can about the plants, animals and places and to save our language. The Elders asked us to do this a few years ago and the Atlas of Living Australia is the perfect platform for us to work together with other scientists to do this work," she said.
Working on Country
In May, a specialist team of Indigenous knowledge holders, linguists and scientists travelled to Fitzgerald River National Park to record the Noongar-Wudjari names for plants and animals. They also recorded knowledge such as what the species looks, feels, smells or tastes like.
According to Nat Raisbeck-Brown, experimental spatial scientist and ALA-IEK Project Leader, this kind of collaborative work, on Country, is invaluable.
"To successfully link Western science - the taxonomic, Latin, name of a plant or animal - to traditional knowledge we need a few key ingredients. Firstly, Western science-trained biologists work with linguists who can interpret the spoken words of the knowledge holders into written text," said Ms Raisbeck-Brown.
"It's important to get out on Country where the plants are growing and the animals can be found. It's by getting out on Country that stories and memories can be shared," she said.
Ms Smith-Ali agrees and was particularly excited that the trip participants included young people and Australia's first Indigenous ethnobotanist, Gerry Turpin.
"It was wonderful to have Elders on Country, with scientists, to share knowledge from an Indigenous point of view and teach the younger staff from the centre how important it is to reclaim and revitalise our Noongar language," said Ms Smith-Ali.
"The most beautiful thing about this process is working with the Elders and reviving and documenting what they want us to. Recording, collecting and protecting is how this knowledge will be shared and given to future generations," she said.
(Left) Lynette Knapp on Country. (Right) Gail Yorkshire discussing the uses of a plant with Steve Hopper. Lynette and Gail are lineage holders and have the wisdom of their family who protected the ancient knowledge. Steve Hopper is a senior botanist from the University of Western Australia and a link to Western science knowledge. Credit: Noongar Boodjar Language Centre
Forming partnerships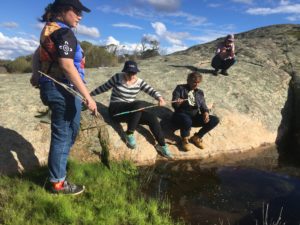 The partnership between the Noongar Boodjar Language Centre and the ALA was sparked by Ms Smith-Ali after meeting Ms Raisbeck-Brown at a conference in Darwin. Ms Smith-Ali invited Ms Raisbeck-Brown and the ALA team to visit. She asked the question: How can we all work together - non-Indigenous and Indigenous people - to revive Indigenous languages?

Ms Smith-Ali believes that scientific processes and learning opportunities have been far more powerful for all partners as a result of working together.

"The partnership with the ALA and CSIRO is strong because it's about working together and having respect for and learning from each other to get this work done," she said.

"I have seen a change in the ALA and university scientists who have seen how we work. They now have a greater respect for our knowledge and how equipped we are to do what we do. There's a shared professional respect among partners," she said.
Reimagining the definition of scientist
According to Nat Raisbeck-Brown the projects key goals are bringing together different knowledge systems and for Aboriginal and Torres Strait Islander People's knowledge to be recognised as science.

"Aboriginal and Torres Strait Islander Peoples have been our scientists and land managers for 65,000 years," she said.

"Indigenous knowledge comes from life experience and being part of the land and is integral to our scientific knowledge system," said Gerry Turpin, Indigenous ethnobotanist with the Australian Tropical Herbarium and the Queensland Herbarium.

According to Mr Turpin, this link between biodiversity and Indigenous culture is clear.

"Biodiverse areas were traditionally areas of high human activity. Aboriginal and Torres Strait Islander People interacting with their environment increases the biodiversity and the health of the country. So, it is imperative that Traditional Owners' knowledge is included in resources like the ALA," said Mr Turpin.

To do relevant science with impact, it needs to be integrated with the community around it and existing knowledge, in all its forms. This requires time to build relationships and set up the working environment for success. According to Mr Turpin, this could be through sitting around a campfire drinking tea and eating damper cooked in the ashes.

"It's key to remember that these relationships may not always be about money. Training and getting People back on Country are also important. It is crucial we include Aboriginal people in all field work," he said.
Knowledge of now and the past
Without including Traditional Owners in this work, future generations would be missing out on incredible knowledge. Ms Smith-Ali emphasised that because the world is now more westernised it is even more crucial to capture and record 'old history'.

"We are re-building our layers of that ancestral knowledge and the ancient world," said Ms Smith-Ali.

"We are trying to acknowledge this old knowledge about plants and animals before it disappears; we need to work with these Elders while they are still here, building on that ancestral timeline," said Ms Smith-Ali.

Gail Yorkshire harvesting then holding bardi (genus Endoxyla) she has removed from the tree to eat. Credit: Noongar Boodjar Language Centre
Next steps
Over the coming months approximately 60 to 80 profiles of plants and animals in the Noongar-Wudjari language will likely be added to the ALA. Once entered, anyone will be able to use the Noongar-Wudjari name to search for a plant or animal and then access both the Indigenous and Western science knowledge.

These new entries will join the entries in Kamilaroi languages. There are now 683 Kamilaroi names included and 304 species in the ALA with Kamilaroi names.