Our researcher and mouse expert Steve Henry is no stranger to working with animals. But his work is more relevant to Australians now than ever before. Steve's at the forefront of finding a solution to the mouse plague. 
Parts of Queensland and New South Wales are experiencing a boom in mice numbers. Mouse populations have reached plague conditions not seen since 2011. This is largely due to favourable climatic conditions, which have created optimal conditions for mice to breed.  
Steve has led an evidence-based research project to help address this issue. Funded by Grains Research and Development Corporation (GRDC), this research has led to doubling the recommended dose of zinc phosphide (ZnP) in mouse baits[Link will open in a new window].  
Mouse in the house 
Steve said a mouse plague[Link will open in a new window] of this kind happens about every 10 years.   
"Mice are currently responding to seasonal conditions. There's been good rainfall after several years of drought and the bumper grain crops grown over spring and summer provide excess food for mice," Steve said.  
Farming practices have also changed over the years. Water conservation and environmentally sustainable methods, such as minimum or zero tillage have resulted in significant increase in both available shelter and alternative food sources for mice in fields.   
"Shelter and food sources combined create perfect conditions for mice to thrive and survive," he said. 
From farming to science 
Steve didn't start out as a scientist. He was a farmer. But he loved working with animals and that brought him to CSIRO.  
He started working in the Vertebrate BioControl Cooperative Research Centre (VBCRC). The centre aimed to develop immunocontraceptives for pest animals like mice, rabbits, and foxes to reduce their numbers.  
The combination of pest animals and agriculture was a great fit for Steve's experience and interest.  
"Working with some fantastic scientists at the VBCRC allowed me to get a good understanding of the issues associated with pest animals," Steve said.  
"As we started working on mice in no-tillage farming systems it became apparent there were significant gaps in our understanding and management of mice in these systems."  
 
As a result of this work, the GRDC supported the development of a range of projects. The research aimed to understand mice in no-till systems and develop strategies to reduce their impact.  
"The data from these projects is helping us understand mouse numbers and the variables that drive changes in the populations. It's also helping us reduce the impact of mice on farmers and communities," he said.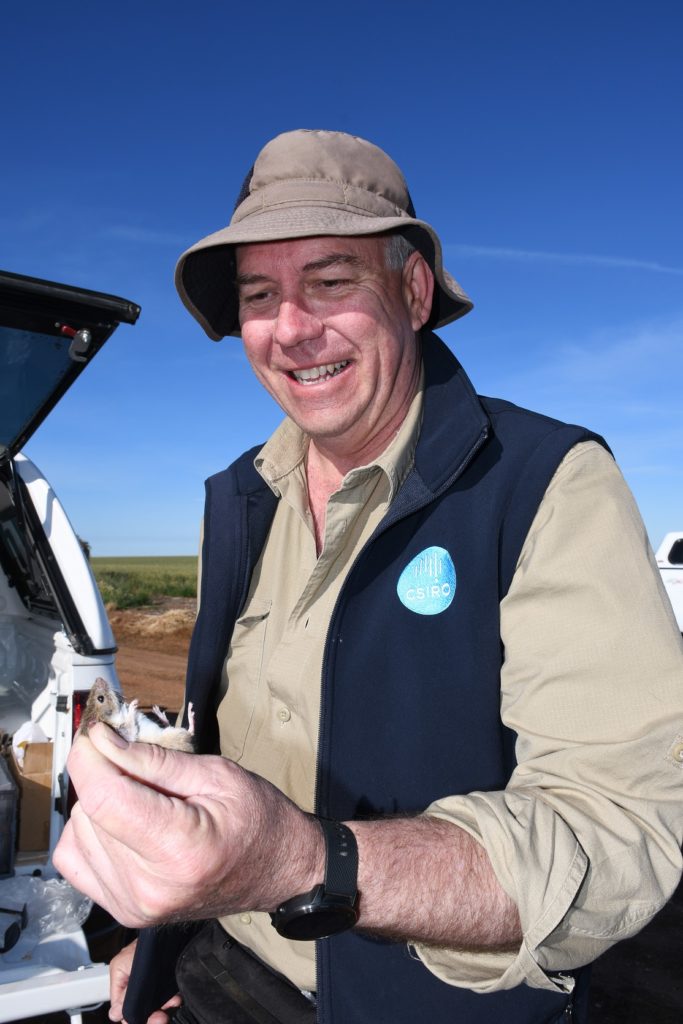 Baited breath 
This research project with GRCD was the first laboratory-based mouse bait efficacy study done in Australia since ZnP was registered for agricultural use around 20 years ago.  
Industry body Grain Producers Australia (GPA) applied for the Australian Pesticides and Veterinary Medicines Authority emergency use permit based on the research outcomes. 
ZnP-coated wheat bait is the only registered in-crop rodenticide for the management of mice damage in broad-scale agriculture in Australia. The new emergency use permit increases the concentration of ZnP active per wheat grain from 25 g/kilogram to 50 g/kg.  
Steve said the lab findings showed the bait prepared at the new mixing rate was lethal in 95 percent of mice. 
"The previous bait mixing rates was only lethal in 50 per cent of mice. It is critical that every grain of bait represents a lethal dose," Steve said. 
"Our lab research has shown that mice rapidly develop aversion to the bait. This means if they do not consume a lethal dose from one grain of bait, they will not consume any more toxic grain."
The bait is still applied on-farm at one kilogram per hectare. But it will have twice as much ZnP on each grain. This increases the likelihood of a mouse consuming a lethal dose in a single feed.   
Farming the research  
Steve Henry's work today is incredibly diverse. He could be catching and handling mice in cropping systems or presenting to farmers and agronomists about minimising the impact of mice in crops.  
Steve has also responded to numerous requests from rural communities, asking for advice to help farmers better deal with mice and the mouse plague as they prepare to sow their winter crop. 
Steve has just completed a series of mouse management workshops with farmers across NSW. He's delivered more than 30 workshops in the last two months.  
"Because of the plague's seriousness, I've had a huge number of media enquiries about mouse outbreaks. As the outbreak continues so do the requests for interviews and information," Steve said. 
Steve said it's about honesty, empathy and using language that's easy to understand.  
"I try to respond to questions in the way that I would respond to a friend if they were asking me about what I do each day," he said.