After a hiatus due to COVID, our AgCatalyst extravaganza was back showcasing some of the next big things in agriculture and food. Here are the innovations that will help agrifood industries face the future.
New veggie snacks that reduce food waste
A range of new healthy vegetable snacks will help reduce on-farm food waste and support farmers in their sustainability efforts. It's part of our collaboration with start-up Nutri V.
The Nutri V Goodies use the whole vegetable and parts of broccoli, pumpkin and cauliflower that would otherwise have been sowed back into the earth, gone to waste as landfill or animal feed. They are currently hitting Coles supermarket shelves nationally.
They're the first commercial products available since this partnership first co-developed healthy prototype vegetable products in 2018. You might have seen these as broccoli lattes[Link will open in a new window], which visitors to our last AgCatalyst were among the first to try.
Fewer than 10 per cent of Australian adults eat enough veggies a day. The Nutri V Goodies have two serves of vegetables per pack. Foods like snacks could be an easy and convenient way for many of us to top up our veggie intake in the future.
Harnessing invisible and invaluable microbes
What do the microbes in our gut, soil, polluting chemicals and dung beetles have in common? Our microbiome one system health[Link will open in a new window] (MOSH) future science platform is working to find out!
Microbes work together as communities, called microbiomes. Like microbes themselves, microbiomes are invisible to the naked eye and are essential to the function of all living things.
We've established MOSH to research microbiomes in various ecosystems[Link will open in a new window]. We'll also develop a new understanding of how these microbiomes might be connected. And how we might be able to harness their benefits for our health, food and environment.
At AgCatalyst, MOSH leader Scott Rice battled it out in quiz show style with other future science platform leaders. During this engaging session, they explained how their research is underpinning innovation and creating new industries.
Finding a better whey
Do you remember the story about Little Miss Muffet? You know, she's eating curds and whey, and then there's that spider. Did you know the curds she is eating are cheese, and the whey is the liquid leftover from cheesemaking?
Australia generates a lot of whey and there are a bunch of things you can do with it. We're helping the Australian industry use more whey and get more value from it.
Jack Hetherington [Link will open in a new window]is a PhD Student with us and the University of Adelaide. He's working to understand and support the Australian cheese sector adopt sustainable and profitable whey management practices. This includes using decision support tools.
Jack was one of the early career researchers who pitched their work at AgCatalyst.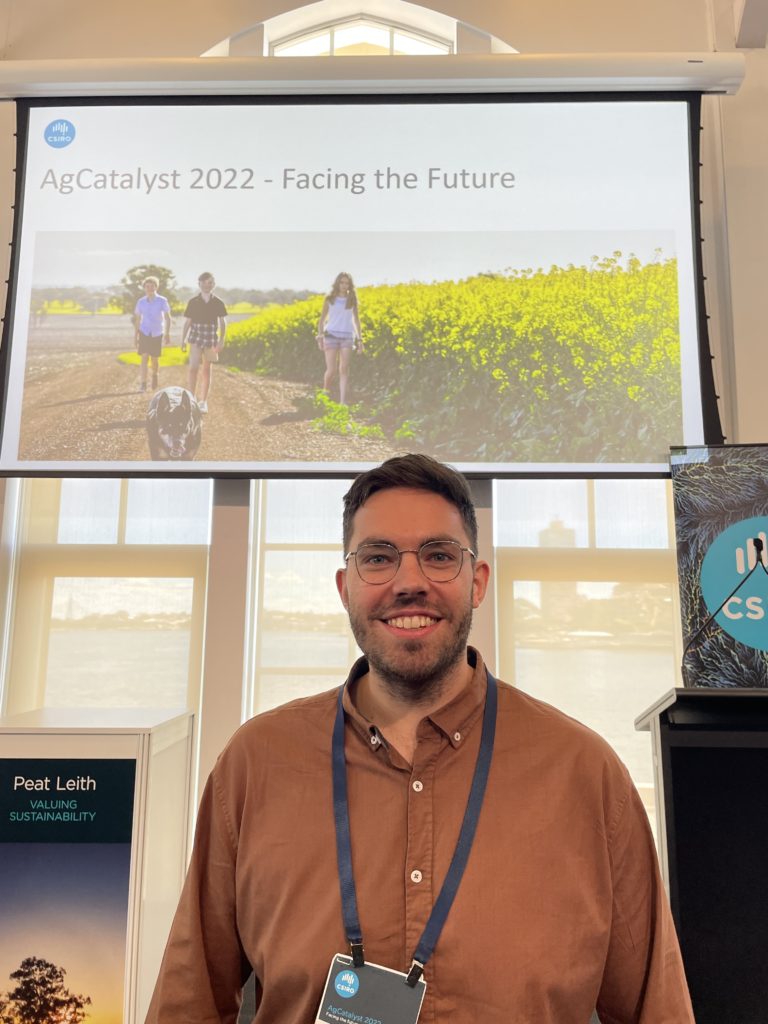 From animal welfare to food safety
Like a second set of eyes, new types of sensors can improve animal behaviour monitoring in the field for their health and welfare. This is especially important for activities that are difficult to detect reliably through a single type of sensor.
For example, to detect cattle drinking, light detection and ranging (LiDAR) and cameras can work together to map the paddock and key objects the animals interact with, such as a water trough. They can accurately detect activities like walking, grazing and resting in real-time.
Similarly, food manufacturers and processing facilities can detect and report on compliance activities, like handwashing. By automating, manufacturers can readily demonstrate that they meet important regulatory or certification requirements.
This is possible thanks to our team's work that combines LiDAR sensors with cameras and machine learning models.
Showcased by our Trusted Agrifood Exports Mission[Link will open in a new window], this technology is an example of how we're helping create an integrated approach to regulatory compliance for export.
Finding the art in science
We don't normally associate science with art. But we invited staff to share their creative talents to explore the theme of AgCatalyst 2022 differently than the conventional conference presentations.
After all, as Albert Einstein said: "I didn't arrive at my understanding of the fundamental laws of the universe through my rational mind."
We displayed 16 art submissions that showed a range of perspectives on research and how it can help the agrifood sector 'face the future'.
One piece was 'Appetite'. It was submitted by digital agronomist Eusun Han, farming systems agronomist John Kirkegaard and senior experimental scientist Tony Swan. It's a drone photograph taken as sheep are let into crops in a wheat and canola farming systems trial in NSW. We're researching how growing crops like these[Link will open in a new window] can be both grazed by livestock and harvested to help bring drought resilience to farming.