When you think of untouched marine environments, Western Australia's Ningaloo Reef may come to mind.
Its stunning blue waters are a thriving haven for more than 2500 marine species including corals, fish, turtles and whale sharks.
Ningaloo Reef is a playground for visitors wanting to get water through their hair and sand through their toes. But is it as pristine as we think?
Low levels of litter found at northern Ningaloo
In May last year, our research team embarked on the first broadscale marine debris survey focused on the northern Ningaloo Marine Park to determine just that.
We surveyed almost 50km of beach along the coast from Exmouth township to Osprey Bay. We walked along the beach looking for any litter greater than half a centimetre. That's less than the width of your pinky fingernail!
We found northern Ningaloo Reef has very low levels of marine debris. This is comparable only to remote areas of Tasmania and less accessible reefs of the Great Barrier Reef.
The most commonly found items were fishing items. These include line, rope, hard and soft plastic lures and packaging, and hard and soft plastic fragments. Not surprising given that Ningaloo Reef is a hotspot for recreational fishing. What did surprise us though? The amount of litter observed actually decreased where more visitors were present. But why?
Increased community effort has positive results
We attribute this to a few things.
Ningaloo Reef's location, remoteness and low population definitely help. But it's the positive environmental attitudes and behaviours, and the management strategies in place, that have ensured this beautiful part of the world stays just that.
Over the last decade, residents of Exmouth have become more active in their efforts to reduce plastic waste.
Voluntary plastic bag bans and initiatives to reduce the use of single-use plastic products, such as straws and takeaway food packaging, have been introduced. Education and waste management programs with local school groups, and regular community beach clean-ups, have been successful. This is not only through the support of locals, but also visitors to the area.
Added to these are the management strategies implemented by the Department of Biodiversity, Conservation and Attractions. These strategies centre on the principles of Leave No Trace[Link will open in a new window] and empower visitors to take responsibility of their own waste.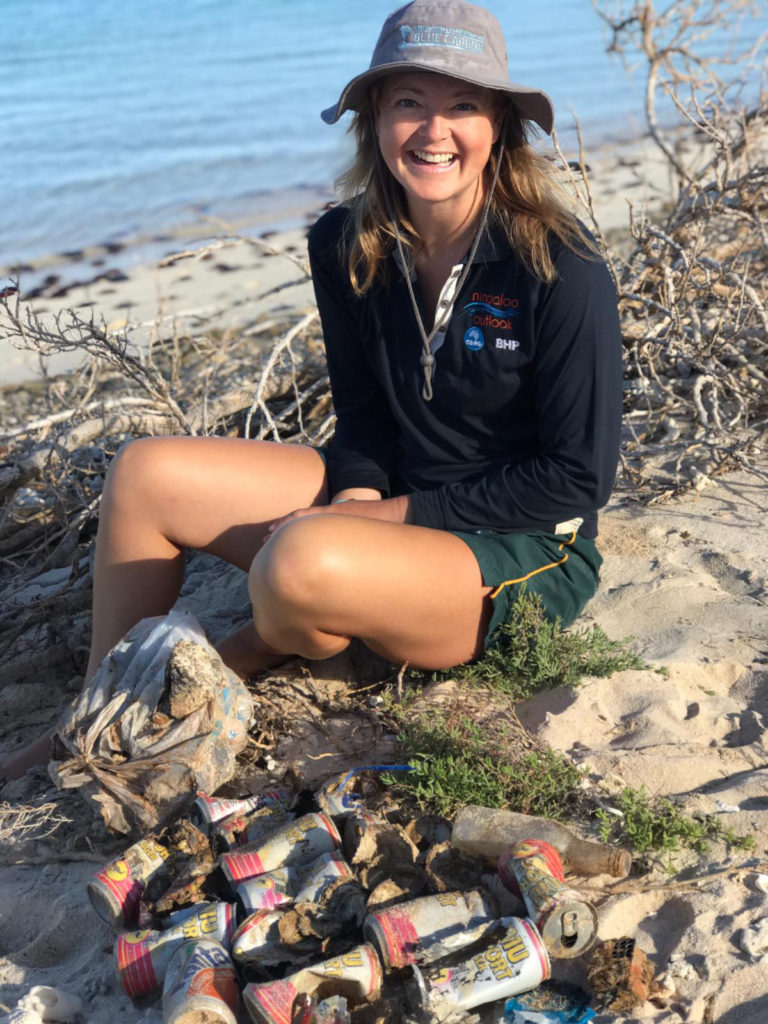 Ningaloo not immune from litter, but a shining light
These findings are super exciting! While the marine debris and plastic pollution problem is continuing to grow globally, this little slice of paradise gives us hope that all is not lost.
Ningaloo Reef is not immune to litter and is vulnerable to litter arriving on currents from far off places. However, the actions taken by managers, residents and visitors alike are showing that we can all do our bit to keep our beaches clean.
This study not only increases our existing understanding[Link will open in a new window] of how much and where marine debris may be coming from, it uses a reliable and reproducible methodology that can now be used time and time again.
The Ningaloo Outlook[Link will open in a new window], a BHP-CSIRO Industry-Science Marine Research Partnership has supported this research. The partnership is investing $12.4 million over 10 years to gather new knowledge on the Ningaloo Reef and its important ecological values.