Aboriginal and Torres Strait Islander peoples are Australia's first scientists and environmental managers. Their intrinsic ties to ancestral lands, waters, skies – and everything that they contain – have survived millennia and are just as important to Aboriginal and Torres Strait Islander peoples today.
That's why environmental scientists are increasingly looking to learn from Indigenous knowledge, perspectives and practices, and support ways of working more closely with Indigenous knowledge holders and land and sea managers.
Responsible innovation on Country
The 2021 State of the Environment (SoE) report, released this week, reflects CSIRO's increasing partnerships with land and sea managers and Traditional Owners. The SoE's dedicated Indigenous chapter is a first for the report, led by Indigenous research scientist Zena Cumpston and Indigenous lawyer Dr Terri Janke.
This chapter was also co-written with CSIRO authors Dr Ro Hill, Dr Emma Woodward, Stephanie von Gavel and Pia Harkness, as well Indigenous authors for other chapters. The Indigenous theme chapter provides clear evidence for Aboriginal and Torres Strait Islander peoples' leadership in environmental management in Australia. It explores how Indigenous peoples are uniquely positioned to care for the environment and keep it healthy. And it shows how Indigenous data, information and knowledge are key not just to managing Australia's environment, but to their ongoing stewardship of Country.
But with this expectation on Community comes powerful pressures on people. It's a path Western and Indigenous scientists are navigating together. Co-design methodologies and collaborative approaches support good ways of working together so that sharing and learning across Western and Indigenous science might take place.
Introducing drones to Jawoyn Country
The SoE's Indigenous chapter highlights a recent project to support communities with technology that can better respond to their needs. It names a collaborative CSIRO project undertaken on Jawoyn Country (in southern Kakadu National Park, Northern Territory) in 2021 as an example of best practice in responsible innovation and respecting Indigenous data sovereignty.
Through a National Environmental Science Program (NESP) Northern Australia Hub project, scientists from CSIRO, Charles Darwin University (CDU) and the University of Western Australia joined with Traditional Owners and Indigenous Rangers at Jarrangbarnmi, an area jointly managed by Jawoyn Traditional Owners and Kakadu rangers.
Together, they looked at designing protocols to ethically introduce drones to Jawoyn Country.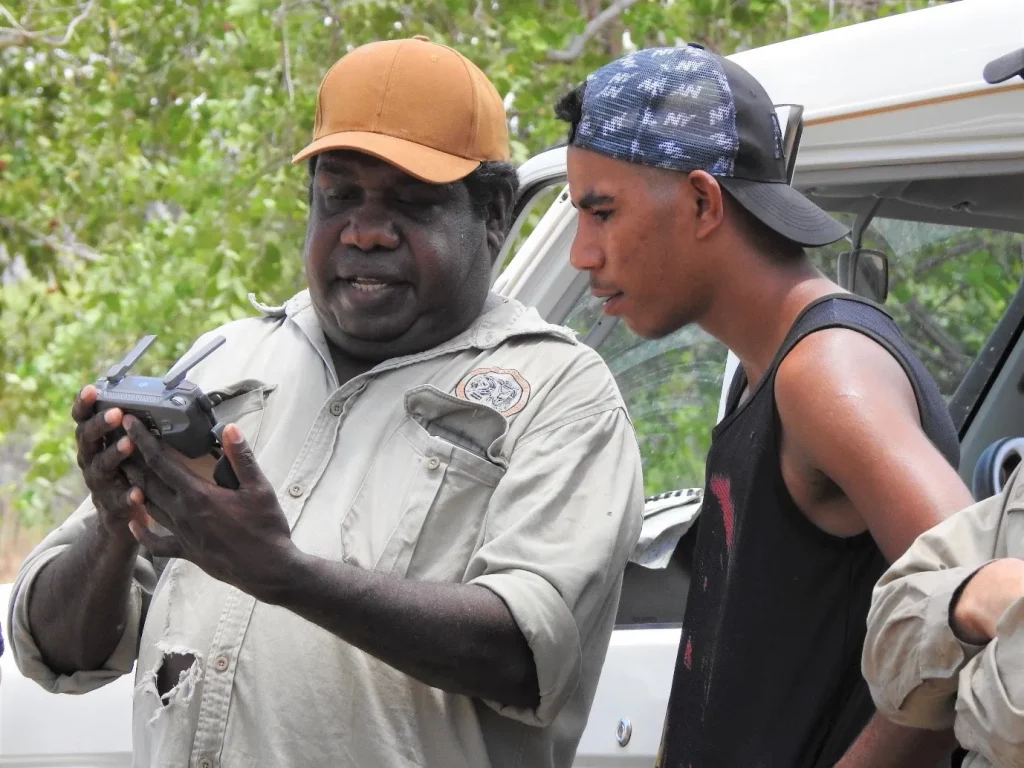 Co-design as critical to responsible innovation
Dr Jennifer Macdonald is a CDU-CSIRO Post-Doctoral Research Fellow who worked on the project, supported by CSIRO's Responsible Innovation Future Science Platform. She's interested in the responsible use of technology to support caring for Country in a collaborative way with Traditional Owners, and to improve digital inclusion.
"We took motion cameras, video cameras and drones on Country as potential monitoring tools. Traditional Owners were really keen to use drones to look at Country from the air, but they were clear that we needed to talk about how to use drones safely, where they could fly, where they couldn't, so that Traditional Owners had control over where and how they were being used and so their use could provide benefit back," Jen explained.
"It was very important that the rangers were empowered – that they had capacity to collect the data they needed to make better decisions on land management.
"Our biggest learning is that consent is an ongoing process. We're using technologies as a tool that assist people in their land management work. Every time we went, we'd confirm it was a good idea, and that it was still going well."
Throughout the project, co-design and collaboration were top priority. The research question came from the research steering committee, made up of local representatives across the park. The committee also chose where the project team worked in Kakadu.
"A group of Traditional Owners led each of the project sites, and chose the methods that directed how the research was done. We also used a process to check in with people along the way," said Jen.
Discovering new ways to empower old ways
Jawoyn Country is around 50,000 km2, encompassing southern Kakadu National Park and Arnhem Land, and extending down to Mataranka.
For Traditional Owners, its stunning sandstone gorges, cascading waterfalls, flood plains and rocky outcrops make up their ancestral home. Generations of stories hold deep knowledge of how to look after it properly, and it's important this continues alongside the use of new technology.
One of the opportunities that emerged during the process was for young Indigenous peoples connected to Jarrangbarnmi to learn and use the technology.
When traditional fire practices burn away the dry scrub, a drone can take a survey of the area from above. Traditional Owners and rangers can use these surveys to see how Country is responding to early, cool season fire management.
Bessie Coleman, a Jarrangbarnmi Elder, was involved in the project with her two grandsons and her nephew. Her hope is that learning how to use the drones combined with learning traditional stories from Elders means the next generation will be well-equipped to look after Country.
"We love our bush. We want to see that bush is healthy so that we can be healthy too. The land is like us," said Bessie.
"Technology is good for the young people to learn, but the old people have the knowledge. We're going to see in the future, everything will be in technology. But the old people can tell stories with plants, animals, and educate the young generation.
"Us old people, we don't know how to use technology, we only know Country and story."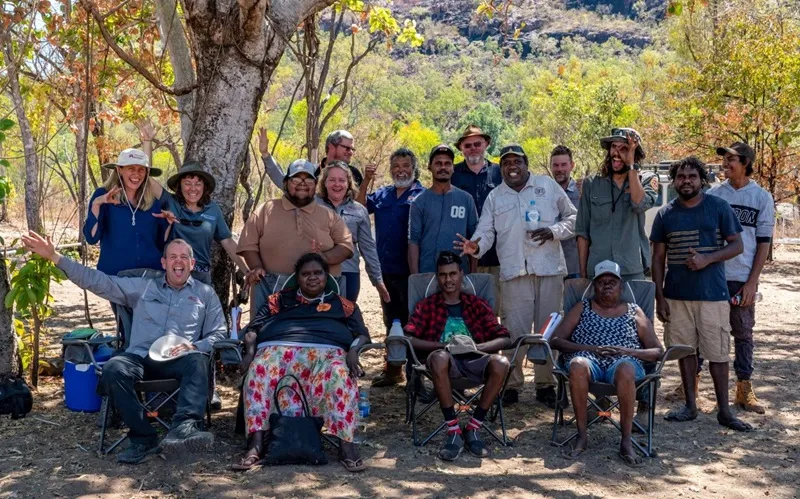 This project has led to the development of protocols that people can follow to use drones ethically on Indigenous-owned land. With national parks requiring a licence to use a drone, the project team is now co-designing a digital training program to better equip Indigenous peoples to use drones and other monitoring technologies to support their caring for Country work.
Collaboration essential for environmental health
Cross-cultural collaboration is enhancing the analysis and reporting of environmental and heritage conditions, trends and pressures. This latest edition of Australia's State of the Environment report (2021) demonstrates the critical importance of empowering multiple knowledge systems, as well as working in partnerships to deliver the best possible outcomes for Australia's biodiversity.