In 2021, 95 students from around Australia participated in our virtual work experience program. They were involved in science, technology, engineering and mathematics (STEM) projects linked to our real-world research and industry challenges.
As the name suggests, the virtual work experience program[Link will open in a new window] supports students to do work experience remotely. They learn from our experts in a range of scientific fields and get a taste of what it's like to work in STEM.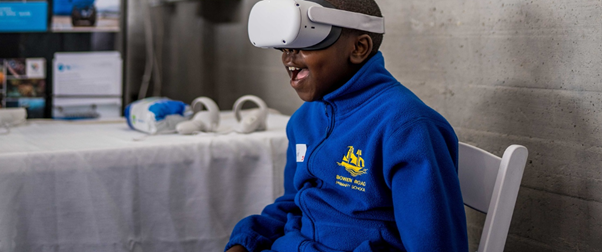 Students look to the stars for career inspiration
Rob Hollow is the Education Manager with our space and astronomy team. The team has oversight for the Parkes radio telescope, Murriyang. He is also a supervisor in the Virtual Work Experience program.
"Traditionally, we think of work experience involving a student attending a workplace to learn on-the-job. The arrival of COVID-19 meant we couldn't do that anymore. This really highlighted how important a program like virtual work experience is," Rob said.
"The beauty of the program is that it has such a broad reach, especially now that video conferencing is more commonplace in schools.
"It also gives students in regional and remote areas access to an engaging, collaborative and worthwhile experience around future career paths without physically having to come into the city," he said.
Rob supervised seven students on a space and astronomy project. The students observed pulsars through the control of the Murriyang.
But it's not all about looking at the stars and beyond. The program also aims to highlight the vast variety of career pathways in STEM.
In 2021, students gained experience in wildlife genetics, marine research and engineering, computer science and maths modelling. They could also look at food processing, coding, simulation and software development.
Writing about science for future scientists
Some of the students even took a step into science communication. They used graphic design to communicate genomics and wrote for science publications like Double Helix.
Double Helix is our children's science magazine[Link will open in a new window]. It focuses on developing engaging STEM stories for middle year students (eight to 14 year olds). Some of our virtual work experience students contributed to Double Helix and the email newsletter Double Helix Extra.
Editor of Double Helix, Jasmine Fellows, said she wants the science in the magazine to wow young readers.
"These students knew which stories would pique the interest of their younger counterparts," Jasmine said.
"They're not afraid to tackle tough topics including taking action on climate change and the latest advances in medicine. They're passionate about sharing information that will help make the world a better place," she said.
Full STEM ahead for 2022
As well as work experience with our scientists and teams, this year's students can also be supervised by STEM professionals from the defence industry. This gives them more opportunities to learn about STEM career pathways.
The first round of applications for the 2022 virtual work experience program closes on 7 July 2022.