The first time Phoebe Readford realised her work had a positive impact was also the first time she was managing a big project overseas.
Phoebe was helping strengthen Timor-Leste's vaccination program for Newcastle Disease in chickens.
"I realised that I could use my skills to genuinely make a positive impact on a population of people, not just individuals," Phoebe said.
Phoebe leads the international program with our Australian Centre for Disease Preparedness (ACDP)[Link will open in a new window]. The program plays a critical role strengthening the Indo-Pacific region's biosecurity. This helps reduce the risk of infectious animal and zoonotic diseases, such as avian influenza or foot and mouth disease[Link will open in a new window], breaching our own borders.
Detecting diseases abroad
Through ACDP's international program, Phoebe travels to neighbouring countries such as Indonesia and Papua New Guinea. There she collaborates with animal health authorities and other biosecurity and animal health organisations to improve disease resilience.
Phoebe and her team provide training and support on disease surveillance techniques and lab diagnosis. This allows regional labs to hone their capability to detect animal diseases and improve their response. But it doesn't stop there!
"Our training also includes biosafety. This helps people working in labs in the region to protect themselves from the infectious diseases they work with. Additionally, this training helps them protect against infectious agents being used for the wrong reasons, such as bioterrorism," Phoebe said.
Phoebe also contributes to animal disease networks and working groups in the Indo-Pacific region. Through these networks she shares knowledge, research and experience in managing infectious animal diseases.
Biosecurity in the Indo-Pacific
When our near neighbours are good at preventing, detecting and responding to disease outbreaks, they have a better chance of controlling them quickly. This reduces the impacts on their own country and reduces the risk to Australia and our important livestock industries.
In the Indo-Pacific, animals aren't just a food source; they also have an important economic and cultural role. They provide status to a family, pay for important cultural events such as weddings, births or funerals and are an investment for important payments. This means a disease outbreak can have far-reaching and long-term impacts on families, communities and society. So controlling and reducing this impact is critically important.
Many animal diseases can also infect humans – we call these zoonotic diseases. Early detection and effective control of outbreaks can also reduce the toll these diseases can take on human life.
Phoebe has been reminded time and time again of the importance of her role. Most recently, these reminders came with outbreaks of lumpy skin disease and foot and mouth disease. It became apparent that her work could support Indonesia to strengthen their response to these emerging diseases.
COVID-19 was another reminder of the impact of her work.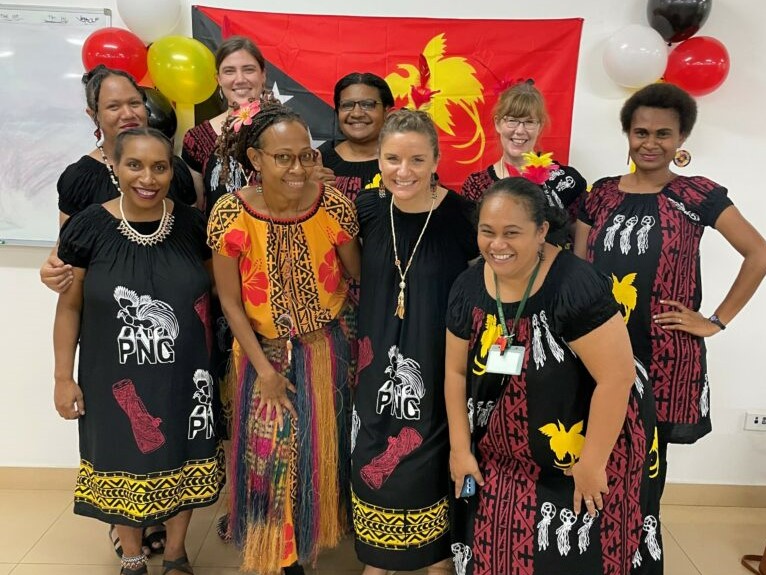 From the farm to the lab
Phoebe is a vet by training with a Master of Science in International Animal Health. Growing up on a farm in regional Australia, she knew agriculture was in her future.
"I also knew I wanted to help people (as corny as that sounds). Being a vet allowed me to combine my love of agriculture and rural life by helping people whose livelihood came from animals," she said.
Phoebe always thought she would be a clinical veterinarian in a rural practice helping livestock and horses.
Even though it wasn't in her plan, Phoebe still loves her job helping protect from biosecurity threats in the Indo-Pacific with ACDP. It fulfils her need to help people, be involved in agriculture and make a difference. Although she isn't directly helping individuals, Phoebe is helping populations of people who genuinely need and benefit from her work.
Making a difference, no matter how small
Phoebe gets great satisfaction from using her scientific knowledge to improve livelihoods of people around the world. Plus her role is the perfect balance of being outside and working with people. Through her work, Phoebe sees the impact that people can make when they truly work together.
"I find learning about and experiencing different cultures very humbling and it reminds me of what's really important in life. If that wasn't corny enough, I like to think I'm making a difference, no matter how small that may seem," she said.
For those dreaming of working with emerging diseases, Phoebe has a range of skills that have been useful in her career. These include being passionate about your work, building your network and never being afraid to back yourself.
"If someone says something can't be done, ask why. If someone tells you, you can't do something, make sure you try all avenues and test all the boundaries," she said.