Key points
We're the official scientific partner of the 2023 Bridgestone World Solar Challenge.
In October, global teams will drive their self-built solar cars 3000 kilometres from Darwin to Adelaide.
The event offers our scientists many opportunities to drive innovation and is a testing ground for new solar technologies.
Australia is famous for abundant sunshine and epic road trips. But it's when you combine the two, and add in a dash of our innovative spirit, that the magic really starts to happen.
This October will see the return of the Bridgestone World Solar Challenge and us as the event's official scientific partner. It's a 3000-kilometre journey from Darwin to Adelaide which attracts participants from around the world. They're keen to showcase the capabilities of a solar-powered car that they design, engineer, build and drive with their own hands.
Dr John Ward is the Research Director of our Energy Systems Research Program. He has been involved in the biennial event since 2005. He's excited to see it back on the calendar after a four-year hiatus due to COVID-19.
"Australia has natural geographical advantages that make it a great place to hold this event," John said.
"We have a lot of sunshine and what is effectively a 3000-kilometre-long straight road for the teams to run on.
"We also have a scientific faculty for the event who work hard to evolve the challenge over time and ensure that it stays fresh and interesting. That's what keeps people coming back year after year," he said.
The history of the World Solar Challenge
The first World Solar Challenge took place back in 1987. However, the idea for the event originated five years earlier. In December 1982, adventurer and solar pioneer Hans Tholstrup and racing car driver Larry Perkins drove a home-built solar car called The Quiet Achiever across Australia from west to east.
Buoyed by their success, Hans then urged others to explore the boundaries of solar-powered vehicles.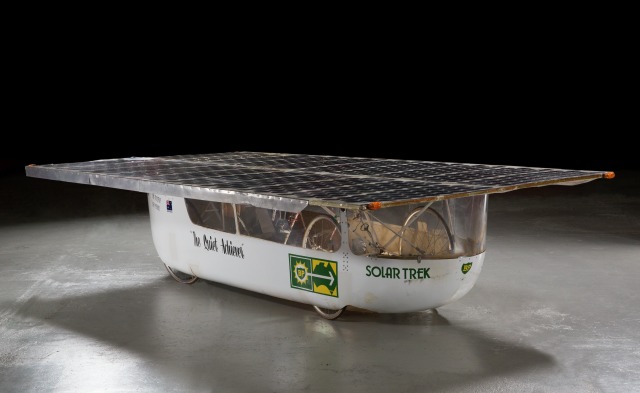 "If you go back to the first event in 1987, it was an amazing set of vehicles that rocked up," John said.
"No-one really knew how to build a solar car, so there was an enormous diversity of different things that people were trying."
Over the last 36 years, the event has evolved. The focus of the challenge remains on innovation and cutting-edge science, including the best solar cells, electric motors and energy storage. But there has also been a huge amount of work done to adopt regulations and procedures. These help make the event fair and safe.
Participating teams enter their vehicle into one of three classes: Challenger, Cruiser (which we are proudly sponsoring this year) or Adventure. Every car undergoes several days of scrutineering and inspections before the start of the event. John leads the team of scrutineers.
"We start with static scrutineering. We take a first look at how the cars have been put together and ensure they comply with the event regulations," John said.
"Then we move onto dynamic scrutineering, where the cars head out to the Hidden Valley Raceway. We get them to do things like a figure of eight, an emergency brake, and a lane change under braking. There's also a hot lap: the fastest lap the cars can do around the raceway. The performance of the cars helps us determine the starting order for the event."
Why are we involved in the World Solar Challenge?
Our scientists have been part of the World Solar Challenge from the very beginning.
Dr David Rand created the battery regulations for the inaugural challenge in 1987. And he has served as the Battery Technical Officer, and currently serves as the Chief Energy Scientist.
David was named as one of the 95 key electrochemists during the past 270 years who have been instrumental in researching and developing ever more efficient batteries and energy cells.
Dr Paul Gwan has been involved since 1996. He was instrumental in developing the world-first, highly efficient CSIRO in-wheel solar car motor that continues to be used by many competitors.
Many other CSIRO researchers also enjoy helping out with the challenge. They provide expert advice and engage with the community at public events in Darwin and Adelaide. Charlotte Farnworth and Sam Behrens are also overseeing the research conducted with our electric vehicle chargers that teams can access along the route at Tennant Creek and Coober Pedy.
From John's perspective, there is a wide range of benefits that come from that involvement.
"I think it's important for us to help set the World Solar Challenge up in a scientifically rigorous way that continues driving innovation," he said.
"We are always resetting the challenge in a way that keeps it relevant, and ensures we are tackling some of the big questions in energy research. Secondly, the event is a great testing ground for solar technologies that are getting beyond lab scale but haven't quite got to production scale.
"We might have developed some really efficient solar cells in our lab, but they might only be 10 square millimetres, for example. Perhaps we haven't fully sorted out how to scale up and encapsulate them so they are weatherproof.
"Having a role and a visibility in that scaling up process is hugely valuable, and a very important aspect of our involvement in the event."
What can we expect from the 2023 event?
The 2021 Bridgestone World Solar Challenge was cancelled due to COVID-19 restrictions. So, the anticipation for 2023's event is higher than ever.
More than forty teams have registered to take part. They represent universities, high schools and organisations from 24 different countries. And 1200 people are expected to attend the award ceremony in Adelaide on 29 October.
According to John, the four-year gap between events means there may be even more of a technology leap than usual. Although it remains to be seen how this will affect performance.
"We have records going back years, about what kinds of solar photovoltaics and batteries the teams have brought with them," he said.
"It's great to have that long-term tracking of what has been achieved and how the technology has changed.
"A good example this year is that the amount of energy per kilogram that you can get into a battery has increased significantly since 2019. It has jumped from about 250 watt-hours (Wh) per kilogram to around 380 Wh per kilogram. That's not a small amount."
There is strong evidence that lessons learned from the challenge have contributed to the automotive industry's knowledge and efforts to reduce its carbon footprint. An example is advancements in the performance of various battery chemistries. This progress is being achieved through the gradual electrification of road vehicles.
According to David, the challenge is a pioneering and unifying experience.
"The event brings out the best in technology, people and teamwork. It showcases Australia as a destination for participating high-achieving students to continue their research journey here with CSIRO and other local institutions after the event has finished," he said.
"It remains the leader among the 14 different solar car challenges that occur around the world today. It continues to be a cherished opportunity to continue my quest to create a sustainable world for the next generation."