Northern Australia's flooding monsoonal rains deliver more than half of Australia's total surface water runoff, but this remote and sparsely populated part of our continent supports less than 5 per cent of Australia's irrigated area.
CSIRO research estimates there are sufficient soil and water resources in northern Australia to support at least 1.5 million hectares of irrigated agriculture, a significant potential addition to Australia's existing 2.4 million hectares of irrigated land.
With an increasing global demand for food and natural fibre, and its proximity to growing Asian markets, strategic infrastructure investments could see Australia's north well-placed to reap the economic benefits from expanding its agricultural production.
But while there is renewed interest in water resource and agricultural development in northern Australia, CSIRO researcher Dr Cuan Petheram warns there is no one 'water solution' across the north.
Different water source options for different areas of the north
Maximising cost-effective water supply for a region depends on the resources available.
"Some places are suitable for sourcing water from groundwater. Others for harvesting water and collecting in off-stream storages," says Cuan. "Yet other places may suit the intentional recharge of water into suitable aquifers for later recovery and use."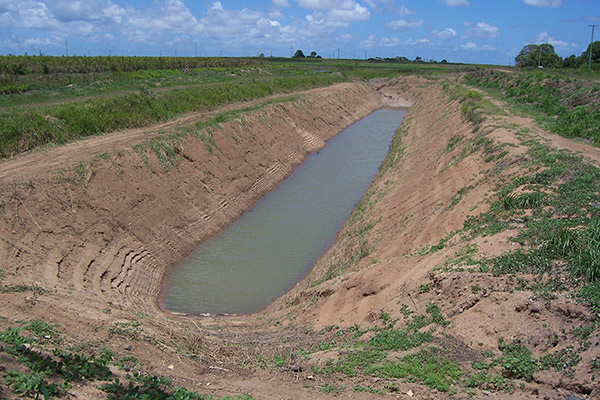 For example, in the Daly River catchment of Northern Territory the use of groundwater resources to irrigate 2,200 hectares is more cost effective than constructing surface water infrastructure.
However, in the Flinders catchment of north Queensland where there are less available groundwater supplies, researchers have determined that its flat landscape and heavy soils makes it more suitable for on-farm dams such as ring tanks.
"Our research shows that in the Flinders catchment, large on-farm dams could potentially support up to 20,000 hectares of irrigated crop production that can be reliably irrigated for an average of seven or eight out of 10 years," says Cuan
Cuan says that although each of these approaches will, at a given location, supply far smaller volumes of water than large in-stream dams, each has a role to play in maximising the cost-effectiveness of water supply.
"In some cases there may be opportunity to acquire water from multiple sources to maximise reliability of water supply or to meet the needs of a larger development."
The need to take a holistic approach to assessing water resources
Cuan believes it is important to step back and take a holistic view when assessing the water resource opportunities in a catchment.
This includes looking at current and future demands of water, existing water infrastructure and existing but unused water allocations.
It also means taking a comprehensive overview of all potential water sources and storage options, and the potential trade-offs to current water users or the environment resulting from water resource development.
"The benefit of undertaking such a holistic study is that it helps decision makers to take a long term view of water resource development," says Cuan. "It can also help inform future water allocation decisions."
Holistic water assessment will also highlight where additional water resource development may not be cost-effective.
For example, in a recent study across all of northern Australia CSIRO found that building 90 of the more viable large dams could support about 1.4 million hectares of irrigation. But if only 20 of the most promising dams were built, it could still support almost 600,000 hectares.
"Clearly, there are declining marginal returns to dam construction—in part because it is attractive to build the best dams first, but also because additional dams may in some places 'compete' for the same water supply," explains Cuan.
However, in some parts of northern Australia, such as the Gilbert catchment, CSIRO research has found that constructing large dams provides the most promising option for irrigated agriculture.
"The Gilbert's sandy soils make it unsuitable for large on-farm dams," says Cuan. "We found that large dams built on rivers like the Einasleigh could support up to 30,000 hectares of irrigation in eight to nine years out of 10."
The need to investigate all options
Cuan cautions against the development of new water infrastructure before uncommitted water allocations available for purchase elsewhere in northern Australia have been fully explored.
"The last time I looked there was more than 50 gigalitres of uncommitted water across northern Australia and the use of this water would generally be much less expensive than water sourced from the construction of a new storage," he says.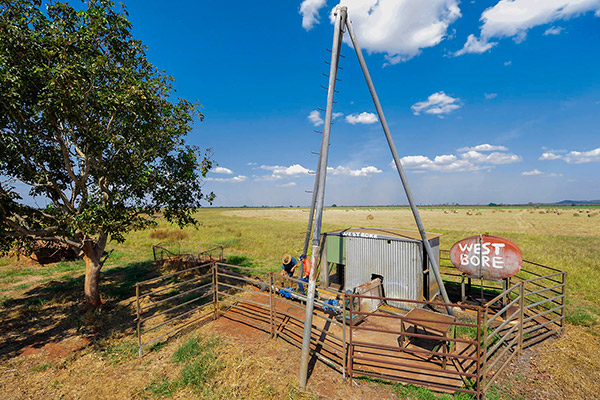 Groundwater is often overlooked as a source of water for irrigation, largely because the process of characterising groundwater can be expensive and uncertain. However, once the groundwater has been investigated, its development will frequently prove more cost-effective than constructing large water storages.
"We are generally talking in terms of hundreds of thousands of dollars to put in groundwater pumping infrastructure rather than the millions required to construct a ring tank," says Cuan.
But groundwater systems yielding sufficient water for irrigation only occur in selected parts of northern Australia, and Cuan warns that: "One of the challenges in using and managing groundwater is the negative effects of groundwater extraction often won't be seen for decades after pumping first commences." Modelling and monitoring to track groundwater impacts is important.
While there is potential to add more than a million hectares to Australia's irrigated land, it will take some time to achieve this, if at all.
"We need to explore different ways of providing irrigation water in different places – at all times being mindful of the cultural, social and environmental trade-offs that we'll face in any development," says Cuan.
CSIRO's research provides the kind of information that allows government and the community to have the discussion and make the right decisions for the future for Australia's prosperity and its unique environment.