Australia's first artificial intelligence-powered lease management platform received multiple commendations at the NSW iAwards late last week, with the program billed to revolutionise the lease administration procedure.
Developed in partnership with LeaseInfo and CSIRO's Data61 with support from the NSW Government, 'Accurait' uses text classification tools, optical character recognition (OCR) and LeaseInfo's own metadata to drastically reduce the document-intensive process of commercial lease abstraction by at least 30 minutes per lease."We developed a unique approach to using machine learning and Natural Language Processing (NLP) to learn and classify lease documents for improved asset management and meeting new international accounting reporting standards," says Data61's Head of Strategic Accounts, Warren Bradey.
Currently, lease management is a largely manual and expensive process that involves coordinating vast amounts of documents and data on accounting, administrative and legal requirements associated with the rental and maintenance of properties and other assets. The new software seamlessly reads lease contracts and scanned data, storing key information in a database and allowing tagging and linking of information across different documents, which can then be exported to asset management software, via an API.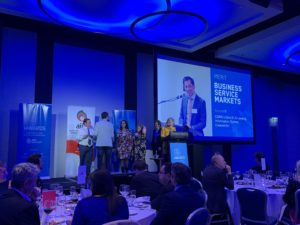 Recognised for innovation in two categories (Platforms and Infrastructure and Business Service Markets) at the Australian Information Industry Association's award ceremony, Accurait also expanded its customer base to include the NSW Government and was recently selected by the world's largest lease management systems company, MRI Software, as a preferred supplier.
Speaking to The Australian Financial Review, LeaseInfo's Founder and Accurait creator Simon Fonteyn believes the platform will redefine the way businesses manage leases and application of any form of standardised contract. "For head offices of franchised businesses and companies managing large portfolios, the savings in time and productivity are significant."
Using rent as an example, Data61's Warren Bradey explained that while terms and pricing originally had to be analysed by a human before being entered into a lease management system, Accurait can now automate the process. "Even if they are not the same terms, the machine understands it. It can scan writing, words, social media,"
"Data61 has extensive experience in areas such as natural language processing and machine learning, both methods are used in Accurait, whether it's helping organisations understand themes in public discussion on social media or making sense of digital legislation for regulatory processes in organisations. Through partnerships with forward-thinking companies like LeaseInfo, we are accelerating our data-driven future by making it easier to do business," said Mr Bradey.
Head of Swaroski Australia and New Zealand Market Development, Rachel Bessis, said that Accurait eliminated the need to go back and re-read contacts. "When multiplied over the typical lease term of five years and across our whole portfolio, the savings in productivity and costs are significant."
At the 2018 Accurait Launch in Sydney, Data61 CEO Adrian Turner emphasised the importance of AI and machine learning in industry, explaining that Australia's world-class research and development capabilities have the capacity to transform existing industries, create new ones, and develop never-before-seen products and services.
"Accurait is a fantastic example — it's Australian innovation in action, enabled by our deep science and technology expertise, R&D and government investment. Data61's Dr Stephen Wan has done a brilliant job of applying our expertise in machine learning and natural language processing to solve an important business problem for the retail property sector."
The team behind Accurait includes Data61's Chief Scientist, Dr. Cecile Paris, Team Leader and Research Scientist Dr Stephan Wan and Dr. Shaukat Abidi. They will now be part of the national iAwards this August.
Accurait® was also made possible through the CSIRO Kick-Start initiative which provides Australian start-ups and small to medium enterprises with funding support, and access to CSIRO's research expertise and facilities.
Access to Accurait, which will be launched internationally in 2019, is through a subscription account which charges about $100 a lease record.
https://www.youtube.com/watch?v=8o2jrsfMEhg