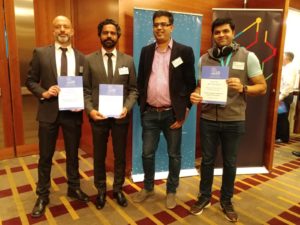 A bushfire evacuation tool created by CSIRO's Data61 in collaboration with the Victorian Government and RMIT has won three Merit Awards at the 2019 iAwards. Held in Victoria, the Bushfire Evacuation Modelling program took home accolades in the Research and Development Project of the Year, Infrastructure and Platforms Innovation of the Year, and Community Service Markets categories.
Described as a decision support system for bushfire evacuation, the platform assists emergency management organisations to asses evacuation and risk mitigation options for bushfires at a local, regional level and state level. The DSS (Decision Support System) addresses a significant gap in evacuation planning and danger reduction, specifically through the use of artificial intelligence to limit manual data gathering, a timely process that limits the number of scenarios that ultimately influence final decision making.
The DSS allows local authorities and emergency services to explore a multitude of situations in a limited amount of time, whereas existing methods focussed on validating decisions already made by an organisation. While a significant number of software products can build evacuation plans, they lack the decision support capabilities provided by the DSS, and the capability to successfully translate designs to regional evacuations.
Decision Support System bushfire evacuation modelling tool demonstration.
The platform allows complex circumstances to be reproduced in a highly-realistic representation, with the system also enabling the user to alter the predictions with knowledge specific to an area. It leverages the state of the art transport simulator, MATSim[Link will open in a new window] and the RMIT developed framework[Link will open in a new window] that integrates MATSim with BDI behaviour modelling.. The program can also be adapted to a variety of emergency events that require large scale evacuations, with the team currently working with the New South Wales government to create a flood evacuation system.
Dr. Vincent Lemiale led the project, which involved partnerships with the Victorian Department of Premier and Cabinet, Emergency Management Victoria, RMIT, and Surf Coast Shire. The project was funded by the Victorian Government's Public Sector Innovation Fund. The challenges faced by the project included better preparing at-risk communities, improving evacuation route planning and enhancing overall infrastructure planning in subprime regions across the state.
While the DSS is currently being trialled by several emergency services, it is not yet publicly available for use, however enquiries can be made here.
The Australian Information Industry Association (AIIA) is Australia's leading representative body and advocacy group for innovators in the digital ecosystem, with their iAwards program, now running for over 25 years, recognises and promotes excellence in the industry.
To learn more about this Bushfire Evacuation Modelling and Decision Support System, click here.