Key points
Pulsars are the remains of stars that have exploded in a supernova and emit specific radio signals.
When we detect pulsar waves on Earth, they appear in our data like a "padam padam".
The beat is so steady, you can use it to keep an orchestra in time.
A (music) star is born. Pulsars are an unusual type of star, first detected by researcher Jocelyn Bell in 1967.
Our Parkes radio telescope, Murriyang, is famous for discovering more than half of the known population of pulsars. Our search for pulsars continues to this day with our telescopes finding new pulsars. Pulsars have been used to test Einstein's Theory of Relativity. Their precise signature, which fascinates radio astronomers worldwide, could also inspire new waves of music.
From light to sound
Radio telescopes are designed to detect radio waves from space. Radio waves are a type of light – like visible light but so much lower in energy that our eyes cannot detect it.
Radios, like walkie talkies or stations that play the greatest hits, are named for the type of light used to transfer information from one place to another. Radio waves have been used for communication since the 1890s. Their properties – light travelling very far and very fast - mean we can send information long distances quickly and clearly.
It also means we've been converting radio waves into sound waves for a very long time.
Radio waves from space, detected by our radio telescopes can be processed into lots of different things to help us understand our Universe: graphs, images, spreadsheets, and sometimes even sound bites.
So, with a bit of data processing, we can turn some of the radio waves we receive with our radio telescopes into sound. And pulsars lend themselves very well to music: they have a beat.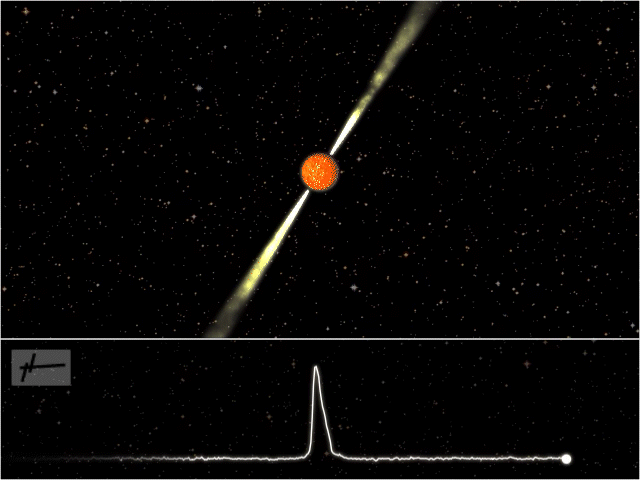 The Galaxy's steady beat
Pulsars are the remains of once large stars that have exploded in a supernova and become highly dense balls of matter that emit specific radio signals. Scientists across the world have identified about 3300.
Pulsars don't actually pulsate. Rather, they rotate quickly, like a lighthouse, with a beam of radio waves shining out across the galaxy. When we detect these waves on Earth, they appear in our data like a "padam padam". The beat is so steady, you can use it to keep an orchestra in time. And each pulsar we've discovered so far has its own unique beat.
French composer Gerard Grisey included a pulsar as one of the percussionists in the piece, 'Le Noir de l'Étoile' (The Black of the Star). It is even rumoured that a jazz band once used the sound of the Vela pulsar (a neutron star heard as a series of pulses at 11 times per second) as part of their ensemble.
Making music
A metronome is used to keep musicians in time and can be set to a beat per minute (BPM) value. The Vela pulsar (J0835-4510) WAV (422 KB), discovered in 1968, is its own drum solo with 671 BPM! There are some other pulsars, however, that have a more familiar musical rhythm.
Two pulsars, both discovered by the University of Sydney's Molonglo telescope in the 1970s, have distinctly different beats. The slower pulsar J1056-6258 WAV (10 MB) has a measure of 142 BPM, which in musical terms is allegro. This is the same as Britney Spear's 'Toxic', Mumford & Sons' 'The Cave' or Blondie's 'Call Me'.
The faster pulsar J1559-4438 WAV (10 MB) is about 7000 light years away and is more like Metallica's 'Killing Time', with a prestissimo tempo of 233 BPM.
The lovely pulsar J1752-2806 WAV (969 KB) could perhaps support a waltz, or Elvis Presley's 'Farther Along' with an adagissimo or grave tempo of 33 BPM.
We're sure these pulsars are all dancing to the beat of their own drum! And if the stars do it, why shouldn't you?