The 638 Ha property is located at Woodstock, 45 km south-west of Townsville, and is representative of the country in the Burdekin and surrounding catchments. It is stocked with Brahman and tropical composite cattle and typically purchases about 100 locally sourced weaner steers a year. It has a small Brahman breeder herd for specific research projects. We also have our Chiswick research station near Armidale in New South Wales that undertakes research for the sheep, cattle and poultry industries and our site at Floreat in Western Australia that focuses on sheep and cattle production in mixed farming systems.
Lansdown's Research
The Lansdown Research Station runs a multi-disciplinary science program serving to optimise productivity and environmental aspects of northern cattle systems.
The research is supported through external partners including the Meat and Livestock Australia, the Commonwealth Government, private industry, state departments and universities.
The station supports CSIRO scientists based in Townsville, Brisbane and Armidale. Its research infrastructure includes an animal metabolism unit with four open-circuit calorimeters for measuring methane from cattle and a wireless sensor network for near real-time recording of animal movement and behaviour.
The beef industry and methane
Lansdown Research Station is a significant contributor to reducing methane emissions from cattle. With approximately 10% of Australian greenhouse gases arising from ruminant digestion, it's critical the industry finds ways to both measure the extent of these emissions and reduce these emissions.
Improving cattle efficiency on pasture
One of the major factors affecting beef profitability and sustainability is feed efficiency. The poor quality pastures found in northern Australia lead to low conversion of feed to beef. Our research has combined rumen microbiology, grazing behaviour and pasture quality to better understand how to improve efficiency of grazing cattle.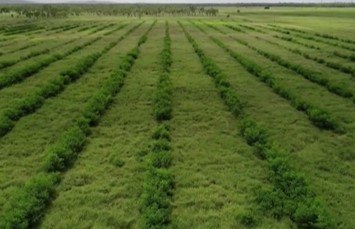 Precision livestock management
Digital agriculture is well on its way to transforming the beef industry in Australia. Lansdown research has been at the forefront of developing solutions to improve management of cattle under extensive grazing systems.
Fast facts: the research
Research at Lansdown has:
developed a method for measuring methane in the paddock and shown that emissions from the northern cattle herd were 30% lower than previously thought
discovered a marine alga that reduces methane production in cattle by up to 90%
shown that tropical legumes including Leucaena and Desmanthus can reduce methane from grazing cattle
demonstrated that grazing behaviour and the rumen environment are key to pasture conversion efficiency
helped develop the eGrazor technology to predict pasture intake from behavioural algorithms using collars
developed with commercial partner Ceres Tag a direct animal-to-satellite, solar-powered smart ear tag that monitors animal location and generates alerts.
Fast facts: the property
has a carrying capacity of approximately 200 adult cattle equivalents (= 450 kg steer)
pastures range from open country to lightly wooded with a mixture of native and improved pasture species
the climate is hot humid summers and mild winters
receives about 850 mm rainfall a year, mostly in the wet season December - March
has Tru Test cattle walk over weighing systems
has methane respiration chambers and portable C-Lock GreenFeed units for measuring cattle methane and carbon dioxide emissions
houses research offices, support buildings, welfare-friendly cattle yards, cooler yards and research infrastructure
has 28 individual animal pens, cattle yards and 10 replicated 15 ha paddocks.