The challenge
Inspecting mines with precarious and inaccessible areas.
Underground mines contain precarious and inaccessible areas, such as stopes and shafts. These unsupported underground voids are a source of ground falls that can endanger personnel, underground infrastructure and equipment.
Mining engineers and surveyors are required to regularly inspect these areas, and have traditionally employed cavity monitoring system (CMS) scanners deployed from a boom to analyse these areas.
This process is time-consuming, endangers personnel and often produces poor-quality and incomplete scans.
Our response
Hovermap
Hovermap is an award-winning 3D lidar mapping and autonomy payload. It provides SLAM- based LIDAR mapping, omni-directional collision avoidance, GPS-denied flight and advanced autonomy functions. As a versatile LIDAR scanning system, it can easily move between autonomous, beyond-visual-line-of-sight flight to vehicle-mounted scanning or simply walking through indoor and outdoor spaces.
Hovermap technology automates the collection of valuable data in underground areas too dangerous or difficult for people to survey or navigate, such as stopes or ore passes in mines. Drones installed with Hovermap can be deployed in GPS-denied environments to map those challenging, inaccessible areas while keeping people away from danger.
It provides a quick, safe way of capturing 3D-as builts of an environment. Not just the excavated part of the mine, but the drives, draw points, vent shafts as well as the plant and infrastructure aboveground.
It's world-class Simultaneous Localisation and Mapping (SLAM) delivers high-density point clouds of unparalleled accuacy.
Hovermap is now being commercialised by our spin-out company, Emesent, which is also our partner in competing in the US Defense Advanced Projects Agency's (DARPA) new Subterranean Challenge, which aims to develop innovative technology to rapidly map, navigate and search underground environments.
The results
Pushing the boundaries of drone autonomy
Traditionally, a CMS would take up to three hours to scan an area such as a stope. Hovermap is able to achieve this in 15 minutes. Speaking to InQueensland, Emesent co-founder, Dr. Stefan Hrabar explained that Hovermap has prevented the loss of tens of millions in revenue for multiple companies as a result of production halts.
"If there is an incident and they have to halt production, it's costing them hundreds of thousands of dollars per hour, and so the sooner that they can get in, assess the area and resume production, the better," Hrabar told InQueensland.
"In a few cases, the data collected by Hovermap has allowed them to make multi-million-dollar decisions. There was one case where the decision was around $20 million, and with 10 minutes of data captured, they were able to see what they needed to, in order to make a decision."
Mining engineers are using the rich point cloud data captured by Hovermap to identify geological features or contact volumetric analyses, which isn't possible with the low-density data captured using traditional survey methods. Emesent customers are using Hovermap to map any underground area, draw points, ore passes and old underground workings.
With it's unique combination of innovative hardware, advanced algorithms and machine learning. Emesent is pushing the boundaries of drone autonomy and is well on the path to achieving its vision of fully automating data collection and analysis of the physical world.
A funding round led by Main Sequence Ventures, which manages the CSIRO Innovation Fund, and Andy Greig from ACAC Innovation, raised $4.5 million in venture capital to launch Emesent at the end of 2018. In less than eighteen months, Emesent has grown from a start-up to a mid-sized business employing nearly 40 staff and having produced over 100 Hovermap units.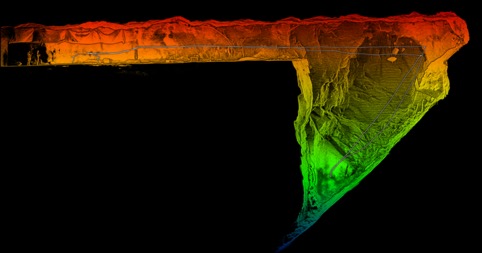 Now used at over thirty mine sites around the world, including sites owned by top mining companies such as BHP, Barrick, Anglo American, Newmont, Glencore and Newcrest, Hovermap is building an impressive track record.
Over 3,000 autonomous flights have been performed to date, with Hovermap technology enabling the world's first fully autonomous beyond line-of-sight drone flight in an undergound mine, 600 metres below the surface in Western Australia.
The digital mine and analytics are increasingly important areas for improving mine productivity and efficiency, and drones will play a significant role in the creation of digital twins. Emesent will continue to pioneer the use of autonomous drones in challenging GPS-denied environments that will eventually see drone missions executed at a push of a button, without any assistance from an operator.
Further information
Visit: emesent.io
Contact: cecile.jacques@emesent.io