About Industry 4.0
Industry 4.0 is the fourth industrial revolution, the digital transformation of manufacturing processes. Rising data volumes, computational efficiencies, and internet connectivity are bringing about a new industrial age that will change the way we interact with machines in the manufacturing process.
What is the National Industry 4.0 Testlab?
Together with Swinburne University of Technology, we're establishing the world's first operational lab for carbon fibre composite manufacturing as part of our ground-breaking research into digital manufacturing processes.
Located in the heart of Clayton's additive manufacturing precinct, the Testlab is the world's first industrial scale 3D printing approach to carbon fibre composite manufacture. These lightweight, high strength materials are widely used to lightweight transport and reduce environmental emissions.
The Industry 4.0 Testlab will be used to prototype commercial parts out of carbon fibre at a lower cost than traditional manufacturing, with minimal waste and improved production capability.
The process has been developed by the Austrian engineering company, Fill, in partnership with Langzauner to meet the design brief of our industry partners.
The Testlab's capabilities
Carbon fibre composites offer infinite design flexibility and the opportunity to manufacture smart products, but limited manufacturing speed and high labour costs have prevented them from being manufactured on a commercial scale.
The centrepiece of the Industry 4.0 Testlab is the world's first "Multilayer" process - an industrial scale additive manufacturing approach to carbon fibre composite manufacture.
Teslab's integrated pilot line includes the multilayer process, resin dispensing, and curing. The manufacturing process is digitally controlled, from part design and optimisation through to the completed product.
The projects that will use this lights-out, digital pilot factory are already developing technologies and processes that will disrupt and transform the manufacturing sector. The facility places Australia at the heart of a global partnership to advance the digitalisation of manufacturing.
Benefits
The Advanced Manufacturing Growth Centre (AMGC) has reported that 41 per cent of the global economy is in the intermediate product market and yet Australia participates in less than one per cent of this at present.
Industry 4.0 Testlab will actively link Australian SMEs into the global demand for intermediate products.
The Testlab will help explore opportunities for manufacturing processes that might help in developing new products for the automotive industry at competitive prices.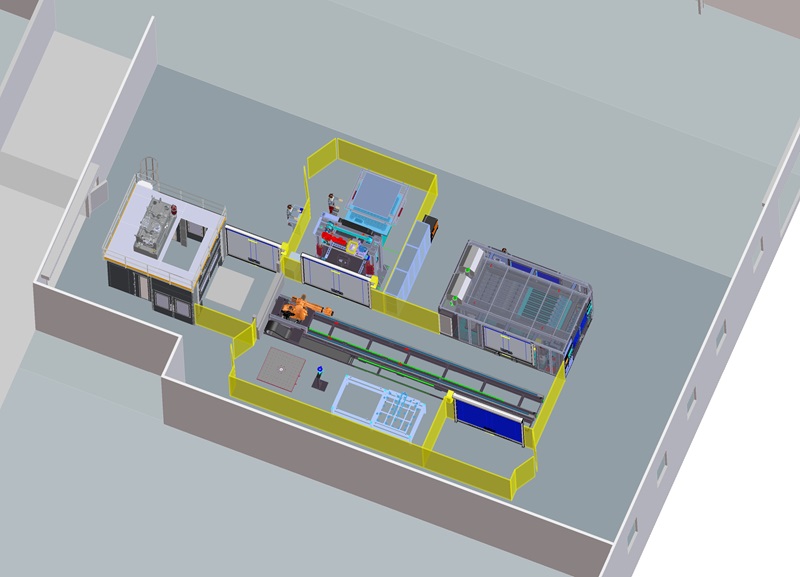 About the collaboration
Testlabs are innovative learning platforms and facilities that enable the research and education sector to work closely with the industry sector (in particular SMEs) in order to progress Industry 4.0 transformations. They provide supportive, non-competitive, cooperative environments that act as co-creation spaces for collective Industry 4.0 "learning-by-doing". In this way industry can immerse in Industry 4.0 concepts and experiment with advanced manufacturing processes, digitally integrated systems and new Industry 4.0 embedded business models. The stakeholders engaged with the network will develop capabilities that will enable them to drive the adoption and deployment of Industry 4.0 across Australia coupled with workforce transformation.
We have a long standing relationship with Swinburne University of Technology. They are located in Hawthorn, Victoria. Through various research, student and industry partnerships and due to Swinburne's world renowned Industry 4.0 capabilities, CSIRO and Swinburne are natural partners to drive Industry 4.0 together to help Australian businesses capitalise on this beneficial capability. You can learn more about Swinburne's capability in this area via their website[Link will open in a new window].
Use this service
Contact Claire Manson to use this service.
Ms Claire Manson
Executive Officer, Future Industries Office (Executive)
Clayton central precinct
Research Way
Clayton
Vic 3168