Powering buildings contributes about 23 per cent of Australia's greenhouse gas emissions.
This statistic relates, for the most part, to the energy consumed during the 'occupational phase' of a building, or the period it is in operation—such as that accounted for in electricity and gas bills.
Indeed, a lot of the focus in measuring the energy efficiency of a building has been on this occupational phase. The environmental impacts of the materials and products that are used in construction and refurbishment on the other hand have been recognised but not fully accounted for.
To counter this, scientists at CSIRO have come up with new ways to measure energy efficiency in our cities, beyond the usual measures of consumption.
Making 'green buildings' truly energy efficient
"A building might be very energy efficient in operation but it may have used a lot of technology and materials to do so, attracting huge amounts of energy or emitting greenhouse gases in its manufacture and installation," said Dr Greg Foliente from CSIRO's Liveable, Sustainable and Resilient Cities program.
"If our interest is really about reducing the overall environmental impacts, we can't focus on operation alone. We should also ask 'what is the carbon pay back?'."
One approach they're using to measure this, known as 'cradle to cradle', assesses energy-efficient building design by taking into account all the impacts from material production to building construction, maintenance and end-of life.
It's a method that could help ensure new buildings erected in cities are energy efficient for their entire lifecycle.
The 'cradle to cradle' concept is gaining traction worldwide and CSIRO's researchers are contributing their knowledge for better building practices and policy on an international scale.
Dr Foliente and Dr Seongwon Seo, also from CSIRO's cities program, contributed to a United Nations Environment Programme initiative to develop a common carbon metric for buildings, and guidelines for preparing Life Cycle Assessment databases.
The duo are now working with the International Energy Agency to develop guidelines and case studies for assessing the embodied environmental impacts in the building and construction sector—the environmental impacts of producing materials and constructing buildings.
In Europe, for example, all new buildings are being considered for a target of "nearly zero" energy performance by 2020. This would mean that the energy consumed in the new building over a period of one year should be matched by the energy generated on site, usually through a renewable or low-carbon source.
If this initiative takes off it would mean that in the near future the embodied energy of a building—that which went into construction and materials—may constitute close to 100% of a building's total energy consumption in Europe. This could place additional focus on holistic measurements of energy consumption and environmental impacts, beyond the operational phase.
The new IEA guidelines are designed to make the assessment of embodied energy easier, by clarifying the concepts and definitions of important terms, and providing guidance for product manufacturers, designers, architects, planners, engineers, and policy makers. They enable these stakeholders, who all have a unique role to play, to more easily measure or assess the true environmental impact of a building.
Dr Foliente said, "Despite current progress, we still need to shift from a vision where achieving operational energy efficiency or net-zero operational impacts is the ultimate goal to one where minimising the overall life cycle impacts is the norm.
"Reducing the energy footprint of the built environment is a relatively easy way of lowering greenhouse emissions."
Mapping energy use across a city
Another way that CSIRO's cities research is looking at energy efficiency is by mapping the energy consumption of a city across its geographic area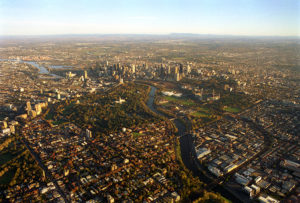 The researchers have developed tools to model what factors in a geographic space influence the way energy is used. They can then map the region's actual energy use and assess what impact a particular intervention would have. The study area can be a neighbourhood district, a whole city or metropolitan region, or even a whole state.
These models have been used to explore alternative future scenarios in terms of energy and carbon footprints of specified study areas in various parts of Australia. They can show how things like rebates and incentives influence the uptake of renewable energy technologies, such as solar photovoltaic panels and solar hot water systems, and hybrid or electric vehicles.
With the ability to more accurately measure a building's energy efficiency over its entire lifecycle and model energy use on a broad scale, researchers will be able to better tailor solutions and devices for a low-carbon future.