THE oceans are integral to the lives of all Australians. From our recreational activities, to the air we breathe, the weather and climate we experience, and the food we eat – the oceans are central to our health and wellbeing.
Our marine estate is the 3rd largest in the world, reaching from New Guinea to Antarctica and incorporating large parts of the Indian, Pacific and Southern Oceans – three of the world's four major oceans. Our coastline covers over 35,000km and the total ocean area within our exclusive economic zone (EEZ) is almost 14 million square kilometres, nearly twice the area of our land.
Oceans: Science and Solutions for Australia, just published by CSIRO Publishing, summarises decades of Australian marine research to describe what we know about our marine estate, how research keeps society and decision makers informed, and how new technologies are changing the way marine research gets done.
Heavy lifters
Our oceans are 'heavy lifters', moderating the impacts of climate change on land by absorbing excess heat and carbon from the atmosphere.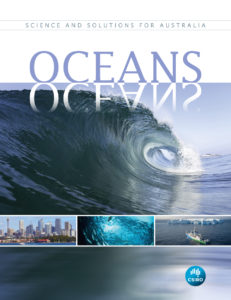 How much heat? The Earth has absorbed a vast amount of heat since 1970 – equivalent to that released by four Hiroshima bombs per second – and 93 per cent of this energy is now stored in the oceans.
Ocean warming is a direct consequence of the increased emissions of greenhouse gases into the atmosphere, with significant consequences for the marine environment. Around Australia we are seeing southward shifts in the distribution of fish species, coral bleaching and reduced coral growth in the Great Barrier Reef and Ningaloo, sea level rise, and impacts on the ice shelves fringing Antarctica.
Oceans and land surfaces together absorb around 50 per cent of humanity's annual emissions of CO2, so slowing the rate of anthropogenic global warming from what it would be otherwise.
That moderating effect comes at a price: absorption of CO2 increases ocean acidity and eventually makes it harder for many organisms to form shells or develop successfully through larval stages. The long-term implications for marine ecosystems are still being unravelled but there is no good news from that research.
A sea of possibilities
It is abundantly clear that the oceans will play a huge role in economies of the future, despite future climate uncertainties.
The Australian 'blue economy' will more than double from its value in 2012 to over $100 billion by 2025. Such growth will be many times greater globally, and it is projected to be faster than growth in the terrestrial economy, as all nations become attuned to the possibilities of uses of the sea. Shipping, oil and gas, renewable energy, tourism, ship building, fisheries and aquaculture, and even floating cities are areas of ongoing or future development in the oceans.
Australia also has a passion for seafood and fishing and has many well-established commercial fisheries. Indeed, many nations, particularly small island nations that depend on the oceans around them as their primary source of protein, see their future prosperity being linked to the blue economy but recognise the need for environmental sustainability.
Countries like Mauritius and Seychelles are already devoting resources to the wise and sustainable development of coastal and marine assets. Australia generally has a solid reputation for managing fisheries well and is one of the world leaders in developing ecosystem-based fisheries management.
Ensuring sustainable development is at the forefront of the minds of those progressing the blue economy agenda, as reflected in the principles of Sustainable Development Goal #14 that focuses on driving sustainable and equitable outcomes for life under the sea.
New marine-based industries are likely to accelerate the need for regulatory frameworks that balance development goals with the environment. Research will play a pivotal role in blue economy development over the coming decades, in particular through the development of innovative new technologies.
Riding the tech wave
The challenge of providing up-to-date, near real-time information and advice to policy makers is exacerbated by predictions of climate change, multiple-use conflicts, and globalisation of markets.
Rapid changes to how scientists observe and analyse the ocean have been seen already. This technological evolution is likely to become a tech revolution for marine research in the coming decades. Technologies ranging from fine-scale, near continuous measurements, to new low-cost genetic techniques, and from autonomous platforms through to super-high resolution satellites, are beginning to allow us to answer previously impenetrable marine science questions.
Australia has been one of the global leaders in establishing a national integrated approach to ocean observations and marine research, especially through establishment of the Integrated Marine Observing System (IMOS) as a federally-funded partnership amongst major national research providers. Integrated monitoring methods are becoming more coordinated with sophisticated data accessibility options coming online to provide some data streams in near real time.
Australia's research fleet took a leap forward in 2015 when the Marine National Facility's new purpose-built research vessel Investigator came online. CSIRO's Starbug is an example of a miniature autonomous underwater vehicle that can use robotic vision to navigate complicated terrain, capturing images of marine species along the sea floor. The volume, frequency, and resolution of ocean observations will increase rapidly over coming decades.
Oceans of research to come
Marine industries are becoming smarter and demanding more information to improve safety at sea, efficiency, and productivity. They also need to earn the 'social licence to operate'. Society now demands sustainability, access to information, and social accountability for economic gains. Both local and global values and markets, as well as climate change, will influence trade-offs on future use of Australia's marine estate.
The oceans are an increasingly crowded space. Competition for its use will drive the growing need for research, particularly in providing comprehensive whole-of-system information for decision makers who have to balance the competing demands of multiple users and an increasingly engaged society.
The grand scale of our marine estate represents significant challenges for Australia, and there is much more to learn – some estimate that just 5 per cent of our waters have been surveyed. Research and technological innovation are essential to informed, considered and safe decisions about our marine estate and how we use it to fulfil our national, international and inter-generational obligations.
---
Dr Tony Worby is Director of Oceans and Atmosphere at CSIRO.
Dr Bruce Mapstone is editor of Oceans: Science and Solutions for Australia and Chief Research Scientist at CSIRO's Oceans and Atmosphere.
Oceans: Science and Solutions for Australia is available for free download from CSIRO website or for purchase of hard copies through CSIRO publishing. The authors wish to thank all contributors to the book.