We are chatting to Sue Keay, CSIRO's Data61 Cyber Physical Systems research director, on the importance of diversity and showcasing the contributions of women in tech. Sue has been working hard over the past 18 months to bring Hopper Down Under to Australia, scheduled to be held in Brisbane this year from 29-31 July. #WeAreHere
GIVE US A BRIEF OVERVIEW OF YOUR CAREER JOURNEY IN TECH SO FAR.
I'm "new" to technology. My background is in the physical sciences. But while my early career was not in technology, I was fortunate to have access to it.
I come from a family of early technology adopters. My mother was a university librarian who taught herself to code using Grace Hopper's COBOL programming language, so she could automate university processes. We were one of the first families on our street to own a computer.
My sister, Andra Keay is the managing director of a U.S.-based robotics cluster. She's been telling me for many years that robotics was the way of the future and that I should get on board. So, I finally followed her advice and started my tech journey 5 years ago.
Currently, I'm leading cyber-physical systems research for CSIRO's Data61 having previously set-up the world's first robotic vision research centre. I led the development of Australia's first robotics roadmap and am a board director for Women in Robotics and a mining technology company CRC ORE.
WHY IS DIVERSITY IMPORTANT AND HOW CAN IT IMPROVE TECH?
One of the first things I noticed when I transitioned to the industry five years ago was the lack of women. The longer I am in the tech industry, the more I observe the negative impact of technology when it is developed without a diverse team involved in the design.
There are currently more than 200,000 women employed in our tech sector, yet they make up less than 30% of its workforce. The number of women enrolling in computer science degrees at our universities is declining and yet both Australia and New Zealand are projected to experience significant skills shortages in the tech sector. To ensure that the tech industry and the technologies developed in our home countries is representative of our local communities we need to encourage more diversity.
Women and people with diverse backgrounds and identities bring vital perspectives and experiences to technical learning and innovation. They enable companies and academic research teams to serve broader community needs, solve more complex problems, and ultimately drive higher ROI.
TELL US ABOUT HOPPER DOWN UNDER? WHAT'S ITS PURPOSE AND MISSION?
Hopper Down Under is modelled after the AnitaB.org[Link will open in a new window]'s Grace Hopper Celebration[Link will open in a new window] (GHC), the largest gathering of female technologists in the world, attracting more than 20,000 people annually.
The aim of Hopper Down Under[Link will open in a new window] is to support and inspire women technologists in the Asia-Pacific to further their careers, break boundaries, and transform the world of technology. The two-day event will see technology leaders join in support of inclusion of women in the sector.
The event brings together students, early- and mid-career women, and senior executives from leaders in industry, academia, and research. It provides attendees with the opportunity to build relationships, find new ideas and inspiration, learn new skills, and advance their careers in technology through panel discussions, hands-on workshops, and keynotes, led by inspiring women in the technology community within the Asia-Pacific.
WHAT INSPIRED YOU TO GET INVOLVED AND BRING IT TO AUSTRALIA?
Unfortunately, as I mentioned, we are seeing a decrease in women participating in computer science and we lose those women who do graduate from the system at a faster rate than men. I have been motivated by the urgent need to address this situation before we alienate a whole generation of women from the very technologies that could be used to make their lives better.
I started thinking of ways that this could be tackled. I reached out to women in my network with engineering or computer science backgrounds, found quick support, and established a steering committee that is collaborating to bring the inaugural Hopper Down Under[Link will open in a new window] to the Asia Pacific.  Members of the steering committee include our own Jane Scowcroft, as well as Sally-Ann Williams from Cicada Innovations and Katrina Falkner from the University of Adelaide.
WHY IS IT IMPORTANT TO SHOWCASE THE CONTRIBUTIONS OF WOMEN IN TECHNOLOGY IN OUR REGION?
For a variety of reasons, women are underrepresented in stories about technology development, we struggle to be included in publications and grant applications and receive fewer award nominations.
Running an event like Hopper Down Under[Link will open in a new window]  that raises the profile of women in technology in the region, will allow us to overcome the notion that they do not exist (or contribute), encourage young women to consider careers in tech, and give companies in the region the venue to showcase their diversity, equity, and inclusion credentials and a platform to recruit for diversity.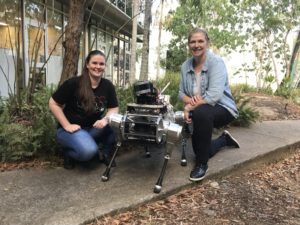 WHAT CAN WE EXPECT AT THE EVENT?
Hopper Down Under will bring together women technologists at all levels, from undergraduate to CEO, along with members from industry leading companies, academia, and research, to build relationships, learn, and advance their careers.
It will offer technical and career development sessions, including Poster Sessions, a Careers Fair, a Tech Expo, and more.
There will be six conference tracks for the inaugural Hopper Down Under covering a wide range of fields for every technical woman - Research, Careers & Leadership, Products, Technology, Education and a Poster Session. The conference tracks will include presentations, panels and workshops.
But most importantly, Hopper Down Under will deliver a version of the highly successful GHC careers fair to ensure that technology companies operating in the Asia Pacific, who are serious about diversity, can directly recruit for diverse tech talent. It is also an opportunity for companies to learn how to improve diversity by sharing information with inclusive peer companies.
Lastly, this inaugural conference will be the launch of an AnitaB.org[Link will open in a new window] community for the Asia-Pacific, so we can build on the networks and inspiration gathered as part of Hopper Down Under[Link will open in a new window] and return bigger and better in 2020.
 WHAT CAN WE DO TO HELP?
Spread the word! Come along to Hopper Down Under to show your support and to celebrate diversity in technology across the Asia-Pacific. We are here. You don't really have to look too hard to increase diversity in tech. We just need more companies to give it a go. #wearehere
Links and further information:
https://community.anitab.org/event/hopper-down-under/
General Registration A$900 Includes all programs, career fair, welcome reception, conference reception, breakfast and lunch for two days.
Student Registration A$100 Includes all programs, career fair, welcome reception, conference reception, breakfast and lunch for two days.
Dr Sue Keay talks Cyber-Physical Systems and the importance of an annual data and technology science showcase at D61+ LIVE 2019: