We use digital data in our everyday lives, and now there is a way to break the 'data drought' for our farmers. Let's face it, they've certainly had a rough trot lately.
Our farmers have stared down the barrel of one of the worst droughts in history. Combine this with a devastating bushfire season followed closely by flooding rains, and they've really been through the ringer! Not to mention COVID-19 thrown into the mix. They need to be prepped and ready for anything.
To help get Aussie farmers up to speed, Digital Agriculture Services (DAS) is giving them high-tech intel on their land. This includes productivity, land use, sales, yield potential and other digital help — all at their fingertips. And at absolutely no charge.
Putting the AI in sustAInability
High-tech farming isn't just drones checking water sources, or autonomous robots picking fruit. Farms of the future are all about intelligence. For example, predicting how much a farm can produce, the income it can make and its sustainability.
Agriculture is a $5 trillion top global industry yet it is one of the world's least digitised. DAS estimates around $125 billion annually in agricultural economic decisions are based on unreliable or incomplete data. But with science-backed intelligence like this, farmers can make better informed decisions. They can put their crystal ball back in the shed!
The

Rural Intelligence Platform

DAS's innovative Rural Intelligence Platform™ uses AI we developed. It also includes our machine learning, cloud-based geospatial technology and unique data sets and analytics.

And it uses information from Australia's digital soil map and the Bureau of Meteorology. It's all combined to create an instant and comprehensive snapshot of a property or farming region. And now, DAS's new one-click rural property reports pull together comprehensive data on every farm in Australia.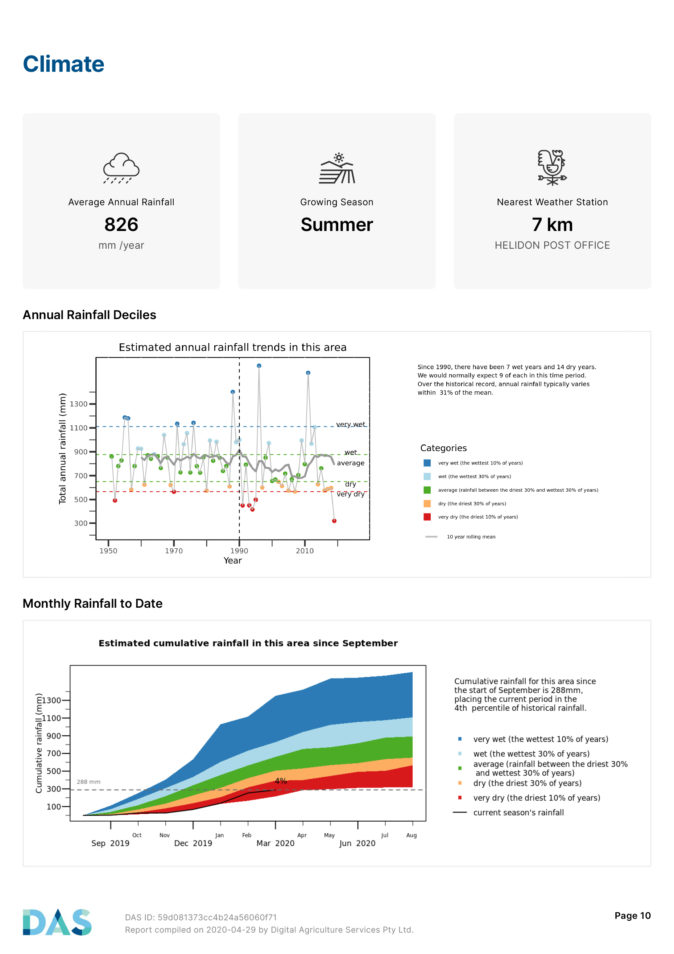 At your fingertips
Farmers get the low down on soil types, land use, annual rainfall and vegetation. Not to mention carrying capacity, plant productivity, climate conditions and risk profile for natural disasters. Also included is info on drought, flood and bushfire risk.

This is the first time a report includes broader predictors on agricultural value such as climate, drought stress and fire vulnerability. And it's backed by science!

All you need to do is

login to the Rural Intelligence Platform™. You simply click on your property boundaries, generate the report and it arrives to their inbox in seconds. More than 1000 rural property reports have been downloaded this month already.
P
artners for farmers
We are a founding equity partner in DAS and its research and development partner. In March this year DAS incorporated our Graincast™ technology into the platform. It's the first to identify crop types and forecast grain yield at any scale anywhere in Australia.
Yet another way we're working with DAS to help our farmers and agribusiness when they need it the most.