Cast your mind back a year ago. If you were asked 'What are the top 10 things you value about living in Australia? And what makes them vulnerable to loss?' what would you have said?
What if you were asked that question on New Year's Day 2020? Chances are, if you were living on Australia's south-east coast, your list might've included a few things that you hadn't prioritised earlier – like smoke-free air, survival of ecosystems and species, reliable power and communications, or a safe place away from fire.
If you answer that question today, during a coronavirus pandemic, we're guessing there'd be different things again on that list – perhaps things like freedom to travel, associate with friends and family, or being able to pay the rent. Such things would've been hard to imagine a year ago.
Australia and the world are facing multiple, successive, widespread disruptions which can lead to catastrophic disaster. The compounding shocks of drought, bushfires and COVID-19 have led to calls to build more resilience in our systems, particularly those providing essential goods and services.
One way of understanding the root causes of vulnerability to help support resilience building is through a 'Deconstructing Disasters' approach, which explores how our systems work in times of stability or times of disruption. It investigates why values matter when working out how to do things differently in the future to ensure a society and economy that's more sustainable, and more resilient to large disruptions.
What do we mean by disasters?
Disaster occurs when an extreme event impacts on ecosystems, assets, populations and economies that are exposed and vulnerable. Whether caused by natural hazards such as bushfires and cyclones, or human activities like cybercrime, they become disasters because things we value are impacted or lost, creating harm and suffering.
While focus is often placed on specific hazards such as bushfires, and how we might invest in limiting future exposure to such disasters, understanding and exploring our underlying vulnerabilities can reveal the bigger picture. Individual threats, failures and disruptions interact in ways that put the whole system at risk. This is called systemic risk. Understanding what makes us vulnerable allows us to consider what we can do to reduce the risk and potential impacts of disaster. This approach not only helps for specific disasters in specific places, but for disruptions of different kinds, at different scales and places.
Our science is informing new ways to manage this risk. But how do we get to the bottom of understanding our vulnerabilities to better manage our systemic disaster risk, and how can this inform future plans and policies?
The research and deep engagement approaches we fuse can help us to reframe our thinking and planning about how to move towards resilience at local, regional and national levels ideally before, but also after large 'shocks' to our society, economy and environment.
Taking stock on where we are now, and dreaming the future
The Australian government, through Emergency Management Australia, and CSIRO, together with partner agencies, ran a series of 'Deconstructing Disaster' workshops in 2017-8 involving about 250 people across Australia.
These people represented emergency management, advocacy groups for vulnerable people, community representatives, essential services (health, social support), utilities providers (communications, water, electricity), academia, policy makers from a range of sectors, and key business sectors such as insurance. The workshops took people on an experiential learning journey through catastrophic disaster over two days, as shown below.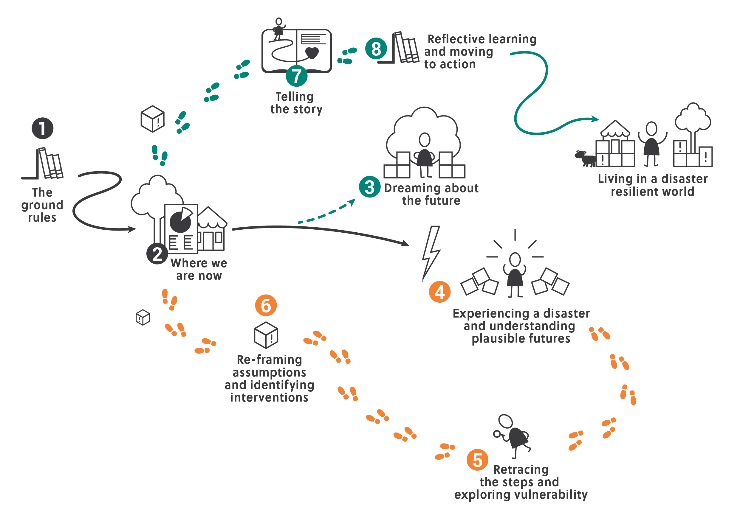 Once 'ground rules' for safe, ethical and respectful engagement were established, participants explored 'where we are now' through investigating the science of hazards and risks in Australia.
Answering 'what makes Australia vulnerable?', participants built and discussed systems diagrams of the causes and effects that reveal vulnerabilities to disaster. System diagrams encompass tangible things, like housing and infrastructure and where they are located, health care, communication, supplies of essential goods and services, as well as intangible things such as governance and decision-making, lifelong learning, community preparedness, and risk management.
Participants explored, through pictures, the most important things valued in a world they wished for future generations.  Things that were valued included accepting reality, adapting, learning, helping each other, sustainability, connection, shared responsibility and accountability, resourcefulness, health and wellbeing, equity and preparedness.
Understanding plausible futures - experiencing catastrophic disaster
Workshops rapidly turned solemn when catastrophic disaster scenarios were shared. These scenarios, modelled by the Bureau of Meteorology and Geoscience Australia, were based on plausible events such as an earthquake in Adelaide or a tsunami in Western Australia, combined with previous events such as cyclones or extended droughts.
These simulated catastrophic disasters, which led to feelings of shock, overwhelm and distress in some participants, showed rapidly cascading system failures. These included emergency responses overwhelmed by high death and injury rates, loss of access, power and communications, and interruptions to food, water and other essential services. Such exercises gave people a chance to practice imagining the worst, and work through the emotions and impacts while in a safe space.
The catastrophic scenarios showed how the things people value shift rapidly in a disaster, revealing what really matters. In times of stability and prosperity, we don't prioritise basics such as clean air and water and health, yet when these things are threatened, we're willing to change a lot of things and pay to protect them.
This process equipped participants with a new set of priorities to reconsider their planning process, and review options, decisions and actions to reduce potential impacts of future extreme events.
Telling the story of interconnected systems and what drives them
The workshops produced creative pictures of desirable futures, more than a hundred systems diagrams of cause and effect, records of conversations and stories of lived experience. These were distilled into an overarching story that applied across all stakeholders, systems and locations.
The outcomes revealed that, regardless of the type of disaster or location, our highly-connected and interdependent systems mean a large shock to one part of the system leads rapidly to cascading impacts through other systems.
The way systems are configured depend on the values that are prioritised, such as supply chains that have 'just in time' delivery which are vulnerable to disruption during extreme events. This priority changes rapidly when things are disrupted, but again, market pressures provide incentives for supply chains to adapt quickly to massive shocks only once they happen, and not in anticipation of their occurrence.
Choices made in times of stability and prosperity create vulnerability to disaster
What becomes clear is that the choices about which values we prioritise during periods of stability determine our levels of vulnerability to disruption and our capacities to cope during a disaster. It also shows that our individual choices are constrained by our social and economic systems.
But, we can use catastrophic disruption as an opportunity to do things differently to deliver what we value into the future.
To reduce vulnerability to disruption, and reconfigure systems to deliver the things we value going forward, we must recognise which parts of our social and economic systems:
work well, and can continue in a world of increasing uncertainty and disruption (in which case maintaining them is an important option)
could do with some modification (adaptation)
don't work well, or provide new opportunities worth exploring (transformation)
There are opportunities to do this before catastrophic events occur. But after extreme events the opportunity lies wide open to start a different set of conversations.
Then we can try new and different partnerships to address these issues, reconfigure our systems, reframe our narratives. Many around the world are now taking this opportunity. For example, as the northern Italian city of Milan reopens after lockdown, it'll make the centre open only to bikes and pedestrians, while the City of Amsterdam is embracing a new approach – the 'doughnut model'  which looks at what is needed to live within our ecological boundaries – in rebuilding their economy.
We're still learning how to do 'differently' in a transformational sense, and there's plenty of scope for us to discover new ways to reach this kind of shared understanding and action. But using some of these approaches can help us at individual, community, organisation and government levels to make choices and take actions towards more desirable and less disrupted futures.
---
This work was funded by the Australian government, and CSIRO, and had the in-kind support of a range of other state agencies from South Australia, Queensland and Western Australia as well as a range of NGOs and private sector organisations.
The full team delivering this work included: Deborah O'Connell, Russell Wise, Rachel Williams, Nicky Grigg, Seona Meharg, Michael Dunlop, Veronica Doerr, Jacqui Meyers, Jill Edwards, Monica Osuchowski, Mark Crosweller with contributions from David Jones, Shoni Maguire, Karl Braganza, Jane Sexton, Martine Woolf, Claire Krause, Cheryl Durrant, Laurence Plant, Miriam McMillan, and over 250 stakeholders.