Parts of southern Australia have experienced their coldest May in a century. Many Australians have probably felt the warmth eke out of their homes, only to be replaced by wintry winds that rush through gaps in windows and doors.
"Some houses in Australia are designed to be passive ventilated," says Michael Ambrose, Senior Experimental Scientist and former architect. "In northern Australia, houses are often carefully designed to be open to breezes, to keep the house cooler in summer."
But draughts—the uncontrolled air movement in a building—are an issue in southern Australia, where they can add up to 20 per cent to energy bills. In terms of energy efficiency, air-tightness is more important in colder regions, in southern Australia. In warmer regions natural ventilation can more provide comfortable internal conditions throughout the year.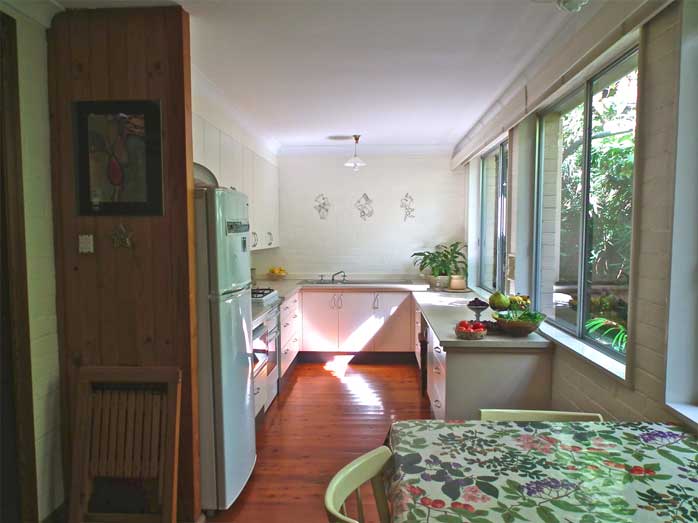 Leakiness became topical during last summer's bushfires, when the smoke haze was at its worst. Australians were encouraged to close all their windows and doors to avoid the smoke, but in many homes it seeped inside, through cracks and holes.
Testing leakiness with blower door tests
Michael Ambrose and Mike Syme are behind the most comprehensive study on infiltration rates (or 'leakiness') of new Australian homes. Until their study, there was little data collected on newly built houses.
The study quantified the air-tightness, insulation quality, and heating/cooling ductwork of 125 homes around Australia. The houses were located in each capital city, excluding Darwin, and leakiness was tested using a blower door test.
A blower door test calculates how many air changes per hour (ACH) occur in a house. During a blower door test, the equipment sucks air into the house, before reversing it and blowing the air out again. Michael explains that when the equipment sucks the air in, it mimics windy days when you might feel the breeze blow through the house. Blower door tests find potential air infiltration points, such as downlights, exhaust fans, floorboards, and the quality of door and window weather sealing.
The higher the level of air changes, the leakier the house. Michael says that new houses should aim for about five ACH@50Pa: five complete air changes per hour at 50 Pascals of pressure.
"You want to 'seal tight and ventilate right'," explains Michael. "If you seal the homes up too tight—towards zero ACH@50Pa—you will need a controlled ventilation system, otherwise you get problems like headaches and nausea from the high carbon dioxide and monoxide levels in the home."
Overall the study found that newly constructed houses in Australia:
Have a broad range of air-tightness levels, ranging from world's best practice through to much higher than the assumed air tightness levels in the NatHERS (Nationwide House Energy Rating Scheme) software.
The average air change rate was 15.4 ACH@50Pa. This is leaky by international standards.
Several houses recorded air change rates above 30 ACH@50Pa, which is common amongst old poorly sealed houses, but should be considered unacceptable for a newly constructed house. There is reason for concern about why so many houses recorded poor results.
That said, there were some welcome surprises from the data.
A third of the houses had results lower than 10 ACH@50Pa, which demonstrates that well-sealed houses are possible and occurring across Australia.
The average air-tightness of houses in all capital cities around Australia, except Adelaide and Hobart, is considerably higher than the maximum requirement in the United Kingdom. In the UK, dwellings must have a permeability not greater than the equivalent of 10 ACH@50Pa.
It's worthwhile highlighting that the study only tested new homes. The houses in most cities were up to three years old and assumed to be at the six star NatHERS standard.
"Leaky houses tend to go with age—the older the home, the leakier it is." explains Michael. "Old weatherboards from the 1950s are very leaky, especially if they're on stumps—you don't get as much leakage through concrete slabs. If older homes were included, the level of leakiness would have skyrocketed. We tested some old houses and they were up at around 30ACH@50Pa."
What do the guidelines say about 'leakiness'?
Australia's National Construction Code does not specifically quantify an air leakage rate. But it does have a performance requirement that states: "A building must have, to the degree necessary, a level of thermal performance to facilitate the efficient use of energy for artificial heating and cooling appropriate to the sealing of the building envelope against air leakage" NCC Volume 2 (2015) – clause P2.6.1 (Australian Building Codes Board, 2015).
Currently, houses that have achieved good air infiltration results get no energy star rating benefit from this. At the moment, builders can construct tighter, less leaky houses, but a specific, measurable air-tightness is not included in the NatHERS software, so this will not be reflected in the house's NatHERS rating. There is an assumed leakage rate of around 15ACH@50Pa in the software, however, this cannot be directly translated to the air change rate.
If NatHERS allowed high performing houses to receive higher star ratings by incorporating certified air pressure results into NatHERS calculations, then this could lead to the greater uptake of air pressure testing of new houses and help reduce energy requirements.
Increased uptake of blower door testing could also lead to better understanding in the broader residential construction industry about how to improve air tightness of dwellings. In turn this may lead to simple measures that can be employed during construction that could lead to tighter houses.
Thermal bridging: a window to the outside world
The air-tightness study highlighted the importance of good window sealing. Houses with good window weather sealing recorded better average air change rates, when compared to houses with average sealing.
The AccuRate software allows for thermal bridging, but it's not yet at part of the NatHERS rating.
CSIRO is currently looking at thermal bridging. Thermal bridging is the movement of heat across an object that is more conductive than the materials around it. In this case, it's looking at the ability of steel frames to act as transmitters of heat.
"Metals act like a thermal bridge between the inside and the outside. If you touch an aluminium window frame it's likely to be cold in winter: it's a very good transmitter of heat. If it's not thermally broken (and few are), aluminium window frames will take heat from inside and transfer it to the outside," says Michael.
Timber framed homes don't tend to have these problems, as timber is quite a good insulator and a poor thermal bridge. "Timber window frames are also good at reducing heat transfer."
A well-sealed or leaky future?
While Michael's research shows that even new Australian homes can be highly leaky, he points out that there are some positive stories to tell.
"Even though there aren't specific regulations or requirements, some homes performed really well, with air change rates below 10 instead of 15. Some homes were specially designed to be tight, but plenty of others just had a better build quality, a bit of attention to detail and they ended up performing at a really high level."
"I suppose that's a nice message for the building industry: constructing a well-sealed home is not new and scary, it doesn't take that much, and plenty of builders are already doing this, with great results for the homeowner."