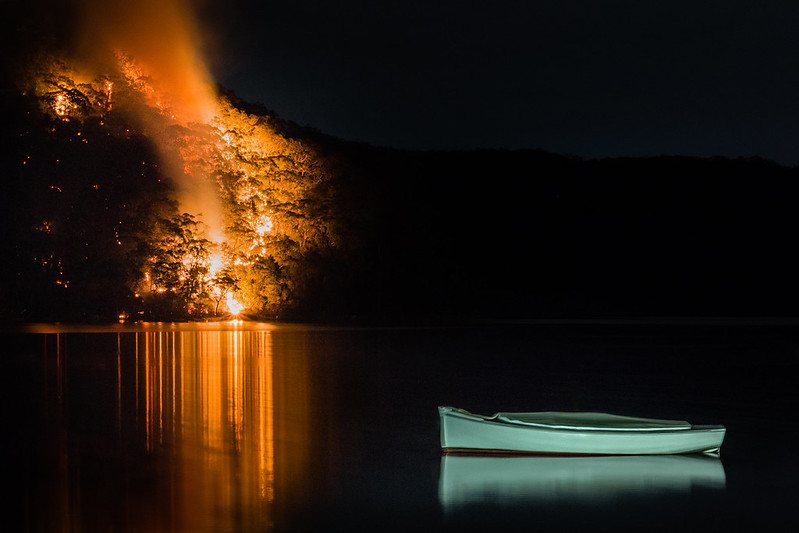 Australia is a land of drought and flooding rains. There are also destructive bushfires and cyclones, but that's less poetic.
We know extreme events are part of Australia's landscape. However, under a changing climate, these events are set to become more frequent and severe. So how do we adapt to live with these ongoing threats?
Our researcher Mr Justin Leonard, head of our bushfire adaptation team, talks to us about CSIRO's collaborative and ambitious work to design a house that is resilient to all extreme events.
No huffing or puffing will blow this house in
One House is a prototype created by Suncorp in collaboration with CSIRO, James Cook University (the Cyclone Testing Station and Centre for Disaster Studies) and Room 11 Architects.
Justin says it's a unique project that brings together expertise in fire, tropical cyclones and floods.
"Researchers collaboratively chose materials and design principles that would enable a house to survive each of these extreme events. This hasn't been attempted before," he says.
Justin says designing a house to survive a flood required choosing the right materials.
"Good flood design enables the house to get wet inside and out, but then because of the materials, it can be easily and cheaply rectified after the flood event."
James Cook University tested One House's resilience to cyclone damage, particularly focussing on how stable the roof was to strong winds and how resilient the windows and doors were to inundation. Following these tests, Justin tried to burn the house down.
Mogo, NSW, is home to the Mogo Bushfire Burnover Facility. This bushfire simulator can produce a 12-metre wide fire front that Justin and his team use to conduct what they call 'burnovers'.
During a burnover, the researchers do a wide variety of tests on various things including buildings, fire trucks, fences and power poles. The tests involve seeing how both the radiation and flames from a fire affect infrastructure.
Hot work
Burnovers are done in summer; the latest one in mid-February 2021 when the wind conditions frequently provide good conditions for testing. The research team observes the fire from a control room about 60 metres away from the fire front.
"Inside the control room you can bear the heat. But outside, you can't stand there with bare skin," Justin says.
"To put it in perspective, inside the control room you feel the heat of a bright sunny day which is about 0.5kW/m2 of radiation heat. Just outside the control room you receive over 2 kW/m2, which is the pain threshold for you skin that makes you turn away from a campfire. The house receives over 40 kW/m2 just before the flames engulf it in a bushfire burnover."
The team uses 50 to 100 heat sensors to measure air and surface temperatures. They track closely how individual elements of the house survive different fire intensity. The One House design was particularly resilient up to 40 kW/m2.
"The final test is the full flame immersion. The entire house is engulfed in flames for 120 seconds," Justin says.
"It lasted a full 80 seconds, but then a key element failed, a window fell out of its frame."
Justin says once something major fails, like a window, the flames quickly reach the inside and make it more difficult to learn more about how the rest of the house is faring.
"These tests are really helpful though, as they mean we can focus on what building details need to be fixed next."
View the recent testing at the Mogo Bushfire Burnover Facility during February 2021 in the video below.
The great Australian home
While the One House design is not necessarily meant to be used as a bunker to shelter from fire, the design would provide far more protection than most Australian houses. However, the main objective of the One House design is that there will be something liveable for people to come back to following an extreme event.
"After a fire the house might need recladding or some other minor repairs. But the house will still be standing, people will still be able to live in it and their possessions will still be there," Justin says.
"It's a fix up, rather than a knock down, rebuild."
Having a liveable house after a fire passes through addresses two important problems. One is that people are not left homeless. The other is that people have the confidence to leave their house undefended, potentially saving their lives in the process.
Justin says the lack of resilient Australian houses is part of our culture.
"Australians are so used to building cheap, light-weight, combustible houses. But these kind of materials are not designed to reliably survive in our landscape."
One House, however, is made with durable and insulated materials and designed to be air-tight. This means these houses can offer thermal stability and support energy efficient housing practices.
Some of the key elements in One House's resilient design are screening systems that provide protection from radiant heat as they are not directly against windows, with frames and mesh that don't melt during a fire. Most of the house's framing is made from steel, the roof is metal clad and on the base is a concrete slab.
"The houses are designed to require much less maintenance because of their materials and to last for much longer than the average Australian house," Justin says.
Justin also notes that these houses do not resemble 'ugly concrete blocks'. "They are really aesthetic, with big windows, high ceilings, spacious rooms and large verandas."
Resilient house design is critical if Australians plan to live among nature in a changing climate where extreme events are becoming more common.
"Our climate is changing rapidly and people can either adapt now, or they will be forced to adapt," Justin says.
"It's a lot less pain to do it now than to do it when you're trying to recover from the aftermath of an event like a bushfire."