Not much more than a decade ago, most of us would have considered today's advances in synthetic biology (or even the concept of synthetic biology itself) as science fiction. But advanced research in these areas has been taking place globally and, in Australia, the potential for synthetic biology to deliver creative, sustainable solutions for our serious environmental problems is significant.
One of our most urgent environmental challenges is protecting the Great Barrier Reef (the Reef) against a variety of threats – combatting ocean warming and acidification, managing water quality, fighting crown-of-thorns starfish outbreaks, and protecting it from coastal development. However, the volume and area of the Reef that is under threat is enormous. This is why solutions are needed that can influence Reef health at a broad scale.
To this end, researchers are working on assisted coral breeding techniques and a better understanding of which genes are important for resilience to warming oceans. This knowledge may eventually be used to develop scalable, novel synthetic biology solutions that could be used to complement existing methods for conserving the Reef.
What is synthetic biology?
Synthetic biology is an emerging discipline that creates or redesigns biological systems to address major societal challenges in areas of food production, health care and environmental conservation.
It is the application of engineering principles to biology. It involves the design and construction of DNA-encoded biological systems, parts and devices, and getting them to do useful things. In some instances, synthetic biology has been used to help manage invasive pest species, increase agricultural productivity, protect biodiversity and improve human health.
What about responsible research and development?
While the actual application of many of these types of synthetic biology innovations are still decades away, there is a need to engage the public about these novel solutions very early. Why? Creating a space for meaningful conversations, before technologies are developed and implemented, will enhance our understanding of societal considerations around the technology itself, perceptions of risk and whether citizens find value and significance in the work.
Currently in Australia, there is limited empirical understanding of public attitudes towards potential synthetic biology technologies. At CSIRO, our research focuses on developing innovations and technologies responsibly, and our synthetic biology researchers strive not only for technical advancements but also ethical and socially acceptable outcomes.
Social science can help inform and drive biophysical science and technology development. For the successful societal adoption and integration of novel synthetic biology solutions – where they are being developed to address challenges of national significance – an understanding of social risk and acceptability is needed.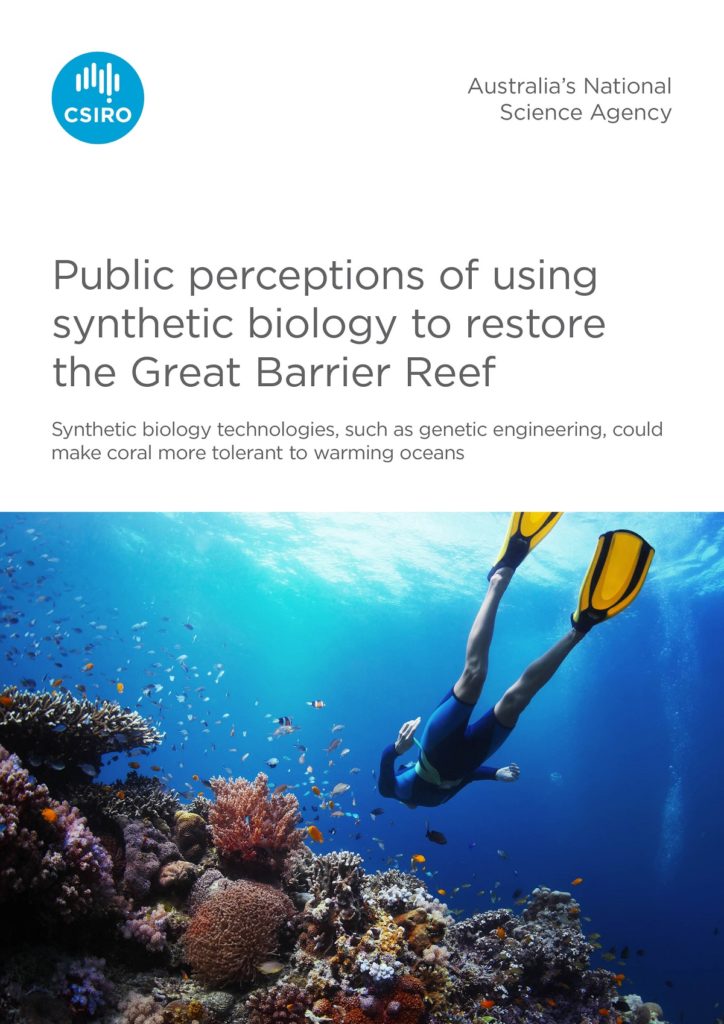 A social science program was developed by researchers in CSIRO's Synthetic Biology Future Science Platform to begin looking into public perceptions. A Baseline Survey of Australian Attitudes Towards Synthetic Biology was designed to better understand the public's attitudes and beliefs about specific synthetic biology technologies.
The study, conducted at the end of 2018, involved online public opinion surveys targeting a broad spectrum of Australians – the surveys reached over 8,000 people. Survey participants were asked what they thought and how they felt about the development of synthetic biology solutions for the various health, industry and environmental case studies provided. Participants were asked what concerns they had about the specific synthetic biology technology and if they would like more information about it.
There were seven synthetic biology case studies:
Gene marking of male chickens to improve practices in the egg-laying industry
Changing the properties of natural fibres to reduce pollution generated by synthetic fibres
Protecting endangered species by increasing species' genetic diversity
Managing invasive pest species to improve biodiversity
Reducing pollution in waterways using bio-engineered pseudo-organisms
Gene editing of disease-susceptible mosquitoes to reduce mosquito-borne diseases
Genetically engineering resilient coral to restore the Great Barrier Reef.
Attitudes to synthetic biology and the Great Barrier Reef
There is no argument that Australians love the Great Barrier Reef – most of us believe more should be done to help the Reef, with the impacts of climate change being the greatest threat to its health. Our scientists are now investigating novel interventions to help the Reef adapt to climate change, including research into heat resistant coral.
The Baseline Survey case study on the Great Barrier Reef aimed to discover the public's general perceptions of using synthetic biology tools to restore the Reef and, more specifically, using the example of genetic engineering that could make coral more tolerant to marine heatwaves. These synthetic biology technologies have the potential to increase the coral's thermal tolerance to higher sea-surface temperatures to help reduce the likelihood of coral bleaching.
And what did people think?
Researchers found that most Australians (92 per cent) were aware that coral is being lost in the Reef, with 94 per cent considering it a moderate to very big problem for Australia.
After receiving information about the potential use of synthetic biology to restore the Reef, more participants supported the technology (59 per cent) than did not (11 per cent). However, a considerable proportion indicated only moderate or neutral support (29 per cent). Most participants also indicated the introduction of the technology should occur while more of the original reef remains. Indeed, a few participants expressly commented that 'we', as in humans, need to take responsibility for conserving the reef and that 'we' should act soon. A large proportion of the survey participants, 63 per cent, stated that they would be willing to visit the Reef where genetically modified coral had been introduced.
While there was overall support for the technology, that doesn't mean there weren't some genuine concerns. Most survey participants were concerned about any negative long-term impacts – upon humans, animals and the natural environment. Eighty-nine per cent of participants were at least moderately concerned about whether any negative impacts arising from the technology could be controlled or managed. Some participants expressed a desire for further testing, more information, and tight regulation and controls when introducing the technology.
Why is this research important?
The level of trust in the science and its regulation helps researchers to responsibly develop technologies that affect us and our environment. Integrating social and biophysical sciences at the early developmental stages of controversial technologies means that societal expectations can be built into the problem-solving process.
And most participants (86 per cent) indicated they were keen to know more about the science, the possible risks, and the regulation and control of the technology. Ongoing public engagement will be crucial in developing advanced technologies, such as the use of synthetic biology to build resilience and restore this important Aussie icon.