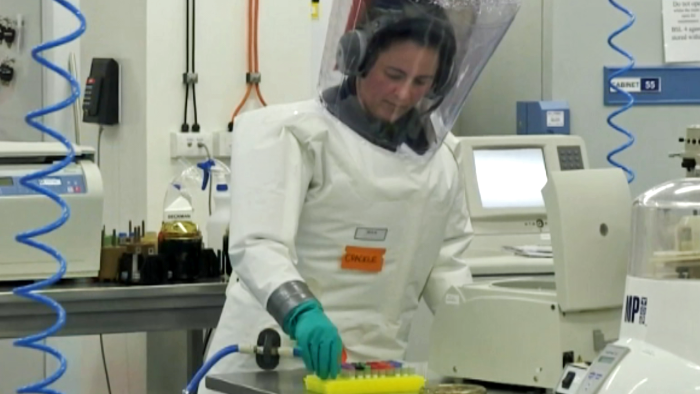 We're over halfway through 2021 and new variants of COVID-19 in the community continue to impact our lives.  
Many concerned Australians are doing their part to help stop the spread of the virus by getting tested or vaccinated. 
To aid in efforts to track and slow the spread of this virus, our researchers have developed a promising new technology to indicate early SARS-CoV-2 infection. 
Early detection is key
If you've been tested for COVID-19, you'll be familiar with the nose swab process, which collects respiratory material found in your nose. This test relies on polymerase-chain-reaction (PCR), a technique that detects nucleic acids, or the building blocks, of the virus. Unfortunately, this test cannot reliably detect COVID-19 early in the infection cycle. It's most effective from five days after a person is first infected.   
So when it comes to stopping COVID-19 in its tracks, early detection of the virus is essential.   
A new approach
Dr Ryan Farr works in our Australian Centre for Disease Preparedness (ACDP). He said PCR tests detect the presence of a virus in nose and throat samples. Additionally, their accuracy increases as an infected person sheds more of the virus over time.   
"Instead of simply looking for the virus, our approach was to understand the body's own response to infection. And this often occurs before a virus can amplify to detectable levels," said Ryan. 
"We found that by measuring three host molecules, or biomarkers, in a patient's blood, we can detect COVID-19 with 99 per cent accuracy". 
Genomic biomarkers: how do they work?
A biomarker is a characteristic of the body that can be measured to determine the state of the body. Biomarkers are molecules found in blood, bodily fluids, or tissue that give an indication of your health. An example of a biomarker is our blood glucose levels, which can indicate diabetes. These biomarkers give health professionals information on whether you have a disease, or are likely to develop one. Biomarkers can also inform how you respond as you receive treatment.  
Our study, recently published in PLOS Pathogens, combines biomarkers with advanced machine learning to produce a promising test for early SARS-CoV-2 infection. The approach involves the measurement of host molecules called microRNAs, which appear to change their levels in response to COVID-19 in a way that enables the identification of infection during the early stages of disease. 
Bolstering our testing toolkit
While vaccination rollout continues, diagnostic tests will continue to play a role in the ongoing fight against COVID-19.   
The new testing approach intends to complement and strengthen COVID-19 screening by improving the detection of cases that health professionals might otherwise miss.   
At this stage, there is no currently available commercial technology that can achieve this. So in line with our previous COVID-19 work, we're undertaking further research to bring the COVID-19 biomarker test a step closer to reality.