Artificial intelligence (AI) can affect and benefit SMEs in two ways: by altering their business environment and making the conditions they do business in easier, and by helping them to change their business models and practices, leading to increased productivity and outreach, and to scale up their operations.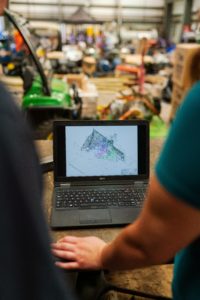 With recent improvements in machine learning, AI underpins the conditions for a fundamental change in how businesses operate.  
The OECD sees this change as so profound that it likens it to the change from steam to electric power, while McKinsey estimates that AI may deliver an additional economic output of around $US13 trillion by 2030. 
Where computer-assisted knowledge-intensive functions were once limited to explicit information, advances in data processing and sensor capabilities have enabled machines to identify and learn patterns.  
AI systems can now streamline or completely automate data-heavy workflows, drawing crucial insights from masses of information to generate recommendations or predictions. 
CSIRO's Data61 is already working on the AI-assisted business of the future.  
From helping to design a collaborative marketplace enabling sustainability, identifying snakes and spiders using a smartphone camera, and automating spinal segmentation to save radiologists and surgeons from thousands of hours of work, artificial intelligence is now a crucial ingredient for SME success.  
Hosted by CSIRO's Data61 and CSIRO's SME Mission program with guest speakers from across Australian industry, academia, and the R&D landscape, the AI and Cyber for SME Growth Symposium explored how SMEs could better leverage the opportunities presented by the rapidly evolving digital age. 
Here, we've unpacked some of the ways highlighted by speakers at the Symposium on how SMEs can integrate low risk, affordable and easy to customise AI. 
You can watch the full sessions on our Youtube channel here.  
What

 can I use AI

 for

? 

And how?
Direction, strategy, planning and management 

Decision-making support, greater predictive ability, business projections and scenarios, and improved ability to integrate and co-ordinate operations and functions.

 

General administration, HR, accounting, finance, and internal communication 

HR analytics can be used to attract workers more effectively and keep track of individual working conditions, wages, fringe benefits or responsibilities.

Automating administrative and routine tasks like accounting, reporting, and payroll is particularly relevant given the well- publicised underpayments problems many businesses have experienced in the recent past.

Enhancing the capacity to comply with tax obligations is also a significant benefit that could avoid costly errors.

 

IT systems and networks 

AI systems can improve your ability to detect data breaches and cyber-attacks. 

They can also pre-emptively analyse and repair vulnerabilities and strengthen your digital security risk management.

 

Pre-production functions such as R&D, design and exploration 

Data analytics of corporate, production and customer/user data can identify areas of productivity and quality improvement. 

Automating scientific processes and identifying more cost-effective experiments for the development of new products, devices or processes can lower development costs. 

It can also provide increased capacity for factoring costs, identifying the best design, and prototyping (especially if combined with 3D printing or immersive experiences).

Sourcing, procurement, and supply chain 

Data analytics can streamline contract management and strategic sourcing. Improved anticipation of shortages and better management of purchases can optimise resource allocation. 

AI can increase the capacity of risk management, for example, risk from supplier reliability. It can also improve capacity in identifying invoicing errors, monitor commodity and intermediary pricing, and anticipate market fluctuations. 

When combined with IoT functionality, it can provide greater ability for asset tracking and strategic routing in real-time.

 

Production and operations, including stock management and maintenance 

AI can provide better planning capability by optimising operations and strengthening production/process/quality control. 

Lean management models benefit from AI assistance, with increased capacity for just-in-time production, and greater responsiveness to end-use market variations. 

Predictive maintenance can reduce the risks of incidents and minimise costly production disruptions, while increasing overall safety and cost efficiency.

 

Marketing, sales, advertising, branding, customer services and external communication 

AI can provide greater and more accurate market segmentation, sales forecasting, price differentiation and targeted advertising. 

 

Automating basic and repetitive customer services using chatbots enables people to focus on solving creative and social tasks using uniquely human skills.  
AI represents a significant opportunity to boost productivity and improve commercial output through its strong potential to enable industry to make better products, deliver better services, faster, cheaper and safer. 
As world leaders in AI research and development, CSIRO's Data61 can help you navigate this new frontier and set you up for success. We act as a network and partner with government, industry, and academia, to advance the technologies of AI in many areas of society and industry.  
Discover some more tangible AI integration opportunities from industry experts in the recordings below and get in touch for more information on how to advance your SME's science and technology offering here.