The Ningaloo Reef Marine Park off the North West Cape of Western Australia contains one of the world's longest and most pristine fringing reefs. We've been involved in research on Ningaloo Reef for decades and most recently through the Ningaloo Outlook program[Link will open in a new window].
Ningaloo's untouched splendour makes it an ideal laboratory for marine scholars to study aquatic life. And that's what our four Ningaloo Outlook PhD students are doing as part of the program.
Fish tales from the shallows
Shallow reefs[Link will open in a new window] cover about 65 per cent of Ningaloo. They support an amazing biodiversity of more than 200 coral and 500 fish species.
Daphne Oh is researching these coral reef communities. She aims to understand how they work and how they can be conserved.
"My research will provide new estimates of the types and amount of fish species in understudied areas at Ningaloo," Daphne said.
Her work will analyse trends and changes in reef fish communities over time. This research will unravel the complex relationships between shallow coral reef habitats and fish communities.
"Reef habitats that have an abundance and diversity of hard corals have also been shown to support greater numbers and more diverse fish species," she said.
Many reef fish of Ningaloo are dependent on a healthy and diverse coral reef for survival. However, the benefits between corals and fish are mutual. Reef fish provide ecological functions that support the health and resilience of coral reefs.
"I am interested to see whether complex reef systems influence fish communities in Ningaloo, with a focus on coral-feeding species like butterflyfish," she said.
Understanding deepwater habitats
Logan Hellmrich has a deeper focus. His research is looking at Mesophotic habitats. These are areas where light still reaches the seafloor. They can be 30-150 metres below the ocean's surface.
Mesophotic habitats are often beyond what's accessible for recreational and scientific diving. This means there is still lots to learn about these reef ecosystems.
"I am looking at five different deepwater habitats. I want to know what marine organisms are using these different habitats during the day and at night," Logan said.
Using stereoscopic baited remote underwater video (stereo-BRUV) and remotely operated vehicles (ROV) Logan can peer into these underwater worlds.
"Over the last year I've modified the stereo-BRUVs to have extended battery life and an additional light. Both cameras and light can run for a full 24 hours to capture different habitat users across the day and night cycle," he said.
Using the camera footage from the stereo-BRIVs and ROVs, Logan is now identifying the diverse organisms that live across the Mesophotic depth and deeper reefs at Ningaloo.
Tracking whale sharks
Taking on one of Ningaloo's iconic marine creatures, Colby Bignell is studying the movement and the habitats of whale sharks[Link will open in a new window] and other reef sharks.
"Ninglaloo offers an ideal environment to investigate the behaviour patterns of shark populations that are relatively healthy and undisturbed," Colby said.
Researchers still barely understand the movement patterns of many shark species.
"I will be analysing existing acoustic and satellite telemetry data of reef shark and whale shark movements. I'll also conduct additional acoustic tagging of reef sharks," he said.
This information will help us understand specific patterns and drivers of shark movements. Not only that, but it allows us to learn about shark habitats, behaviour and migration patterns.
Colby's research will supply important baseline information for Ningaloo. Additionally, it will provide data that can be compared to shark populations in other reef systems globally.
Surveying sea turtles
Ningaloo Reef Marine Park is home to several species of sea turtles. While green turtles (Chelonia mydas) are the most common, loggerhead (Caretta caretta) and hawksbill (Eretmochelys imbricata) also enjoy the warm waters.
The Ningaloo Reef Marine Park management plan considers turtles to have special conservation significance. The plan aims to see no turtles harmed by human activity.
Daniel Axford's PhD study uses drone surveillance and machine learning techniques to estimate turtle populations more accurately.
"Previous estimates were based on surveys of nesting females on beaches. This method doesn't count juvenile turtles, males and non-nesting females. Surveys of turtles in the water are needed to be able to accurately measure their abundance," Daniel said.
Since 2018, the Ningaloo Outlook turtle program has been conducting drone aerial surveys. They do so at least twice a year at defined areas in the Ningaloo Reef Marine Park.
Daniel's work will improve turtle detection during drone surveys. This will help to give accurate estimates of the total number of sea turtles in the survey area.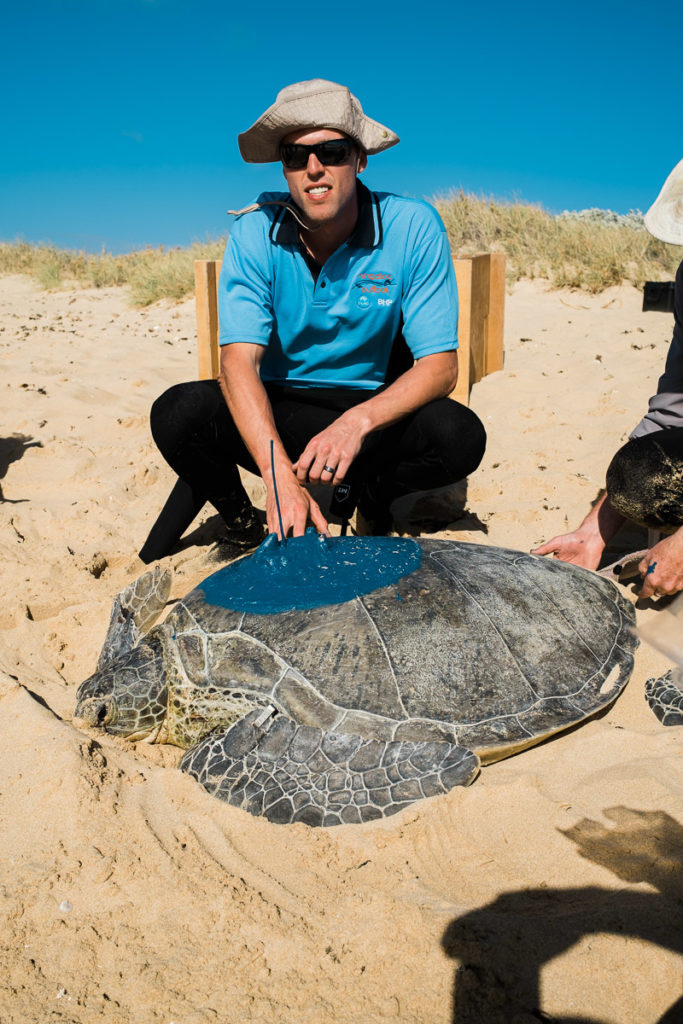 Reef conservation and management
Each of the students' research is building knowledge of Ningaloo Reef. This supports conservation efforts and management decisions for Ningaloo and other reef systems around the world.
Daphne, Logan, Colby and Daniel are supported by scholarship as part of Ningaloo Outlook. Ningaloo Outlook is a collaboration between us and BHP to increase our understanding of Ningaloo Reef and its inhabitants.
Note: BHP Petroleum merged with Woodside Energy on 1 June 2022.