Aus4Innovation (A4I) is a $16.5 million program created to spearhead the next wave of digital technologies in Vietnam. Launched in 2018, it aims to future-proof the country's science, innovation and policy agenda.
Our Hanoi team manages the A4I Program and is headed up by Counsellor Kim Wimbush. The program supports the inclusive and sustainable development of Vietnam's Innovation System that will build research and commercialisation capability. Additionally, the A4I will foster innovative partnerships through grant and commercialisation programs. Knowledge sharing in best practice models and policies and research collaboration are also key.
We are proud to have several major achievements as a result of the program. From building artificial intelligence (AI) connections between Vietnam and Australia to scaling ideas that will assist with fighting plastic waste – here are our top five achievements from the year that was.
1. Celebrating the launch of Central Highlands Innovation Cluster
Leaders from the Central Highland's five provinces joined the Vice-Minister of the Ministry of Science and Technology and Australia's Deputy Ambassador to launch the Central Highland Innovation Cluster partnership in June 2022.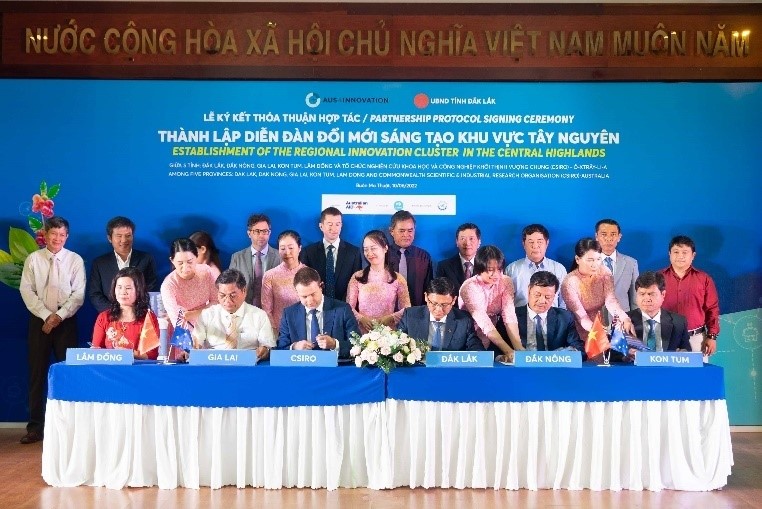 The Central Highlands are known for high-value agriculture. Key crops include coffee, pepper, tea and fruit, as well as vegetables and flowers. In fact, Vietnam is the second largest coffee exporter in the world. Ninety-five per cent of Vietnam's coffee comes from the Central Highlands. Recently, rapid growth in agriculture has improved livelihoods for people in the region. However, it's export focus leaves it vulnerable to market fluctuations.
Through the Innovation Cluster, A4I aims to support continued regional growth and sustainable development. Prioritising innovation can help the region's agri-food sector respond to productivity, processing and quality challenges. It will also help build resilience to shocks such as market or climate pressures. The goal is to boost its advantage in the market for these high-value crops.
A4I is leading the creation of a forum for local researchers, businesses, government, farmers and associations. They will convene and develop solutions to industry challenges and innovation opportunities, encouraging links for technology transfer and knowledge exchange.
The A4I team is currently working with the provinces. Activities include technology transfer, training and joint action on market and climate pressures.
2. Supporting AI connections for a better future
In September 2022, the A4I program sponsored the Vietnam Artificial Intelligence Day (AI4VN) summit for a second time. They had the support of our National AI Centre and Stela Solar. Vietnam's Ministry of Science and Development hosted the event. It has become a leading platform for cutting-edge research and innovative development in the field of AI.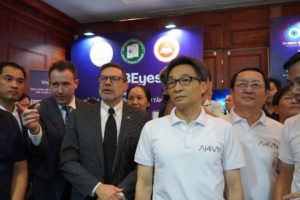 The theme was AI for economic recovery and shaping the future. There were a series of workshops about AI application in the fields of finance, human resources and manufacturing, leading up to a final AI4VN Day. Stela delivered a keynote speech providing an overview of Australia's National AI Centre, responsible AI and ethics, and chances to collaborate.
Attending the summit was Australia's new Ambassador Andrew Goledzinowski. He was excited about the scale of the event and called it a practical way to strengthen our two countries AI communities.
3. Ending plastic waste in Vietnam
Vietnam has set a goal to reduce the flow of plastics into the ocean by 75 per cent by 2030, with an upcoming nationwide ban on single-use plastics by 2025.
To support this shift, A4I launched the Plastic Innovation Hub Vietnam in March. It is a part of the Indo-Pacific Plastics Innovation Network and our Ending Plastic Waste Mission. Its goal is to reduce the amount of plastic waste entering our environment by 80 per cent by 2030.
The Plastics Innovation Hub Vietnam planned Capability Uplift and Innovation Programs covering a series of virtual workshops. These covered topics such as entrepreneurship, innovation and the plastics problem. Those with a business idea to end plastic waste were invited to participate, present and network with likeminded people and industry at a showcase event in November.
The Hub will be a vehicle for collaboration. It will bring together local groups and governments, businesses and investors to take on projects to reduce the impact of plastic waste.
4. Innovation projects wrapping up with promising results
A4I is excited to announce the recipients of our Innovation Partnership Grants are now wrapping up their projects. The results look very promising!
From 2019 to 2022, 12 projects were funded from hundreds of applications with a total funding of over $5 million. The successful projects focused on agriculture and food, healthcare and the management of natural disasters and environment among other sectors. Their approaches vary from using hormone therapy to spawn high-value sea cucumbers, to applying augmented reality to connect rural medical workers with central hospitals.
The projects have scaled innovations in Vietnam, while nurturing a shared innovation community between the two countries.
5. Aus4Innovation gets a 5-year extension
The Aus4Innovation program will now be extended to 2027, making this a ten-year commitment.
Innovation and institutional change take time. So, this continued commitment will provide valuable experience for both countries to maximise their contribution to sustainable innovation and growth.