It's been an extraordinary year. Uncertainties and challenges have remained, but so too has perseverance, innovation, and successes. We're proud of the science excellence, adaptive transformation and future building that CSIRO's Data61 has achieved this year.
Below, you'll find some of the highlights of our year, including welcoming new staff, award-winning science, commercialising research, creating opportunities for the next generation of data and digital scientists, improving public services, and helping protect the Great Barrier Reef.
We would also like to thank you for your ongoing support, and wish you a safe and merry festive season, and a very Happy New Year! To stay in touch with us over the holiday period, follow us on Twitter and LinkedIn, and don't forget to subscribe to Algorithm if you'd like to hear more from us in the New Year.
Welcomed Professor Didar Zowghi
A leader in human-centric technology design and a renowned information technology educator, Professor Didar Zowghi joined CSIRO's Data61 in January.
A driving force behind our Diversity and Inclusion in AI research program, Prof Zowghi advocates that ethical AI principles must embedded in the design, development, deployment and evolution of responsible AI systems.
Prof Zowghi is contributing to understanding, definition, and awareness of what responsible and ethical AI is at Data61. Her team is developing improved and innovative ways Australian industry can achieve responsible AI in practice.
"I dream of a day, hopefully not in the too distant future, when AI will have achieved a significant degree of fairness, trustworthiness, and inclusivity that humanity can in fact turn to AI to be inspired and learn how best to practice diversity, equity, and inclusion.
And my hope is that Australia will be one of the world leaders in demonstrating diversity and inclusion in all aspects of the design, development, and adoption of AI technology."
Learn more about Prof Zowghi and her work here.
Dr Kristen Moore nominated for a Women in AI Award
Recognised for her scientific excellence in the application of AI to cyber security in March Dr Kristen Moore started 2022 brilliantly.
"The focus of my nomination was the development of a novel, AI-powered tool for cyber deception.
Specifically, I used AI to automate the construction of a highly realistic email server honeypot, that generates both communication traffic and the message artefacts," said Dr Moore.
A collaboration between the Cyber Security Cooperative Research Centre, CSIRO's Data61 and Australian-based cyber company Penten, the AI-powered tool developed by Dr Moore and her team is in the process of commercialisation.
Read more about Dr Moore's career journey and research here.
Partnered with Eratos to turn data into opportunity
A collaboration in March between CSIRO's Data61 and Eratos will help software engineers and researchers develop more informed, effective and scalable digital solutions for owners and managers of natural and built world assets.
Under the partnership, CSIRO's data analytics platform Senaps is incorporated with Eratos's platform to create a distributed data management technology with cloud based IoT and scientific workflow management.
The platform integrates huge volumes of data from Internet of Things (IoT) sensors, satellite images, and weather projections to help create highly accurate predictions and simulations for better decision making.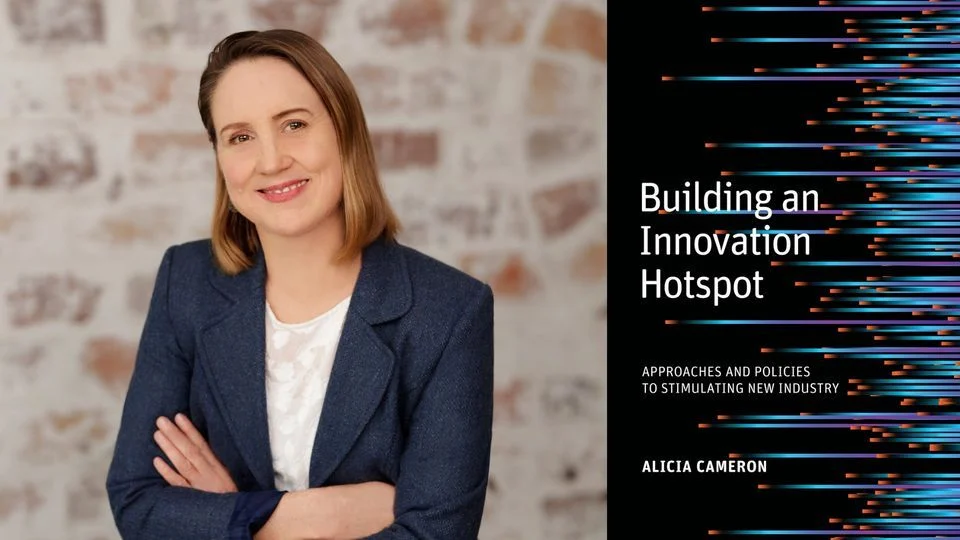 'Building an Innovation Hotspot' by Dr Lucy Cameron
Policymakers and leaders in science and industry are pinning their hopes on further innovation to drive economic recovery. It's a good plan, but stimulating innovation is not easy, writes CSIRO Strategic Insights expert Dr Lucy Cameron
Launched in May, Dr Cameron's book 'Building an Innovation Hotspot' outlines approaches governments, communities and industries have used and examines the evidence behind them.
Former CSIRO Chair Mr David Thodey wrote; "It is my pleasure to endorse Lucy's excellent insights into place-based innovation, something that remains fundamentally important in a virtually connected world. This book is essential reading for anyone interested in innovation and provides a significant contribution to the robust public policy required to build a more sustainable and vibrant future for Australia."
Learn more and order a copy here.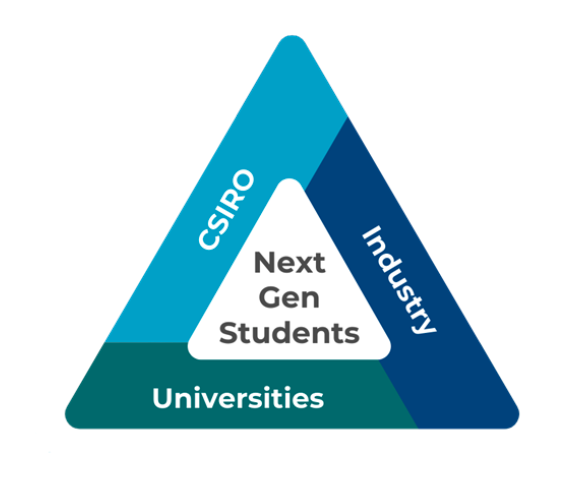 Launched Next Generation Graduates Program
After a competitive process, CSIRO found it's first 12 (of 14) Next Generation AI and Emerging Technologies Graduates Programs in April.
The Next Generation Graduates Programs provide students opportunities to collaborate with universities and subject specialists nation-wide.
$10.4 million from CSIRO 's Next Generation programs will be combined with $5.8 million from industry and university partners to co-fund 165 student scholarships.
Students will work on a broad range of social, economic, and industrial challenges including improving outcomes for disadvantaged school students, data-centric and machine-driven engineering, AI in mental health, smart manufacturing and sensing, digital privacy and cybersecurity, national quantum technology capabilities, and enhancing industry operations through the metaverse.
Collaborated with Google to better protect the Great Barrier Reef using machine learning
The Great Barrier Reef faces a number of rising threats, especially outbreaks of the coral feeding crown-of-thorns starfish. Traditional reef surveys that monitor the location of COTS are manual and time consuming, involving towing a diver behind a boat. CSIRO in partnership with Google are using next-generation technology to discover COTS faster than ever before.
This new semi-autonomous method involves towing a device equipped with computer vision and machine learning behind the boat. The device processes the underwater footage in real-time and shows the survey team on the boat how many COTS have been detected and their whereabout.
This allows scientists to keep a closer and clearer watch of the reef so outbreaks can be managed more effectively.
National AI Centre Think Tanks
Experts across human rights, technology development, commercialisation and representatives from businesses of all sizes and sectors, Government, and Universities are part of the National AI Centre's (NAIC) Think Tank initiative, which fosters a collaborative approach to solving the shared challenges of AI adoption and innovation.
By bringing together expertise from across the business, academia and community ecosystems, and collaborating with local and global organisations, the NAIC Think Tanks aim to unlock Australia's AI opportunity with the development of practical guidance and frameworks to support Australian business in their AI implementation journey.
Stefanee Lovett, Google's Head of Government Affairs & Public Policy Cloud says that the NAIC and the Think Tanks have an important role to play in helping set the future of Australia's AI agenda.
"What is most exciting is the opportunity to raise greater awareness of the benefits of AI to our community and economy, and support greater adoption of AI as part of a technology solution, alongside human intelligence."
Our Future World report
A once-in-a-decade report from CSIRO identifies seven global megatrends that hold the key to the challenges and opportunities ahead.
With an outlook to 2042, Our Future World revisits CSIRO's ground-breaking 2012 report of the same name, exploring the geopolitical, economic, social, technological and environmental forces unfolding around the world, predicting their likely impact on Australia's people, businesses and governments.
The seven global megatrends are: Adapting to climate change; Leaner, cleaner and greener; The escalating health imperative; Geopolitical shifts; Diving into digital; Increasingly autonomous and Unlocking the human dimension.
"Australia is at a pivotal point. There is a tidal wave of disruption on the way, and it's critical we take steps now to get ahead of it."

— CSIRO Chief Executive Dr Larry Marshall
Read the full report
here
.
$1.2 million robotics scholarship
CSIRO funded a $1.2 million scholarship program at Queensland University of Technology (QUT) in August to train the next generation of aspiring Australian roboticists.
The Alberto Elfes Memorial Scholarship Fund will use prize money from CSIRO's historic podium finish at the 2021 DARPA SubT challenge to sponsor eight scholarships for domestic or international high-performing students belonging to groups under-represented in the robotics industry.
The scholarship is a testament to the late Professor Alberto Elfes, a revered leader of CSIRO's Robotics program and driving force behind the team's participation in the DARPA SubT Challenge.
"The Alberto Elfes Scholarship acknowledges a globally renowned roboticist and the very strong human links built over many years between QUT and CSIRO," said former colleague and Joint-Director of the QUT Centre for Robotics Distinguished Professor Peter Corke.
"The program will continue Alberto's work of driving diversity in robotics to ensure the successful design and delivery of next generation technology," he said.
More details on eligibility and how to apply can be found at Alberto Elfes Memorial Scholarship Fund (PhD Scholarship). Learn more about eligibility, what's included in the scholarship and how to apply here.
Digital Twin Victoria launches
Launched in August and built in partnership with CSIRO's Data61, Digital Twin Victoria connects masses of data and information to create 2D, 3D and live data versions of the real world – with detail on buildings, roads, infrastructure, farmland and natural environments.
DTV brings together more than 4000 local, state and national datasets making them accessible to everyday Victorians for small and large projects. The platform can be used for state-significant planning and infrastructure projects to visualise data, investigate the feasibility of proposal.
"The Digital Twin Victoria platform will bring data to life, from visualising real-time renewable power generation and flood spread monitoring, to understanding Australian fur seal migration and mapping vegetation density," said Data61 Director Jon Whittle.
"The ability to easily see, compare and share this information is essential to building resilience and successfully adapting to change. CSIRO is proud to partner with the Victorian Government to unlock its data-driven potential."
Artificial Intelligence for Science report
A world-first report from CSIRO in November analysed the impact of artificial intelligence (AI) on scientific discovery, finding scientists are adopting the technology at an unprecedented rate.
'Artificial intelligence for science' draws insights from millions of scientific papers published over 60 years to form a picture of how AI is being used across scientific fields and identifies the key issues ahead for the innovation sector.
CSIRO Chief Scientist, Professor Bronwyn Fox, welcomed the launch of the report today as part of Science at the Shine Dome.
"AI is no longer just the domain of computer scientists or mathematicians; it is now a significant enabling force across all fields of science, which is something we live every day at CSIRO where digital technologies are accelerating the pace and scale of our research in fields ranging from agriculture to energy to manufacturing and beyond."
Read the report here.