The Australian prawn farming industry has been growing healthy prawns and serving them up around the country since the 1980s. We have a long history of working with these iconic crustaceans in both the domestic and international prawn industries. ?
The Bribie Island Research Centre in south-east Queensland is the base for much of our current work on prawns. Tim Perrin, one of our research technicians at the centre, works across the full lifecycle of the Australian black tiger prawn (Penaeus monodon). He raises animals for a huge array of projects to help the aquaculture industry adapt and innovate.
Tim takes us behind-the-scenes of a prawn's journey from larvae to large adults.
It starts with maturation and breeding
The prawn production cycle starts with matured adult prawns, known as broodstock. These prawns are generally 10-18 months of age, and females reach up to 35 centimetres in length.
"Broodstock prawns enjoy a lavished lifestyle housed in temperature controlled indoor facilities. They're fed a highly nutritious diet of squid, mussels and worms," Tim says.
"This maturation diet is paired with just the right water temperature. It's integral in conditioning prawns for optimal spawning outcomes."
When ready, a female broodstock prawn produces 300,000 eggs on average per spawn and can spawn every three days. However, the largest well-conditioned females are able to produce over one million eggs per spawn!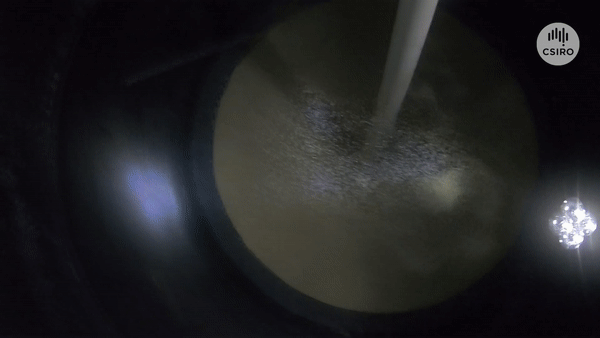 Enter the babies: Hatchery and larval work
When spawning, female broodstock release their eggs along with sperm they have carried from a male. This happens late at night and in the early hours of the morning.
As soon as 12 hours after this event, the fertilised eggs start to hatch. They enter the world in their first larval stage known as nauplii.
"For hatchery staff, this is when the real work begins," Tim explains.
"Over the coming 28-30 days these unrecognisable microscopic larvae go through a number of metamorphosis cycles before they begin to resemble a prawn."
At the end of this hatchery phase these 'post larvae' are stocked directly into growout ponds on farms. Similarly, at Bribie Island these animals are stocked directly into experiments. There they'll be on-grown to a desired size for experiments or kept and matured for future broodstock.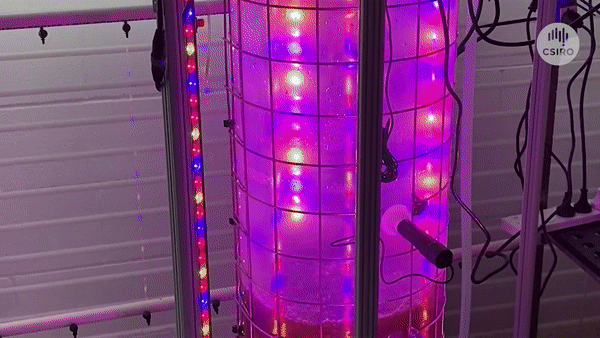 Feeding our hungry brood
As you can imagine there are many hungry mouths to feed - with a lot at stake.
The success of a commercial prawn crop or prawns used in research experiments is heavily dependent on the quality of the post larvae used for stocking. Therefore, conditioning animals during the hatchery phase is integral and can be largely attributed to the quality of feeds they're given.
"Something people from outside the industry often don't realise is the time and effort that hatchery technicians have to put into the production of live feed," Tim says.
"For tiger prawns this usually comes in the form of diatom algae and artemia (sea monkeys)."
Algae culture in particular is a complex science of its own, which requires specialised technical experience.
Big prawns: Growout phase and trials onsite
It generally takes about 150 days for post larvae prawns to reach a market size of 35 grams each. The time taken depends on factors such as the farming region (water temperature), illness and feed.
"At Bribie Island we study a range of areas that benefit the domestic and international prawn farming industries," Tim says.
These research areas include nutrition for growth, broodstock nutrition and development of new growout systems and methods.
Work is also underway in developing nursery systems (between the hatchery and growout phase), health and pathology research, effluent bioremediation and utilisation, selective breeding programs and much more.
With an end goal to produce more prawns using less resources, our long-term vision for the future of prawn farming in Australia is to expand the industry across Northern Australia. A number of projects are underway, one of which is looking to partner with Indigenous groups across the north on a low input extensive farming model.
If you'd like to see more of the work being done on prawns and other aquaculture species by the CSIRO follow Tim on Instagram and Twitter.