Australia's iconic koala is easy to identify but understanding the status and trends across the country's entire koala population to inform management efforts is no easy task.
For a start, koalas are trickier to see and count than one would think. CSIRO scientists, Indigenous rangers and community members all need to work together to collect and share the best available data so that we can measure and assess koala population status and trends.
The Minister for the Environment and Water, Tanya Plibersek, has announced $10 million funding over 4 years for CSIRO to continue the National Koala Monitoring Program in partnership with the Department of Climate Change, Energy, the Environment and Water.
After a year of co-designing this program with key research, agency, Indigenous and community partners, the next phase of the National Koala Monitoring Program will deliver a robust estimate of the national koala population and build a long-lasting capability to monitor and assess trends in koala populations across the entire species' range.
Gathering and trusting koala data
Dr Andrew Hoskins and Dr Cathy Robinson are CSIRO's project co-leaders of the National Koala Monitoring Program.
"We recognise that koala numbers are hugely variable across Australia, and while there's existing data in some places, there is still a lot of uncertainty about populations across their entire range. We need to work with everybody and bring the best multidisciplinary science, so we get to a place where there is high social and technical confidence in the final data," Andrew says.
CSIRO scientists will work with local, agency and university partners who use different methods, such as drones and citizen science, to collect data to assess and monitor local koala populations. Cutting-edge modelling will help ensure the data from different sources and from across the country can be meaningfully integrated into a robust estimate. The result of this research will not only help koalas but show new and inclusive ways to monitor the state of significant species in Australia's unique environments.
The program aims to fill the gaps in knowledge about koalas and will also assess and enable effective responses to changes in koala population size, health and condition across their distribution. Over time, these data will be used to support local, regional and national koala management and habitat conservation efforts.
How can we count koalas?
"Koalas are little fluffy blobs that like to sit in the nooks of trees," Andrew jokes.
"You know, when you see them, right? They're super easy to identify. Anyone can see a koala and know that it's a koala, but they're actually quite cryptic in their environment. They sit up high which can make them very hard to spot, unless you're in an area where there's loads of them. They're also active mostly at night meaning we're not often around them when they're moving about," Andrew says.
This is where local landcare groups and Indigenous rangers who are working on the ground have become invaluable. From Millmerran in Queensland to Moorabool in Victoria, pilots have been established to help CSIRO to co-design this program with Landcare and Indigenous rangers. This includes using, learning and combining different data survey techniques, such as on-ground transects and drone surveys.
Senior Queensland Murray Darling Catchment Aboriginal Ranger William Taylor highlights the importance of collaboration as part of this effort.
"There is much to learn about where koalas are in our region, how many there are, and if they are healthy. This collaboration helps us work together to build the knowledge to care for koala and country," he says.
Cathy from CSIRO agrees and notes the importance of co-designed best-practice data collection and management protocols to underpin the program: "This helps ensure all Australians can trust and contribute to this effort using a range of methods and data sources. Key to this effort is the partnership with citizen scientists, researchers, Indigenous rangers, and all members of the community.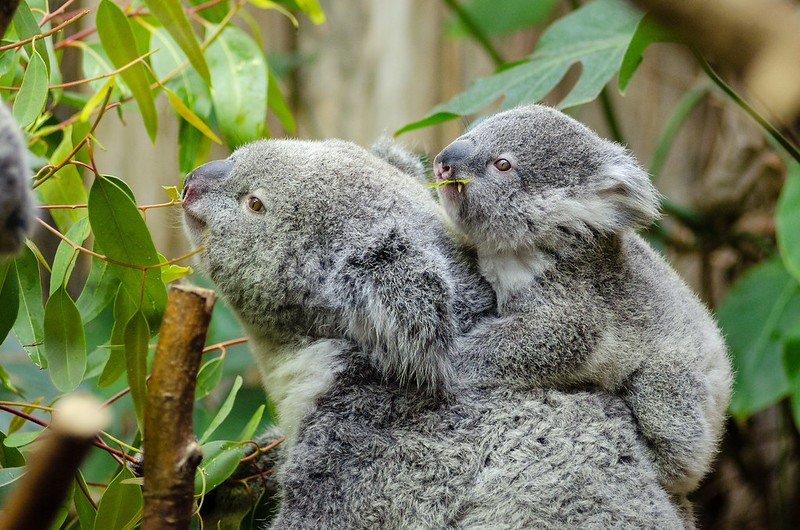 There are huge differences in koala populations in Australia
Koala populations across New South Wales, the Australian Capital Territory and Queensland are now listed as endangered under the Environment Protection and Biodiversity Conservation Act 1999 (EPBC Act). In other regions of South Australia and Victoria there are concerns about local koala population status and trends but the koala populations are currently unlisted.
"The result is that there is a potpourri of contexts in which koalas are being monitored and managed and we need to be mindful of that while trying to provide a national snapshot as part of the Koala Monitoring Program," Cathy says.
In the meantime, it appears the little Aussie koala is in good hands.
"We're working very diligently to get a really good robust estimate of population size, but we haven't got there yet," Andrew says.
"We are aware the koala is an iconic species for all Australians, especially Indigenous Australians. As such, we recognise that the only way we can recover such an iconic species is having everyone involved - the broadest community minds possible."