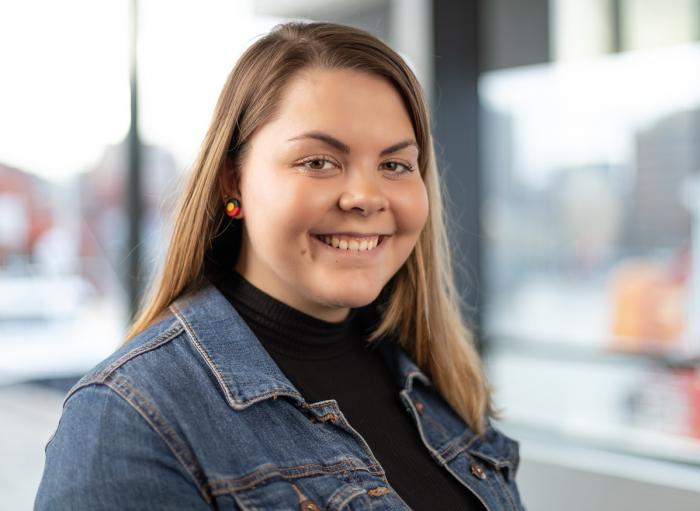 Hannah McCleary is a proud Palawa woman from nipaluna/Hobart currently studying a combined Bachelor of Science and Bachelor of Laws degree at the University of Tasmania.

She is passionate about science and wants to inspire young Indigenous women to enter the STEM (Science, Technology, Engineering, Mathematics) fields of study.
Hannah said there are many young Indigenous women with a passion for STEM but a lack of representation in the field, plus a lack of promotion, is affecting the number joining the disciplines.
'It's difficult to break into a discipline where you don't see others that are similar to you,' Hannah said.
'I think we have a responsibility to communicate the diversity within STEM, to show our prospective scientists and researchers that we come from all different backgrounds.'
'I want to let them know that there most definitely is a space for us in STEM! The typical idea of what a scientist is, is changing, and with increasing diversity our voices are finally being recognised by others.'
As Hannah progressed in her school studies, she developed a love for science and found the scientific field really played on her strengths and interests.
Her attendance at the CSIRO Aboriginal Summer School for Excellence in Technology and Science (ASSETS) camp cemented her science-based goals as she spent time with other young Indigenous students who were passionate about science.
'It was an exciting experience, knowing that there are many students out there like myself, who understand my experiences as a young Aboriginal person interested in STEM,' Hannah said.
Hannah is on the committee that manages the Indigenous Time at Sea Scholarship (ITSS) which is a national program for Aboriginal and Torres Strait Islander students studying STEM at university. The scholarship provides opportunities for students to gain experience in a research voyage on CSIRO's RV Investigator.
She helped to coordinate and implement the program, as part of her cadetship with CSIRO and was able to join the first two ITSS recipients Sophie Gilbey and Tiahni Adamson on board, as a mentor, to help support them through the voyage.
'They were very excited to have the opportunity to work and learn alongside professional scientists and technicians on Investigator,' Hannah said.
'I have stayed in contact with Sophie and Tiahni, and the experience has assisted them with employment opportunities as well as igniting passion for further postgraduate study after they complete their degrees.'
Hannah wants to be a force for positive change for the environment.
'I think society has a responsibility to protect the environment and the diversity of species,' she said.
'With our current changing climate and the ongoing degradation of habitats, wildlife is particularly vulnerable, now more than ever. I'm hoping that in pursuing science I will be in a position to be able to work with like-minded individuals, to help protect the environment and our biodiversity.'
The future is looking bright for Hannah whose long-term goals include working in STEM fields and working with young Indigenous students.
'The mentors I have had over the years have left a huge impact on me. They have helped to increase the confidence I have in myself and my potential,' Hannah said.
'I have made lasting friendships with people I can always approach for advice - particularly the wonderful Scott Phillip from CSIRO, who has been a mentor of mine since ASSETS.'
'I would love to make connections with students in this way and help them in achieving their passions! I'd also love to experience working overseas, especially in the US with their First Nations peoples, as my Father's side of the family is from America.'

Originally published in Indigenous.gov.au. Read the original article.