How do you promote science in schools? Start by analysing a little poo.
As part of our STEM Professionals in Schools program, Damien Belobrajdic carries not one but 12 animal stool samples when he visits classrooms. He encourages kids to peer closely at each jar. Together, they discuss what each one might reveal about the animal that made it.
Can they spot the fur in the faeces? That's from a tiger. As a member of the cat family, it licks itself and ends up digesting a lot of its own fur. The stool that looks like shredded bamboo comes from a panda. Then there's the crazy cube-shaped poop that a wombat can produce 100 pieces of overnight.
"The kids find it fascinating. They think it's pretty funny," Damien said. "But by showing them these samples side by side, I get them thinking about the science. What is different about the diet or digestive system of each animal that shapes the poo?"
Damien looks for ways to get a whole classroom of kids talking about animal behaviour, anatomy and diets. He also has an interactive, full-scale model of the human digestive tract. Stretch out the "intestines" – made from clear plastic tubing – and they can span the length of a classroom.
Damien is a Senior Research Scientist with our Health and Biosecurity team. He specialises in nutritional trials that evaluate the metabolic and gut health benefits of foods products. Damien is also one of the longest standing volunteers in our STEM Professionals in Schools program. He's been volunteering his time for 15 years.
Science in schools...with sprinkles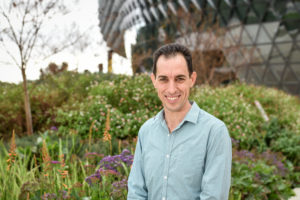 Damien didn't have access to such hands-on experiences when he was a child. "Most of the things at my school were more static," he reflected.
Now, he puts a lot of thought into what to bring into the classroom. Along with his poo samples and model of the digestive tract, he'll also bring in a box of doughnuts from a fast-food chain. The freshest ring in there is a year old, while the most ancient clocks in at over a decade – a tangible memory from a birthday party at work. The doughnuts are disturbingly well preserved.
"This doughnut is as old as some of these kids," Damien said, picking one up and pointing to the icing and sprinkles that haven't aged a day. "It really gets them thinking about food preservation."
A breath test machine makes for another inventive teaching tool. When a child breathes into it, it flashes a rating of the amount of hydrogen present in each exhalation. The gas is produced by the healthy activity of the estimated one trillion bacteria that live inside our bodies.
By using each demonstration to build on the next, Damien deepens the students' understanding of nutrition. Each practical demonstration underscores the important role dietary fibres play in feeding the good bacteria that keep our gut and body functioning well.
Connecting volunteers and teachers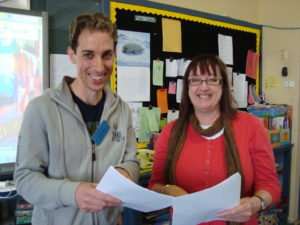 To effectively promote science in schools, our volunteers need to find allies among teachers. "When teachers are really enthusiastic and can see the value of having scientists in their classroom, they prioritise creating tailored learning opportunities at various points over the year," Damien noted.
Some of his most successful collaborations with teachers have spanned multiple school years. In the classroom, Damien likes to share insights from his experiences with multidisciplinary teams across CSIRO. He's led research to better understand how specific fibres and grains differ in their functional effects. He made a case for the health benefits of high amylose wheat, which is now being commercialised.
Damien is studying novel plant-based and alternate protein products because they have so much potential to improve personal and planetary health. Meanwhile, being in a classroom also helps remind him why he chose this field.
"It's wonderful when the students are so excited about the job that you do, or the story you tell," Damien said.
"It's easy to get caught up in the day-to-day. Yet, something like this gives you an opportunity to step back. You think about it from a broader perspective. It's that extra confirmation of the value of what we do and why we do it."