However, understanding and preparing for these powerful trajectories is key to retaining your competitive advantage.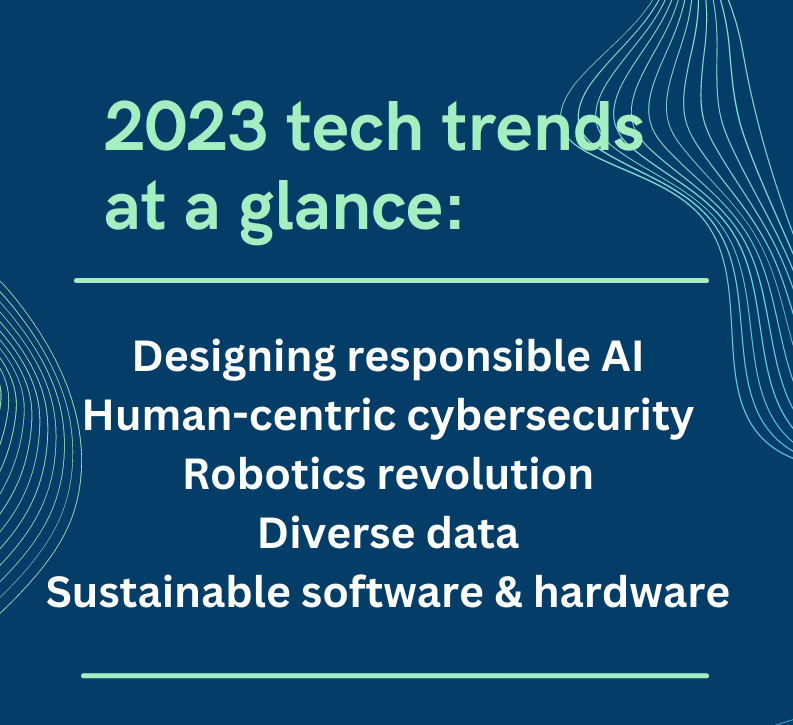 Tech trend insights from our experts
Prof Aaron Quigley, Deputy Director and Science Director
A growing trend will be more sustainable software and hardware architectures to account for environmentally expensive approaches to solving computational problems.
This will push through language design, machine learning, cloud computing and IoT developments.
Stela Solar, Director of the National AI Centre
Responsible AI will be the frontier of competitive commercial advantage

2023 will see the commercial application of AI continue to advance, while organisations who haven't adopted the technology will continue to lose their competitive edge.

Studies have shown the more AI an organisation uses, the more benefits it experiences. Simultaneously, we're seeing a high number of poorly designed AI services achieving subpar privacy, security, and accuracy.

These contrasting trends indicate a gap in practical guidance around how organisations can create and implement AI systems responsibly.

Organisations that invest in responsible AI development will gain a significant advantage and will likely win market share due to their ability to earn and retain trust from the communities they serve.
The coming wave of standards and regulation could cause disruption before it leads to greater clarity

The EU AI Act, the International Organization for Standardization's (ISO) AI standards, and newly developed AI Risk Assurance Frameworks will temporarily unsettle the commercial AI landscape.

A significant amount of change will affect the commercial sector as trade relationship and supply chains transform to align with new standards and regulations. It won't be easy, but it's needed.

I predict we'll come out of this wave with more robust and responsible AI systems that leverage known best practices and frameworks.
Business leaders must steer AI transformation across their organisation

Often AI has been the focus of an organisation's technology or research team. This hasn't yielded the holistic transformations that AI needs or promises for organisations.

Business leaders must use their skills and influence to help drive this uptake and may have more success due to their focus on outcome-centricity and their holistic approach to supply chains, customer engagement, and customer value. AI needs a comprehensive, responsible and collaborative industry transformation to really advance.
AI will become our co-pilot in work and life

We're now discovering what AI technologies can do and how we engage with them. Chatbots have driven a new wave of ideas and understanding of the opportunities and challenges with AI technologies.

While AI is already our intrinsic in our lives (think GPS, search and digital assistant, autocorrect, and voice assistants), this will grow over the coming year as more people experiment, learn, and stretch the limits of AI technology as well as our norms.
AI will become more fun

The headlines have been so serious about AI for a long time…until Generative AI technologies! They sparked our imaginations and engaged people at a scale never seen with AI technology before.

The surge in apps and use cases driven by Generative AI technologies showcases what human creativity can achieve with new tools and technologies. By capturing the population's ingenuity and intrigue, it's likely the number of fun AI projects that people can interact with will grow.

This enjoyable engagement is an important step in everyone's learning journey discovering AI's opportunities and limitations.
Prof Liming Zhu, Research Director of Software and Computational Systems
Despite the initial excitement and the upside opportunities, organisations and communities will struggle with the impact of Generative AI (i.e. AI-generated writing, code, image, audio, video) due to its black-box nature and inscrutable technical and ethical risks.
This will propel responsible AI into the forefront of AI adoption. Opportunities and risks of AI will get more board attention alongside ESG. (Environmental, Social and Governance), cybersecurity and supply chains.
As the cyber-physical melding of critical services permeates more aspects of our life, the pressure on critical infrastructure security and resilience will rise.
We will see a more nationally coordinated, mission-driven approach to tackle the challenge. We will see more data breaches as the arms race in cybersecurity intensify. Emerging technologies that allow using data without actually holding them may finally tip the scales towards the protectors.
AI Engineering, the end-to-end process for getting AI algorithms into production while managing its risks, will become the linchpin of wider AI adoption.
We will finally enter the dawn of quantum applications by seeing a more robust quantum software stack and associated quantum software engineering.
Dr Gary Delaney, Research Director of Analytics and Decision Sciences
There will be at least one AI breakthrough that surprises us.
I think the trend of increasing application of AI in to broader science areas will continue to accelerate.
This is an area in particular that CSIRO's Data61 with its AI for Science strategy is very well placed to lead in, and capitalise on the impact opportunities that this presents.
Dr Navinda Kottege, Research Director of the Cyber-Physical Systems Research Program
We're in the midst of a robotics and AI revolution. Similar to the industrial revolution, it will fundamentally change the way we do things.
The growth of AI and robotics is inevitable; they are akin to where mobile phones and personal computers were roughly two decades ago. These devices are now ubiquitous, and in the coming decades, I believe we will see a similar trend in AI and robotics.
We will start to use these technologies as our apprentices and tools, enabling teams to become effective and efficient.
Rather than spending unnecessary time and effort on menial tasks, people will apply their creative problem solving to global challenges that affect all of humanity.
Prof Didar Zowghi, Senior Principal Research Scientist and Team Leader of AI Diversity and Inclusion
I anticipate that in 2023, there will be a continued focus on diversity and inclusion in AI. This may include increased efforts to ensure that AI systems are trained on diverse data sets and are designed to be fair and unbiased.
Additionally, there may be a greater emphasis on creating inclusive and accessible user interfaces for AI systems, as well as on developing AI systems that can understand and respond to the needs of diverse populations.
There will be an increased focus on the development of AI governance, regulations, and standards. This may include the creation of new laws and regulations to govern the development and use of AI, as well as the establishment of industry standards for the ethical and responsible use of AI.
Additionally, there may be a greater emphasis on transparency and accountability in AI, with an increasing number of companies and organisations publishing reports on the performance and impact of their AI systems.
Furthermore, there may be more attention on global coordination and cooperation on AI governance, regulations, and standards, as governments and international organisations work to address the cross-border implications of AI.
Additionally, as AI is being integrated into all sectors, there will be more sector-specific regulations and standards for example for healthcare, finance, and transportation.
In 2023, I hope to see more efforts to use AI for humanitarian purposes and for the social good of all humanity. This may include using AI to improve access to education, healthcare, and other essential services, as well as using AI to address global challenges such as climate change and poverty.
Additionally, there may be more efforts to use AI to support the United Nations Sustainable Development Goals (SDGs), which aim to improve the lives of people around the world by addressing issues such as poverty, hunger, health, and education.
Dr Marthie Grobler, Principal Research Scientist of human-centred cybersecurity
Digital cybersecurity upskilling will increase significantly in response to 2022's numerous hacks. There will be a particular focus on executive education and corporate decision making.
Human factor will continue to be a prominent cause of cyber security breaches. Human error resulting in cybersecurity incidents has been consistently high the past few years, with roughly 80% of cyber events generally attributed to human error.
This is due to a variety of factors, including persistent skill shortages, a rapidly evolving technology landscape, ambiguity of regulatory compliance, and usability of security solutions.
Exploitation of social media data is bound to get some more attention this year. People are very verbal on social media, particularly on platforms that offer some form of anonymity.
These are not fully anonymous, and any comments on public topics can and will be used against individuals in personal cyber extortion.
An increased focus on behavioural economics, otherwise known as why people do what they do, will drive research and development.
I'm looking forward to the creation of human-centred security solutions that automate elements of cybersecurity for the user, making good cyber hygiene easier.
We'll see data hackers target new audiences, moving away from corporations to focus on individuals.
Corporations now have fiduciary obligations and are under the spotlight, but many individuals don't have access to the same amount of cybersecurity guidance.
This could see hackers targeting personal mobile phones and gaining access to private data and cloud assets that can be ransomed.
Attackers could also use personal cloud storage as a backdoor into the individual's corporate account. Data breaches will remain lucrative, just with a change in target.
Data breaches will continue in 2023, but large-scale corporate take downs are unlikely due to organisations strengthening their digital security.
The focus shift completely to an area where the countermeasures are not as advanced, possibly automotive hacking and recent technology advances and automations.
We're your partners in technology innovation. Discover how CSIRO can advance your science and technology and develop a competitive advantage.