Key points
We are developing AquaWatch Australia, a nationwide monitoring and forecasting service for water quality.
AquaWatch uses satellite imagery in combination with water-based sensors and data analytics.
Satellites can detect water quality issues like algal blooms and sediment plumes using colour signatures visible from space.
What's the best tool to detect blue-green algae? A microscope...or a satellite?
It turns out that getting a satellite's view allows us to not only detect large algal blooms, but also track them as they grow and move. In fact, many inland and coastal water quality issues can be seen from space using the right satellite sensors. This opens the door to continental-scale water quality monitoring.
We're incorporating this technology into AquaWatch Australia, our mission to develop a nationwide 'weather service' for water quality. We're harnessing the ability to measure water quality issues from 600km away in space. In doing so, we can deliver much-needed data across wide areas for health, environment and industry.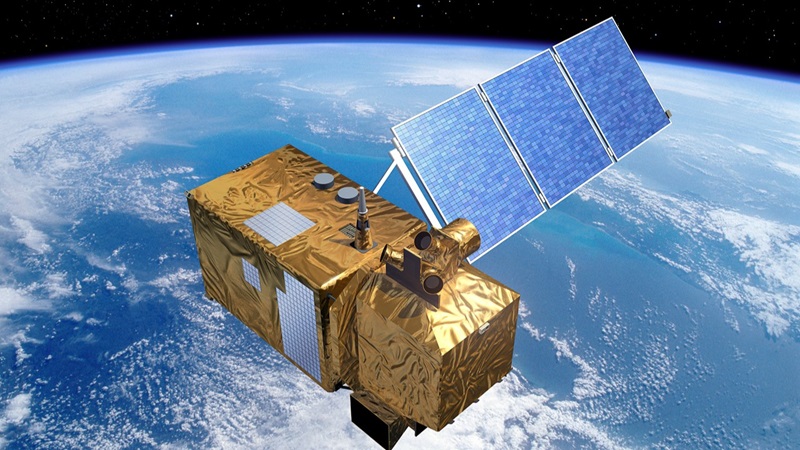 Zooming in on water quality from space
Dr Alex Held is our AquaWatch Mission Lead. He said monitoring water quality from space is all about the colour.
"Certain water quality issues can be detected by their specific colour signatures, which can be measured by sensors on satellites such as the NASA EMIT sensor on the International Space Station," Alex said.
"For instance, algal blooms appear on satellite images as a particular shade of green that is quite light and even looks beautiful."
However, algal blooms become a problem if they start producing harmful toxins that cause health problems and kill fish.
AquaWatch will create an early warning system so people can avoid swimming in harmful waters. Meanwhile, water utility companies can prevent contamination and aquaculture farms can move their fish out of the way.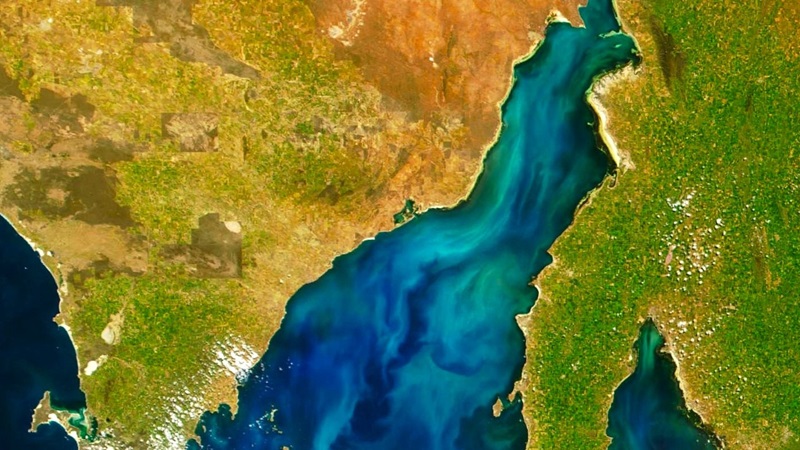 Sedimental journey: mapping muddy waters
"Sediment plumes make the water a bright, milky brown that looks very distinctive in satellite images," Alex said.
Too much sediment becomes a problem when it blocks sunlight for underwater plants and plankton. It can also affect marine animals adapted for clearer water. The plumes generally occur due to soil erosion, so satellite data can help identify when riverbanks can be reinforced with actions like re-vegetation.
"Dissolved organic carbon also flows out from rivers to lakes and coastal areas, but shows up as more like tea, often a grey-brown or even black. It naturally leaches into inland waterways from soil and usually comes from decomposed plants, delivering nutrients," Alex said.
However, when it becomes too plentiful in the water it can prevent phytoplankton from photosynthesising. Compounding the problem, dissolved carbon can feed non-photosynthesising bacteria that remove oxygen from the water. If severe enough, this can create blackwater events leading to fish kills.
Once AquaWatch starts delivering early warnings, we might find managing the soil erosion or introducing new water flows could help with blackwater events.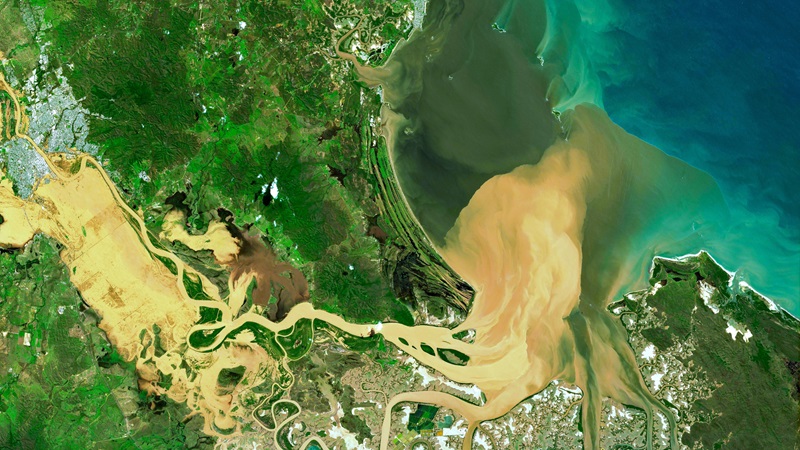 Sensors in space and on Earth
Along with satellite images, AquaWatch uses strategically placed water-based sensors to validate the data. This improves accuracy and gives more regular updates.
Advances in AI technology and advanced computing mean that we can do more with the data. For instance, we're exploring use of AI to fill in the areas of a satellite image covered by clouds to give us a more complete picture. Forecasting models can also incorporate water quality data with other information like ocean currents, wind speeds, tidal conditions and more. This helps us to predict likely water quality conditions up to a few days ahead.
By marrying the expansive view of satellites with the detail from local sensors, AquaWatch is poised to revolutionise water quality management, making it more proactive, precise, and preventive.