Key points
Antimicrobial resistance (AMR) is a rising global challenge that poses a severe threat to modern medicine.
More than 1.27 million people die each year from drug-resistant infections, and this number is increasing.
Our Minimising Antimicrobial Resistance Mission is working to halt the rising death rate and economic burden of antimicrobial resistance in Australia by 2030.
Antimicrobial resistance (AMR) poses a dire threat to modern medicine. Over the years, the effectiveness of antibiotics and other antimicrobial drugs has steadily eroded as various disease-causing microorganisms adapt and become resistant to these medicines. Once common procedures and surgeries may soon become too dangerous to perform and deaths from currently treatable infections will increase.
Sounds like a crisis? That's because it is.
AMR is a complex and multifaceted issue. Its intricate web of causes, effects, and solutions can be overwhelming. This can make the subject difficult to grasp and even more challenging to effectively communicate. So, we decided to embrace the universal language of memes to break down the essentials of AMR for you.
From illustrating the misuse of antibiotics to debunking common myths, these meme-inspired explanations aim not only to educate but also to encourage sharing. Help us spread vital awareness about this critical public health issue!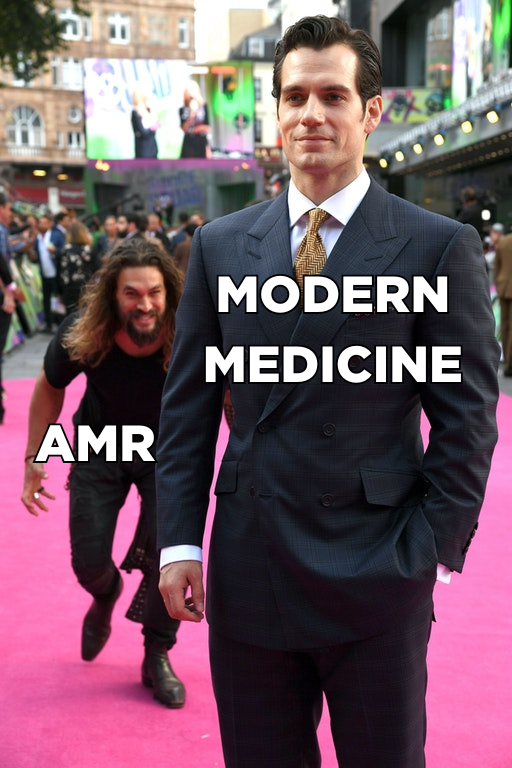 With their powers combined: misuse and overuse
Bacteria and other microorganisms are increasingly developing resistance to drugs designed to kill them. The main culprits contributing to this phenomenon are inappropriate use and overuse of antimicrobial drugs.
AMR can occur when antimicrobial drugs are not used appropriately, such as when antibiotics are used to treat infections they are not effective against, like the common cold.
Germs acquire resistance, not people
Many people believe that refraining from taking antibiotics will make you immune to antimicrobial resistance, but that's not the case. People do not become resistant to antibiotics or other antimicrobials. It's the microorganisms, such as bacteria, that acquire resistance.
These microorganisms, sometimes called 'superbugs', adapt over time due to increased exposure to antimicrobial drugs. Even if you've never taken antibiotics or never been sick, you could still contract an infection that is resistant to treatment.
Who is to blame?
You may commonly hear it's the animal industries that are responsible for the misuse of antimicrobials. Or perhaps you've heard it's the human health sector that is to blame.
While both these sectors and others use antimicrobials to one degree or another, the problem is not black and white. Many intersecting factors contribute to the emergence and spread of AMR.
This highlights the need for a collaborative One-Health approach to address AMR comprehensively. We need to work across many sectors including the environment.
Changing direction: the impact of COVID-19
AMR is one of the top 10 global public health threats emerging in the world today. Great work has been done towards implementing national AMR Action Plans, especially pre-2020. However, the emergence of the COVID-19 pandemic diverted significant resources and attention away from AMR.

This shift has not yet reversed. This ongoing shift underscores the challenge in prioritising global health threats where impacts may not be widely and immediately felt but are no less dangerous.
We can't just make new antibiotics to replace our current ones
Developing new antibiotics to replace those that no longer work is not a simple solution. The process is lengthy, expensive and uncertain. Bringing a new drug from discovery to market can take over a decade, with no guarantee of success.
This underscores the urgency of preserving existing antimicrobials.
Environmental health is often overlooked
An often-overlooked aspect of antimicrobial resistance is its emergence and spread in the environment, particularly in water sources. Unfortunately, antimicrobial contaminants stemming from healthcare facilities, domestic sewerage, agricultural activities, and livestock run-off all have the potential to contaminate natural waterways.
There are small things you can do to make a difference
Never demand antibiotics if your doctor says you don't need them. Nearly 25 per cent of all antibiotic prescriptions in Australia are for viral infections which do not respond to treatment with antibiotics.
Never share or use leftover antibiotics. They may not be suitable and may have side-effects.
Prevent infections by regularly washing hands, preparing food hygienically, avoiding close contact with sick people, and keeping vaccinations up to date.
Share your knowledge of AMR with your friends and family.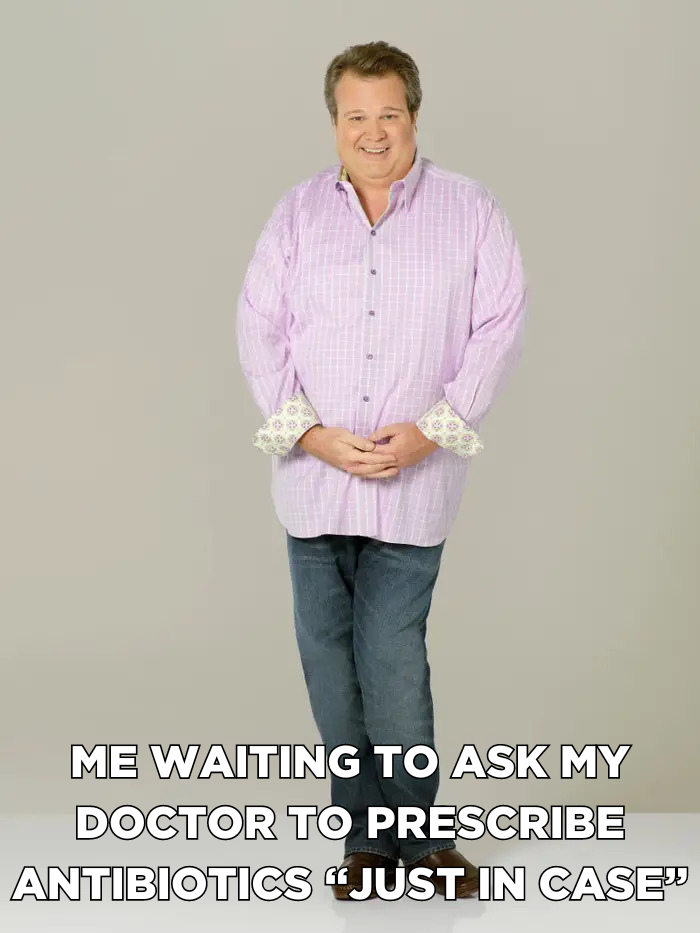 Fighting antimicrobial resistance
The intricacies of microbiology, drug resistance mechanisms, and the consequences of AMR are often overwhelming. Scientists are constantly learning about new developments in the fight against antimicrobial resistance. Nonetheless, it's vital to raise awareness and encourage public visibility and education.
Our Minimising Antimicrobial Resistance Mission was co-developed by CSIRO, the Australian Government Department of Health and Aged Care, and the Department of Agriculture, Fisheries and Forestry. Itis enabling and accelerating research and development. The focus is on providing pathways to market for new and emerging solutions to prevent, manage and respond to antimicrobials resistance in humans, animals and the environment.
In doing so, we will safeguard human and animal health, secure our food and primary industries, and support trade and market access.