The Dampier Peninsula on the western edge of Western Australia's Kimberley region is Bardi Jawi country. It's also green turtle sea country.
Bardi Jawi Rangers have been working here with CSIRO scientists and the Department of Parks and Wildlife Western Australia to tag the turtles with satellite transmitters to discover more about the their movement and feeding ecology.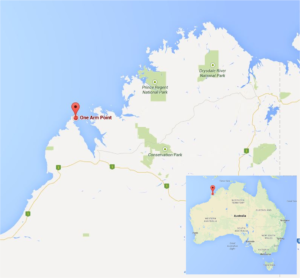 During a recent four-day research expedition, data were collected from more than 30 green turtles (known as goorlil by the Bardi Jawi people) within the One Arm Point area on the Peninsula.
Bardi Jawi Indigenous Protected Area (IPA) coordinator Daniel Oades said flipper and satellite tags were used as a way to capture various data about the marine species.
"We are interested in where the turtles go, where they feed, and any other insights that we can obtain from the satellite-tagged animals," Daniel said.
"The satellite tags use a saltwater switch, so that when the turtle comes to the surface for air it sends signal fixes to a satellite to record location.
"Another satellite tag focuses on transmitting depth and dive profile data. This is important because we don't understand what turtles are doing for the majority or their life cycle, where they are going or what they are feeding on.
"Bardi Jawi is not a high density nesting area for turtles but more of a foraging ground, so tagging turtles here will provide us with information about which turtles are coming past, what they are using Bardi Jawi country for, where they are coming from, and whether it's from Indonesia or the north west shelf genetic stock of Australia.''
Daniel said the rangers collected the turtles and brought them to the ranger vessel Almban where they were measured and weighed and had their general health recorded. Skin and blood samples were collected for genetic testing and all the turtles were fitted with flipper tags.
"The rangers used their traditional knowledge to find the best place to locate and capture the turtles. Through being involved in satellite tagging, we get to improve on our marine science and research skills and test out our ranger vessel as a working platform,'' Daniel said.
"We had the Bardi Jawi Oorany (Women) Rangers and about a dozen school children join in. Many of the young kids hadn't done this sort of thing before, so it was also a good opportunity to teach our young people and show them the different ways of looking after country.''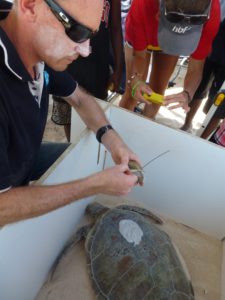 The Bardi Jawi Rangers use a combination of traditional knowledge and modern science to survey and research the coastline and surrounding islands. The rangers have a focus on developing long-term management plans to ensure the future biodiversity and cultural health of their country.
CSIRO Research Scientist Mat Vanderklift also took part in the expedition, and emphasised the importance of the Bardi Jawi IPA. "The area provides important resources for the local community, and the work we are doing has real benefits for sustainable use of those resources" he said.
"We have many unresolved scientific questions about where turtles get their food, how far they move, where they nest and so on," Mat said.
"This tagging and monitoring program is adding to research programs at Ningaloo and the Kimberley in Western Australia, and Gladstone in Queensland. Through these different projects we are developing a strong knowledge base of the ecology and habits of turtles throughout Australia.
Making tracks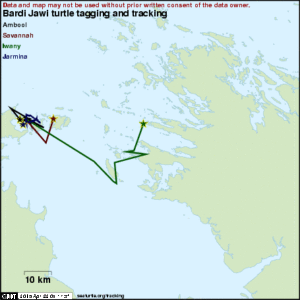 Four sub-adult green turtles were tagged during the expedition and their tracks are currently being followed by the research team.
All turtles were captured and tagged in the Bardi Jawi Indigenous Protected Area, which was declared in 2013. This area is managed for sustainable use of natural resources, including turtles. The gender of the turtles is unknown.
Ambool
Ambool was captured and released at Ambool, a lagoon within the IPA. Ambool had a curved carapace (shell) length (CCL) of 63 cm and weighed 27 kg when tagged. Since 14 April Ambool has travelled 41 km. View Ambool's tracks.
Savannah
Savannah, named by children from the local community, has travelled 21 km since being captured and tagged. Savannah measured 77 cm CCL and weighed 103 kg when tagged. View Savannah's tracks.
Iwany
Iwany measures 79 cm CCL and weighs 101 kg. Iwany was captured in the IPA and released at Ambool Lagoon. Also named by the local children, Iwany got the heck out of there and has travelled 82 km since April 15. By far the greatest distance travelled of any of the turtles. View Iwany's tracks.
Jarmina
Jarmina was captured in the IPA and released at Ambool. Measuring 84 cm CCL and weighing in at 91 kg, Jarmina is having a comparative lazy few days, having travelled 23 km since April 15. Slow and steady wins the race! View Jarmina's tracks.
You can keep tabs on Ambool, Savannah, Iwany, Jarmina and their other sea turtle friends through the website http://www.seaturtle.org/.