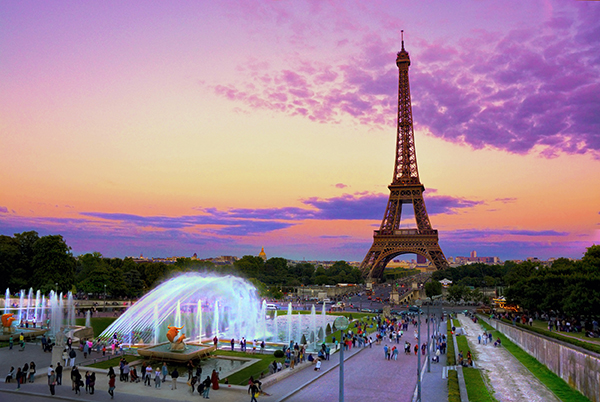 This year has been an extraordinary year for setting goals and targets for humankind. These goals open up systematic opportunities for unparalleled innovation and business development to benefit Australia and its private sector in the near term, and contribute fundamentally to the longer term futures of our children and grandchildren. How is this?
Next week world leaders will meet in Paris to seek a climate accord. In the aftermath of the sad evidence from the Paris attacks that all is not well with the world's social system, this meeting will address the now well-established reality that there are equally important problems in our biophysical world.
The evidence of the past few decades, collected in many global trends, shows that we are now experiencing a Great Acceleration in the impacts of mankind on the planet. Indeed, the concept of the Anthropocene Era has been coined to emphasise how the human race is now a force of geological magnitude at the global scale. We could be approaching planetary boundaries beyond which we can no longer be sure that our life support system will continue to operate in the way we have come to expect over the past 8000 years of the Holocene.
This is a profoundly philosophical, if not religious, shift – we can no longer blame someone else, appeal to a deity, or "go west young man". The human race is it, as far as management goes: we are in charge of the stewardship of our own home, the Earth, and can do this well or badly.
Setting goals for change
Climate change is just one of those global changes, albeit one of critical importance right now. There is evidence that we may have breached three of the commonly discussed nine planetary boundaries, and climate change is one of these three. So the climate talks in Paris are crucial.
However, this year has also seen the nations of the world unanimously agreeing to the 2030 Agenda and its 17 Sustainable Development Goals (SDGs) after three years of widespread participation and negotiation. Although criticism has been levelled at the outcome, it is a remarkable achievement, a tribute to the lead negotiators and to goodwill globally. The SDGs set an integrated framework for thinking about progress towards human well-being in both the short and long term that has been singularly lacking, which should help to coordinate activities across the silos of individual sectors.
The SDGs are also an achievement that is as yet unsung around the kitchen tables, local boardrooms and small business strategy discussions. But this must change.
The SDGs could create immense economic and ethical opportunities for the Australian business sector and the economy in the 'Green Race' that is emerging internationally. There are many challenges at how the goals, targets and indicators may be implemented at national and local levels, and these challenges are often the source of opportunity.
There are 16 substantive Goals that deal in a reasonably integrated way with the social, economic and environmental issues associated with human well-being and global sustainability, in all countries whether low, medium or high income. The last goal, 17, deals with 'Means of Implementation' – the financing, trade, governance and monitoring aspects of achieving the other Goals.
If you care to read through the Goals, you will be struck with many possible interactions – we can only lift two billion people out of poverty by huge increases in the use of energy and other resources; yet this in turn could easily result in releasing more CO2 into the atmosphere, and the use of more resources to produce food and homes and many goods. This in turn we know (by today's standards) could put intolerable pressures on the planet in terms of pollution, climate change, and biodiversity loss, among many other factors.
How can these conflicts (or trade-offs) be reconciled?
Well, take the issue of enabling everyone to have access to energy (SDG 7) and yet avoiding climate change (SDG 13). If we pursue these goals without considering the conflicts, we will certainly destroy our life support system in the long term. This is the issue being negotiated in Paris.
But, of course, we know the solution to this trade-off, at least in principle. Provide the energy but ensure that, as we do that, it is increasingly efficient and renewable. In fact, the goals contain targets to try to manage this well-known interaction – such as double the rate of global improvement in energy efficiency by 2030 (target 7.3).
And, of course, this target, implicitly or explicitly, is already the substance of much private sector attention in energy efficiency and renewables.
But this trade-off is only the tip of the iceberg. A systematic look across the SDGs soon provides insights into many trade-offs (and synergies too) that could be tackled by innovation, for the global long-term good as well as short-term economic benefit.
For example, we need to produce more food, but do so whilst using less water and less nutrients like phosphorus and nitrogen that are escaping agricultural systems and damaging ecosystems. This is another area that is already well-known, and one in which Australia is a leader with our innovative dryland agricultural systems. But the problems will become much more severe, and we need to keep on innovating in this area.
In fact, whether it is processing more metals with less water, growing more food on less land, or controlling waste and recycling, resource use efficiencies in all sorts of areas will be critical opportunities.
A landmark new study, the Australian National Outlook 2015, has shown that for Australia these trade-offs can be navigated in such a way as to deliver both economic growth and a healthy environment, and won't even require sacrifices in our lifestyles. As the study's lead author Steve Hatfield-Dodds writes, we can have a future where our energy, water and agriculture demands can be met sustainably, without damaging our underlying natural assets, providing we make the right policy choices and innovate in the right areas.
There are many other possible synergies we could grasp and turn into innovation opportunities around the world. Getting better health outcomes from reduced air pollution, through clean local energy that frees up women and children to become better educated and engaged in the economy, at the same time reducing the pressure of local wood harvesting. Increasing equity among countries at the same time as improving phosphorus use efficiency by redistributing it from regions where it is overused to the parts of Africa where farmers do not have enough. There are endless opportunities.
Areas of industrial Australia are hurting. For example, the northern suburbs of Adelaide have lost much of their traditional car and marine construction industries in recent years. But the suppliers to these industries have valuable skills and experience that could be redirected. Already some of them are re-tooling their workshops to deliver to markets in energy efficient products. Others are starting to link with the horticulture industry on the northern plains to help them improve their ability to use recycled water from Adelaide city in their food products.
What other imaginative new industries could we dream up by a systematic look at the conflicts inherent in the SDGs, turning those conflicts into business opportunities?
So Dream! (systematically!) Dream up, test locally and then sell overseas; or better still, partner overseas into Asia to develop and sell them, and then bring the mature technologies back to Australia to deploy in areas where existing sunk capital makes it hard to change.
Coming into Paris, both the climate negotiations, and the wider SDGs within which the issue of climate change is embedded, create huge opportunities for an imaginative and innovative economy that is willing to grasp them.
Dr Mark Stafford Smith is the Chief Coordinating Scientist for CSIRO's climate adaptation research and Chair of Future Earth Science Committee.