Australia's north is cattle country, accounting for 85 percent of national beef exports – and worth about $5 billion a year. There, around 14 million head of cattle are farmed in an area spanning some 200 million hectares across the Northern Territory and the northern areas of Queensland and Western Australia.
It's an industry ripe for innovation, with business-savvy producers, keen to maximise their yield, who respond strongly to evidence that explains herd performance – good and bad.
Digital Homestead
CSIRO's Dr Ed Charmley has spent the last few years heading up the Digital Homestead project, which is developing a system with real potential to improve productivity and efficiency for northern Australia's cattle producers through better decision-making potential.
Ed says that most farmers here are hungry for better technology. "People are banging doors down to get access to high speed broadband and the competitive lift it will bring."
There are about 18,000 businesses in the northern cattle industry, ranging from family farms to corporate producers. All face tough challenges: the region's soils and ecosystems are fragile, climates are harsh and production is confined to a limited window due to the annual wet season.
"There's no silver bullet on the horizon for the northern cattle industry," says Ed, adding that the last big step-change for the industry happened forty years ago with genetic improvement of Brahman cattle breeds suited to the tropics.
With costs rising faster than returns, the industry is struggling to keep ahead of rising production costs, he says. "Technology is the next potential game changer, and we can use it to improve herd productivity but also to improve labour productivity, by working smarter."
Web-based dashboard
The Digital Homestead project, a collaboration between James Cook University, the Queensland Government and CSIRO, incorporates digital technologies like wireless sensor networks, data analytics and rural connectivity through a web-based data dashboard. It has the potential to reduce production costs by ten to twenty percent, through improved efficiency, and to add up to $200 million per year to product.
The CSIRO-developed dashboard integrates real-time data collected by sensors which track on-farm factors like soil, pasture and herd health, and the location, activity and weight of individual cattle, with useful data from external sources – such as weather forecasts, live weather monitoring, cattle market pricing and tank levels.
Advances like walk-over weighing are already giving farmers increased management ability, Ed says.
"Remote-sensing of bores means you spend less time doing bore runs and more time looking at data, turning that data into information to better manage your herd so to optimise production."
Currently, Ed says, most producers manage a herd to the average model, so some beasts are under-managed while others are over-managed. "Some of this technology lets you match the management to the potential of the animal," he says.
Longer-term, understanding what drives an efficient animal will also let producers select far more efficient types of animals in the herd.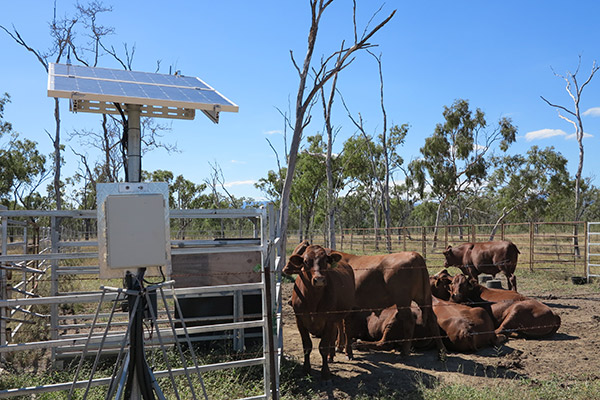 Data wrangling
Ed says that the Digital Homestead will form a framework that can accommodate different sensors and inputs over time – perhaps switching from satellite pasture yield estimates to drone-fed data, or using active (rather than passive) electronic ear tags, which upload detailed grazing information and behaviours for individual animals.
Already, producers are swamped with data, he says. "The real advantage of the digital dashboard is that it integrates a whole heap of different information using some fairly smart data analytics that allow us to put that data together in a user-friendly fashion, something that's very easy to understand which provides real-time information."
The easier the system is for the user, the more complex it has to be behind the scenes, he adds.
Ed says that the Digital Dashboard will help develop beef enterprises that are both economically and environmentally sustainable.
"Pasture biomass feeds cattle, while ground cover minimises runoff, a well-managed pasture over time reduces runoff," he says. "We look at the whole-property perspective."
High-quality information lets producers optimise stocking rates so that pasture  accumulates each year. "Where cattle are overstocked, you'll see a run-down in biomass over time," Ed says.
Advantages across the value chain
The Digital Homestead has scope to integrate a range of other different inputs – for example, adding a digital elevation map would allow landholders to assess pasture-improving techniques like swales.
Ed explains that the more data streams that can be incorporated into the Digital Homestead dashboard, the better its predictive capacity will be.
"We can produce scenarios which use constantly-improving climate and weather outlooks. For example, you can say if I turn down the stocking rate by 10%, how will that impact my pasture production over the next ten years given three or four climate scenarios?"
The more widely the Digital Homestead is adopted, the more effective it will be, he adds. "When we look at it across the whole value chain, from production right through to marketing, we begin to see real advantages. As each link of the chain passes data into the system, making the best decisions they can, everybody along that chain ultimately benefits."
The system has been trialled at CSIRO's Landsdown Station, near Townsville, and at the Department of Agriculture and Fisheries Queensland's 100,000 hectare Spyglass Beef Research Facility. Despite delays due to funding and drought, Ed expects to see it implemented on commercial properties within five to ten years.