Australian Aboriginal people have long used them as sitting areas, walking paths, and places to grind grasses or make artefacts.
In fact, they have names in Aboriginal languages. In Manjilyjarra language they call them linyi.
These grass-fringed, bare, circular patches are widespread in the spinifex desert grasslands of Western Australia (WA) and the Northern Territory (NT). Similar-looking circles occur in Africa and have been the subject of feverish curiosity in international media in recent years. From The Atlantic to the BBC, the media has speculated about this ecological mystery dubbed 'fairy circles'.
Fungus, gases, plant/water organisation, termites and even dragons have been posited as the cause of the bare circles.
The latest research published in a letter in the Proceedings of the National Academy of Sciences of the USA (PNAS) presents evidence that in the Australian landscape, it's termites; countering a paper published in PNAS in March.
Excavating the evidence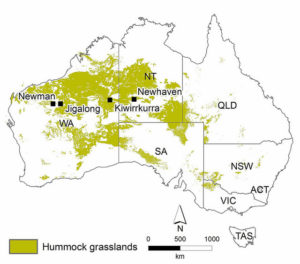 CSIRO's Dr Fiona Walsh and colleagues from WA and the NT, Ashley Sparrow (CSIRO), Peter Kendrick (Dept Parks and Wildlife) and Josef Schofield (Australian Wildlife Conservancy), examined circles on satellite images and then in the field across 1,200 km from Newman in WA to Newhaven Sanctuary in the NT.
Excavations of circles at four locations revealed all circles had concreted soil and chambers made by termites of the genus Drepanotermes, whereas digging away from the circles revealed no evidence of termites.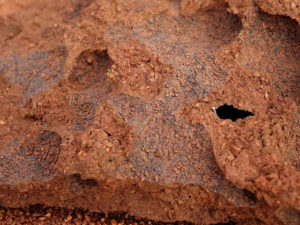 At one location, of the ten circles they excavated, 60 per cent of the 'pavement termitaria' were active, containing living termites and termite food stores.
AS the letter in PNAS states: Although we accept that water redistribution occurs between bare and vegetated areas in Australian desert grasslands, we have evidence that bare patches are subterranean termitaria, both active and inactive (abandoned).
Pavements are very hard, withstanding fire, flood, and road grader blades; on worn-down vehicle tracks, the termitaria stand as discrete walled structures. Termitaria appear long-lived even when periodically or permanently abandoned; such "ghosts of termitaria" may persist for decades or longer.
Collaborating across culture and science
Dr Walsh said her investigations with other Australian ecologists revealed what desert Aboriginal people have recognised for generations.
The circles were clear of prickly spinifex, so people could sit comfortably on them, she said, and people preferentially walked across them when travelling through the desert. Aboriginal people also swept the circular hard spots as a place to prepare foods and artefacts. Older desert people recognised these spots as a 'normal' feature made by termites – "as ubiquitous to them as footpath pavements are to a city-dweller".
Dr Walsh worked with Gladys Bidu, a Kanyirninpa Jukurrpa ranger, who said pavement termites played an important role in food webs and known desert ecology.
And these linyi are a favoured place for termite-foraging bilbies and echidnas.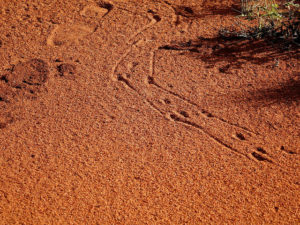 "It is a linyji. Hard parna (ground) made by manyjurrpa, white ants (termites)," Ms Bidu said.
"Linyji is hard and flat like a claypan made by water. But they are made by manyjurrpa so different to a claypan. Ninu or Mankarr (bilby) go to the linyji to get their food. Mankarr dig linyji to eat white ants and pinga (black ants). That's their food. Porcupine (echidna) dig the linyji too. Porcupine are looking for manyjurrpa too. White ants are their food too. "
Dr Walsh said their research highlighted the value of Aboriginal and local people's knowledge.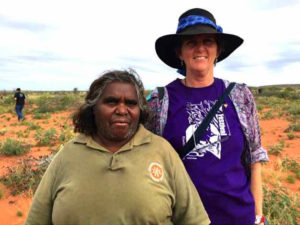 "Scientists are interested in these plant patterns because they tell us about forces that shape plant communities and their distribution, and so help to inform projections of how desert ecosystems may respond to climate shifts and other aspects of global change," she said.
"A deeper message from our findings is that Australian deserts are so inherently complex, variable and unpredictable that the best people to ask about how these ecosystems work may be local people."
Dr Walsh said this research raised many ecological and cultural questions relevant to the functioning of desert grasslands and the roles of people and termites within them.
---
For more, view Seeing the Spots, Re-connecting the Dots, a science photo essay on people and termitaria in the Western Desert.